Polynova
Choppy
Helicopter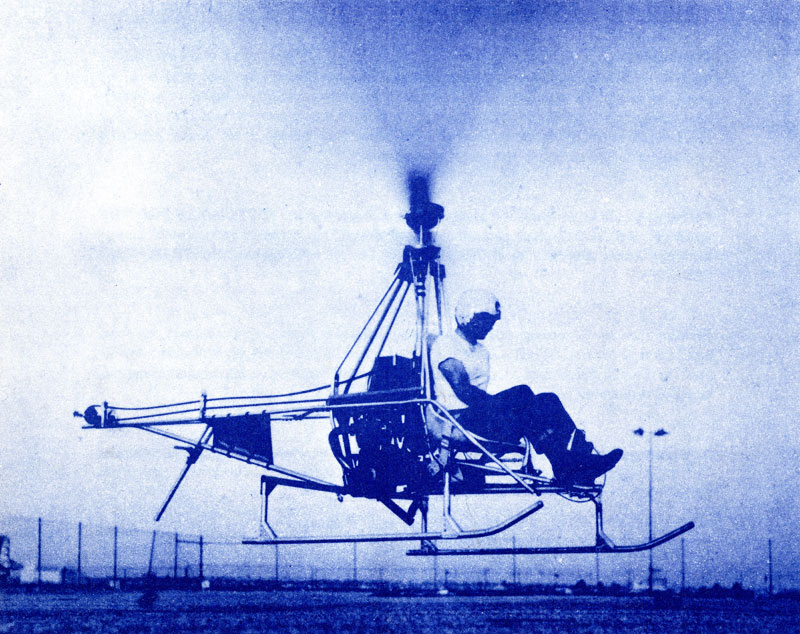 TO THE HELICOPTER ENTHUSIAST.. (MARCH 1987)
Choppy Helicopter: The simplest way to acquire an helicopter is, of course, to buy one, a new or a used one; but the only way to get just what you want and at a cost can afford is to build your own.
We grant that it is a little more trouble than plunking down the cash and taking delivery, but it is a lot more rewarding; imagine how proud you'll be when you can say 'I built it myself'.
Best of all, when assembled in accordance with our plans, your helicopter can be registered as a new model in United States and most other countries.
Polynova Inc. is an organization specializing in helicopter plans ESPECIALLY FOR THE AMATEUR BUILDER, each plans manual is professionally prepared and shows all dimensions and details to build… we do not manufacture or sell helicopter kits, so WE KEPT NO SECRETS.
Building time on the average homebuilt project using our plans is approximately one year, and of course depends a great deal on the working schedule and ability of the builder. An aircraft or Engine Mechanics License is not required to construct a homebuilt helicopter, however reasonably good workmanship will be expected.
Regulations pertaining to homebuilt helicopters may be obtained free or charge from any Federal Aviation Agency in the United States; in other countries, check with your local authorities.
We appreciate the considerations that you gave our design and we hope the enclosed literature will describe the type of helicopter that will interest you and your family; we invite you to join in a hobby and recreation that your family and friends can participate in and enjoy.
CHOPPY HELICOPTER GENERAL SPECIFICATIONS:
CHOPPY HELICOPTER CONFIGURATION:
Single seat.

Two blades single main rotor.

Anti-Torque tail rotor.

Bolted aluminum tube airframe.
CHOPPY HELICOPTER CONTROL:
Main rotor cyclic and collective pitch effected by swash plate.

Maximum registered control forces: cyclic 1 1/2 lb., collective 5lbs., rudder 5 lbs.

Trail rotor pitch bell crank operated.

Autorotation accomplished by manual disengagement, lever at cyclic stick.
CHOPPY HELICOPTER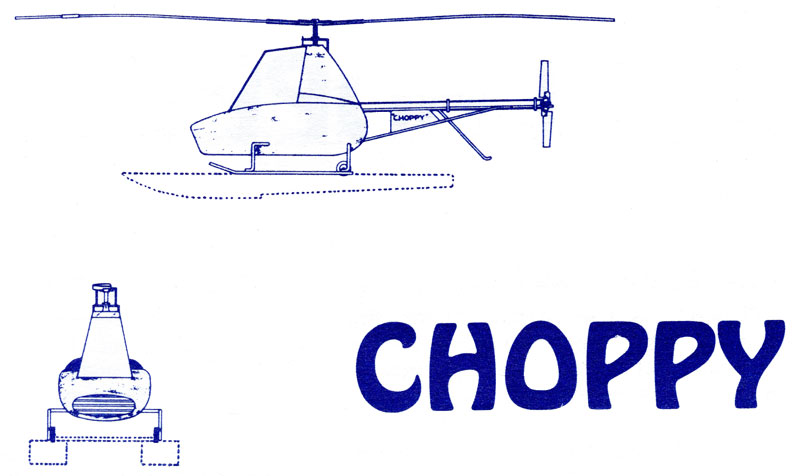 HERE IS OUR ANSWER TO THE HIGH COST OF HELICOPTER FLYING:
"Choppy" is without question the finest helicopter available to the average homebuilder. It is not only the result of professional engineering calculations, but more definitely the culmination of over 20 years of practical test experiences. This is a true helicopter in every sense of the word.
True simplicity is achieved by a functional straight forward design. Such important points as four cycle, air cooled engine, autorotative ability or completely conventional controls were not omitted on "Choppy" just because they are generally considered too complex. For this reason, the novice or the helicopter pilot feels natural in the seat of "Choppy".
Powered by a motorcycle engine of 34 hp to 60 hp, "Choppy" is the most economical helicopter flying today. It features the conventional tail rotor design with a two blade teethering main rotor of 21.5 ft. diameter. A low slung skid type landing gear is used and two semi-pneumatic wheels are provided for easy ground handling.
For real all around sport use, Choppy Helicopter can also be fitted with floats which enable it to be operated from land, water, mud or snow. A sleek fiberglass cabin and a wrap-around plexiglass windshield can be designed and installed by the homebuilder for protection from rain or cold.
"Choppy" is one of the first practical one-man helicopter made available, and from its conception was meant for amateur construction, it can be built with ordinary hobby shop tools.
This very important fact is clearly reflected by the plans; not merely a quickly prepared set of assembly drawings, the drawings for "Choppy" are completely detailed without being overly complex.
Dimensions are given for making and assembling every part an all standard pulleys, belts, bearings, bolts, etc., are indicated by name and model number.
Many parts and assemblies are shown in actual size and isometric and exploded views are included to make drawing interpretation easier for the amateur. Several black and white photos showing the construction are supplied with the plans.
The cost of building your Choppy Helicopter as well as the time required are very low. A close estimate would depend on whether the amateur makes all the parts himself, and of course on the varying costs of local materials.
Even though a fantastic amount of time and money has been spent developing this helicopter, WE KEPT NO SECRETS. The detailed plans will answer any question you may have concerning the construction of the "Choppy". Complete plans manual will be sent postpaid by return mail anywhere in the World.
IF YOU EVER WANTED A REAL HELICOPTER, THIS IS CERTAINLY THE STARTING PLACE… ORDER YOUR PLANS MANUAL TODAY!

QUESTIONS AND ANSWERS CONCERNING CHOPPY HELICOPTER
Q. Can it be built from the plans manual without buying any factory components or kits?
A. Yes, all details are shown… we kept no secret.
Q. Can any and all materials and parts be purchased locally?
A. Yes, all materials and parts called for are standard items and are available through metal and aluminum dealers in most cities.
Q. What about time and money necessary to build it?
A. Depending on the amount of components you don't make yourself, cost could total under $1000.00. An average cost being $2000.00. Some have been built in 2 or 3 months spare time.
Q. Does it have to be hangered at an airport once it's built?
A. No, it requires no more space than the family automobile for take-off and landing.
Q. Is a helicopter license needed to fly it in free flight?
A. No, only an aircraft student or private pilot license.
Q. Is it difficult to learn to fly?
A. No, completely inexperienced persons have taught themselves to fly it in a matter of hours.
Q. Why was the motorcycle engine chosen?
A. For it's light weight, low cost and availability.
Q. Why was the V belt chosen for the tail rotor drive?
A. For its light weight, low cost and dependability.
Q. Does it have autorotative capabilities?
A. Yes, same as conventional production helicopters.
Q. Can an individual sell his own CHOPPY when completed?
A. Yes, a "CHOPPY" owned by an individual may be sold to anyone at any stage of construction as well as in flying condition.
Q. Is Choppy a true helicopter, or is it similar to those "Gyrocopters"?
A. Choppy is a true helicopter and performs all the normal helicopter maneuvers such as vertical take-off, flying sideways, forward, backward, flying 'on the spot', etc. Choppy uses conventional helicopter controls, and time built on it may be counted toward a helicopter rating.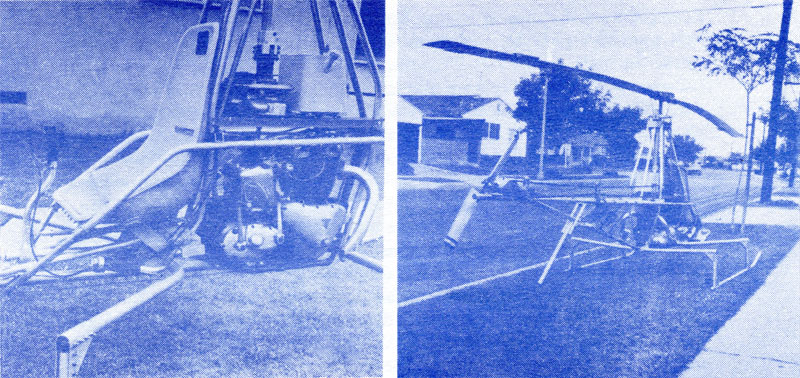 REGULATIONS AND LICENSING REQUIREMENTS
"Choppy" is certainly one of the most thoroughly tested single seat helicopter in use today. The original prototype has been subjected to many hours of severe tie down experiments.
It has flown unrestrained at the end of a tether allowing inexperienced pilots an opportunity to familiarize themselves with the controls of a true helicopter. But, more important, "Choppy" flies as you would expect it to: independently in free flight toward, sideways and straight up out of ground effect.
Yet, categorically "Choppy" is an experimental, uncertified helicopter. And here lies a real advantage to the average person, for being a single seat experimental aircraft, "Choppy" can be built and maintained by you even if you are not an A. & E. mechanic; furthermore, it can be flown by any student private pilot with only a fixed-wing license.*
Even so, time logged on "Choppy" may be counted towards a helicopter rating. Surely these benefits out-weight the limitations prescribed in this category.
When you begin construction of your "Choppy", contact the nearest Federal Aviation Agency office for a registration number and at the same time, discuss your intentions with the Safety Agent. His helpful advice and cooperation will be essential in licensing your completed helicopter. Upon completion, he will regulate the operation of your machine in accordance with are a conditions.
* * Unless otherwise stipulated by the Safety Agent, these are the basic restrictions to the experimental helicopter:
— It must be flown solo only.

— It cannot be flown more than 25 miles from base for the first 75 hours.

— It cannot be flown over heavily populated areas for the first 75 hours.

— It cannot be flown for hire or profit.
* No pilot license required if "Choppy" is flown as an ultralight aircraft.
* * No federal registration and inspection required if "Choppy" is flown as an ultralight aircraft.
REGULATIONS AND LICENSING REQUIREMENTS VARY WITH EACH COUNTRY; FOR INFORMATION CONCERNING YOUR COUNTRY.
PLEASE CONTACT YOUR LOCAL AUTHORITIES.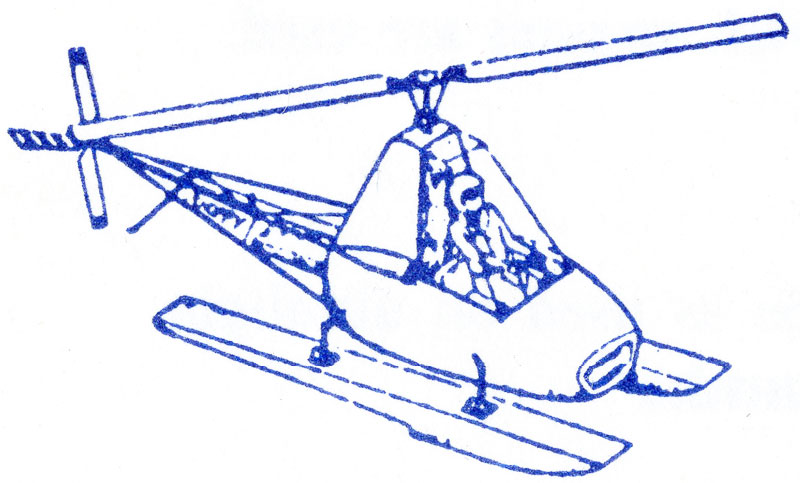 'CHOPPY' HELICOPTER PLANS LIST
PAGES INCLUDE
1 and 2: Material lists and general notes.

3: Airframe assembly.

4 to 7: Airframe parts details.

8: Engine mount details (Triumph engine).

9: Trainer gas tank.

10: V belt guides.

11 and 12: Airframe gussets.

13 to 15: Rotor shaft and drive assembly.

16 to 18: Cyclic and collective pitch assembly.

19 to 21: Swash plate assembly.

22 to 25: Rotor hub assembly.

26 to 28: Rotor blade assembly.

29 to 31: Tail rotor assembly and controls.

32 to 34: Teethering tail rotor assembly.

35: Instrument panel and seat assembly.

36 and 37: Stabilizer installation.

Construction photos.
"CHOPPY " GENERAL SPECIFICATIONS
CONFIGURATION
Single seat. Two blades single main rotor. Anti-Torque tail rotor. Bolted aluminum tube airframe.
CONTROL
Main rotor cyclic and collective pitch effected by swash plate. Maximum registered control forces: cyclic 1 1/2 lb., collective 5lbs., rudder 5 lbs. Trail rotor pitch bell crank operated. Autorotation accomplished by manual disengagement, lever at cyclic stick.
FUSELAGE DIMENSIONS
Height
6 ft.
Lenght
15 ft.
Width
5 ft.
WEIGHTS
Empty
345 lbs.***
Normal Gross
600 lbs.
Disc loading
1,79 lbs./sq. ft.
Usefull load
255 lbs.
Normal Gross
600 lbs.
Power loading
11.54 lbs./hp
MAIN ROTOR
Hub
Semirigid
No. of blades
2
Airfoil
NACA 0012
Construction
laminated wood, fiberglass covered.
Diameter
21.5 ft
Chord
8 in.
Normal speed.
390 rpm.
TAIL ROTOR
Drive
V belt
Hub
Teetering
No. of blades
2
Diameter
37 in.
Chord (mean)
3.5 in.
Airfoil
NACA 0012
Normal speed
2000 rpm
Construction
Formed aluminum
POWER PLANT (Prototype)
Triumph motorcycle engine rated at 52 hp. 650 cc., vertical twin cylinder O.H.V., magneto ignition, dry sump lubrication, kick lever starting, fuel 100 octane, fuel consumption approximately 2.2 gals. (U.S.) per hour at sea level. Any motorcycle engine of 500 c.c. to 1100 c.c. and 34 hp. and more may also be used.
PERFORMANCE
Estimated maximum speed
65 mph.
Estimated ceiling
8000 ft.
Estimated range
varies, depends on gas tank size
Speeds registered with prototype fitted with 52 hp. Triumph Bonneville engine
Forward
60 mph
Backward
26 mph
Sideways left
22 mph
Sideway right
12 mph
The GROSS WEIGHT may be increased when MORE POWERFULL engines are used.
*** Please note
"Choppy" – when powered by a lightweight two-cycle engine as used on ultralight airplanes will have an empty weight of Under 250 pounds.
Summary
Reviewer
Review Date
Reviewed Item
Author Rating