The Amazing
CH-7 Angel
Helicopter
The, CH-7 Angel helicopter, was designed by Italian born Argentina citizen Augusto Cicare. The CH-7 angel is his seventh helicopter creation, hence the acronym CH-7, which stands for Cicare's helicopter #7.
The word Angel was added to the CH-7 Helicopter by the Italian manufacture, Heli-Sport of Turin, Italy. The Heli-Sport company commissioned famous Italian automotive designer Mr. Marcello Gandini to style the cabin/cockpit for Mr. Cicare's prototype. A few of Mr Gandini's design credits include the Lamborghini Countache and Diablo sports cars.
Since the CH-7 flew like a little Angel, combined with the fact that Mr.Gandini previously designed the cosmetics for the Diablo (Diablo, Spanish for Devil), the manufacture decided that it only fitting to name the new aircraft the opposite of the word devil, so the name Angel was chosen.
Augusto Cicare
After 35 years of helicopter engineering, searching for an economical model, Augusto Cicare created in 1987 the CH-6 prototype, which in it's evolutionary version CH-7 Angel Helicopter, is nowadays a milestone in helicopter history. He made his first homebuilt helicopter, a coaxial-rotor-configured craft, in 1955 at age 18. To this he added his own homebuilt power plant.
Cicare also taught himself to fly. One of his feats, the elimination of the swash plate, reduces the rotating parts in the main rotor and simplifies pilotage as much as mortify the last 50 years of helicopter engineering. To date his talented mind has created eight helicopters and one fully articulated simulator.
The Argentinian Air force funded and test flew the CH-6 with a thought of using such models for training purposes. Today the Argentinian and Brazilian Air Forces are utilizing his SVH-3 simulator for hover training which is based on the CH-7 Angel. Since 1992 he has provided licensing rights for the CH-7 Angel to Heli-Sport srl of Turin, Italy.
Barbero Brothers and Heli-Sport
After 7 years of manufacturing and over 120 CH-7 ANGEL helicopters flying all over the world, the Barbero brothers developed in 1996/97 the CH-7 KOMPRESS project. This turbo charged dual seat Angel, is suitable for training and capable of great performance seldom attained before by piston powered helicopters.
Pier Luigi Barbero is the driving force behind development and testing having attained over 2000 hours of flight on the CH-7 type. He works hand ill hand with brother Josie, an Electrical and Mechanical Engineer in his own right, Business matters are handled by Claudio Barbero, who completes the management trio.
The CH-7 Angel Helicopter Mechanics
The CH-7 Angel Helicopter is a conventionally configured helicopter with a main and anti-torque tail rotor. The airframe has a welded 4130 chromoly steel structure carrying the 64-hp Rotax 582 or 115-hp 914 T engine, rotor mast, transmission, tail rotor and the skid landing gear steel down tubes. Longitudinal skids are aluminium.
Because of the joint between the landing gear and the main fuselage, the bending forces of the landing gear are NOT transmitted into the main-fuselage. An impressive feature of the CH-7 Angel Helicopter frame is the triangles that are incorporated into the construction, the triangle being one of the strongest structures.
The steel airframe incorporates a 32-psi tube pressurized system monitored by a cockpit gauge to keep tabs on the frame's integrity. This is a safety-related system not usually found in small helicopters.
The Angel uses two off the shelf Fiat radiators plumbed in series with thermostatically controlled electric fans.
Main rotor blades are composite and are formed by winding strands of fiber filaments lengthwise around foam cores. Originally, the CH-7 Angel Helicopter had symmetrical blades, but Heli Sport has moved to an asymmetrical profile with a 6 degree twist, that has greatly improved performance. An asymmetrical airfoil is more efficient than a symmetrical air foil in that it will produce lift with a negative angle of attack. Blades are left unpainted, except for the weighted tips, to enable a see-through inspection.
Cicare's simplified rotor system with fewer parts features a teeter type coning rotor with a semi-rigid head. The rotor head itself is made of steel, but the bearing head housing is aluminum. Lead-lag adjustments to the blades are through eccentric bushing in 0.025-inch increments.
The head, which contains elastomeric bushing for teetering, moves through 12 degrees positive pitch at full up collective, down to 2 degrees negative for auto rotation. Heli-Sport provides a fully assembled head in the kit. The manufacturer has eliminated the swash plate and, instead uses a direct spider system.
The clutch tensioning system is servo driven, an improved version of the R22 type and tensions a single five-groove, 50mm wide Goodyear wedged belt. The tail boom is an aluminium tube that carries a 32mm diameter drive shaft. Like the Robinson R22, the tail rotor pitch is controlled through push-pull tubes. The tail boom on the CH-7 Angel Helicopter is supported by an 'A frame' structure, and only 3 feet of tail boom protrudes beyond the support.
Cicare also went out of his way to provide well a supported tail rotor drive. It is bolstered by two midway bearings, with the only unsupported area being the 990mm between the last bearing and the teeter-type tail rotor. Its blades are all metal, contain a spar, have a NACA 63014 symmetrical airfoil, and an 8 degrees twist.
The design of cockpit is credited to Marcello Gandini, an internationally recognized Italian designer who has blueprinted numerous Italian, German and French sports cars, trucks and custom vehicles. The cockpit and canopy layout of the CH-7 Angel Helicopter give superb panoramic visibility. The canopy swings up and pivots down slightly for main rotor clearance. Inside, the cockpit has a width of 755mm, and a 6 foot pilot can be seated without his head striking the canopy.
The voyage of discovery
Turin is a bustling industrial city, home to manufacturers such as Fiat Automotive. Angel owner Dave Maree and I travelled to northwest Italy to experience first hand the legend of the Kompress.
Contained in what might have once been a rambling Italian villa is today the CH-7 Helicopter factory and assembly plant. One first encounters the showroom containing the CH-7 Angel prototype. In most respects the helicopter is almost identical to the latest deliveries of single seat Angels.
Any differences are subtle except the original aluminum symmetrical rotor blades used in the early testing phase. Interesting to note that the prototype has flown over 2000 hours and is now retired as a showpiece but is as airworthy as ever.
We received a warm welcome from Heli-sport MD Claudio Barbero. After a strong cup of "cafe", enough to put two travel weary South African boys on the right track, it was time to visit the production area.
The first impression is usually the lasting one. The factory is spotlessly clean and tidy, We were shown racks of packed and labeled components ready for dispatch to various countries around the globe.
We start with the assembly line where many components are manufactured by contracting companies and supplied ready for assembly to Heli-Sport. Control linkages are being attached to the airframe, fuel systems are installed, power plants fitted and electrical systems connected.
We observe seasoned technicians assembling the main and tail rotor gearboxes and bench balancing tail rotor blades. Cabin moldings are trimmed for fitment and the resultant assemblies are taking the form of new flying machines.
The Angel Helicopter rotor blades are, meticulously engineered on sight. During the curing phase the blades assume their slight twist, the design of the moulds having compensated for this.
The CH-7 Angel Helicopter flight-test
We are met at the breakfast table by Pierre Luigi – chief instructor and test pilot for CH-7 Heli-sport. The day didn't hold out much promise for flight, as the mist had settled in solidly across the farmlands. We drove in hope of a break in the weather and the highlight of the trip – to fly the CH-7 Kompress.
The training and service facility, on the outskirts of Asti, tests new aircraft freshly off the production line in Turin. Initial engine startups are under the supervision of Rotax Italy. Fuel and electric systems are monitored and blades are tracked and balanced.
Flight instruction averages one hundred hours per month on each of three dedicated training helicopters. Three instructors help to share the student load. Registered in the experimental class, the CH-7 Angel Helicopter student requires 30 hours of flight training to qualify and a farther 30 hours of solo time is required before a passenger may be taken on board.
With the instructor seated at the rear, I climb aboard and with careful foot placement, I slip into the pilot seat. As the seating is a tandem arrangement I was interested to determine whether the cabin was comfortable enough when two six foot men occupied the space. As Luigi already had his feet on the dual control pedals on either side of me I had to reach over his left leg to operate the throttle and collective lever.
The fighter-style canopy was moved up and back to seal us off from the elements. With my lap harness adjusted, Luigi proceeded to run through the start sequence. Master, magnetos, start and the 914 Turbo comes smoothly to life. After clutch engagement, she is warmed up to 50 degrees for about 2 minutes before bringing her up to 100%.We then checked both mags and the free-wheeling clutch, governor on, we're ready for lift off.
In the hover, engine RPM is effortlessly maintained by the governor. Transition is smooth as we head for a nearby field for square bashing exercises. Hovering the CH-7 is surprisingly less demanding than the R-22.The high inertia rotor system coupled with an extremely responsive power supply makes the Kompress a forgiving machine to fly with exceptional tail rotor authority.
As we transition into forward flight with the slightest nudging of the cyclic I lift a little too much collective and we're climbing out in a similar fashion to the Bell 205, rotor and engine rpm still at top of green. With a bit of directional guidance from Luigi we're heading out to open farmland, the odometer comfortable at 110mph, the machine is well balanced, the cyclic smooth.
Luigi indicates towards a lush green field framed between rows of neat trees. This is our "LZ". As we angle in setting our attitude, collective eased downward and a glance over the T's and P's – all in the green. Smooth transition into a hover and touchdown in the soft pasture. A few attempts at landing were needed to consistently touch down smoothly.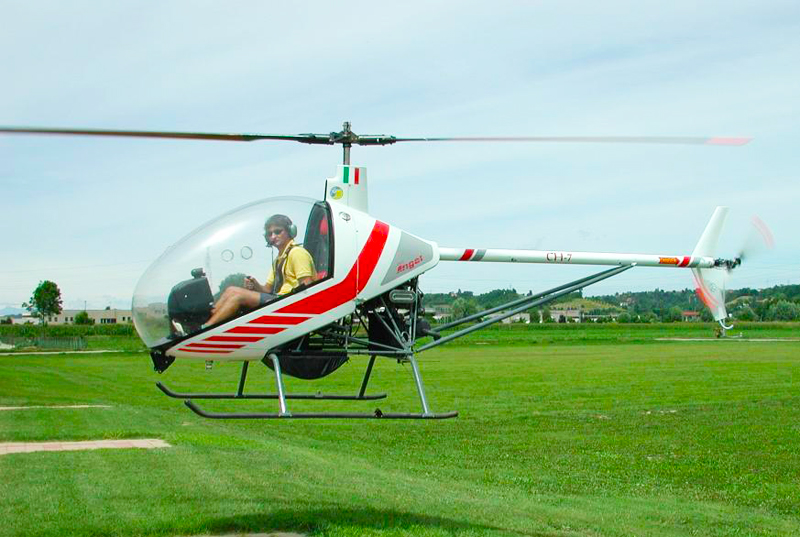 I ask Luigi to demonstrate her power, as I watch the manifold pressure needle steadily rise to the top of green +- 35 inches as I observe the VSI push to 1500ft/ min climb. The ground falls away quickly as we pull up to the cloud base. I'm quite stunned at the performance.
In auto-rotation the cyclic control is as responsive as in powered flight. Before touchdown I raise the collective and roll power on, feeling very comfortable with the remaining inertia in the rotor. The CH-7 Angel Helicopter has high inertia blades, which is a great safety factor and the low weight contributed to the gentle descent (500fpm). I realize this is a very capable machine. Somehow I am reminded of the much larger JetRanger helicopter for power.
Our landing is neat and gentle. Cool-down takes 90 seconds to 2 minutes in two stages: first, at 75% engine rpm, then at idle. As for the seating arrangement? – I will have to return to Italy to determine whether the back seat is comfortable enough!
CH-7 Angel Helicopter Summary
For the rotor wing enthusiast who is looking for an affordable, reliable helicopter which is stylishly designed, meticulously engineered, with ample turbo performance in the form of a full assembly kit, one should seriously consider a Kompress. Heli-Sport has achieved their goal- to manufacture the best, most advanced homebuilt helicopter possible, which is designed to fly.
CH-7 Angel Helicopter Kit
Crew
One
Fuselage Length
17'5"
Fuselage Width
32 1/4"
Over All Length
22'5"
Skid Width
6'4"
Max height (mast or empinage)
7'3" @ Mast
Gross Weight
792Lbs
Empty Weight
451Lbs
Useful Load
341Lbs
Tail Boom Structure
Aluminum Tube, Aprox 4" dia.
Tail Boom Support
A frame brace
Length of Boom Behind Support
36 inches
Tail Rotor Control Linkage
Push Pull Rods & Bell Crank
Canopy
Lexan, One Piece, Forward Hinging
Hours Between Overhauls
1000 hours (or on condition as fleet matures)
Air Frame Construction
4230 Chrome Molly Tubing – Pressurized with nitrogen gas to detect defects at a glance.
Max Speed (VNE)
92 MPH
Cruise Speed
between 75 & 85 MPH
Best Rate of Climb Speed
1100 FPM
Max Duration Speed (best fuel economy)
68 MPH
Max Duration Time
2.5 hours (no reserve)
Max In Ground Effect Hover
7,500 feet
Max Out of Ground Effect Hover
5,500 feet
Service Ceiling
11,000 feet
CH-7 Angel Helicopter Main Rotor System
Number of Blades
2
Construction
Composite, 1.5 kilo tip weight
Diameter
20 feet 3 inches
Main Rotor Air Foil
Asymmetrical
Degree of Twist in Blade
? To Be Advised
Blade Chord
7 inches
Rotor RPM
520-Top of Green
Tip Speed
To Be Advised
Articulation
Teetering, Semi Ridged
CH-7 Angel Kit Helicopter Tail Rotor System
Number of Blades
2
Diameter
38 5/16 inches
Air Foil
Symmetrical
Degree of Twist in Blade
? To Be Advised
Blade Chord
3 15/16 inches
Rotor RPM
2808-Top of Green
Tip Speed
? FPS or ? MPH
Articulation
Teetering, Semi Ridged
Pre cone Angle
? degrees
CH7 Angel Kit Helicopter Factory Standard Engine – (original model)
Engine
Rotax 582
Weight
86.6 Lbs
Fuel
Unleaded Auto Fuel-90 octane or better
Horse Power
64.4 hp SAE @ 6500 RPMs
Max RPMs
6800
Horse Power to weight ratio
1 hp for every 7.003 Lbs for every pound of empty weight
Displacement, (cubic centimeter)
580
Number of Cylinders
2
Power Cycle
2 Cycle
Lubrication
Oil Injection Pump
Ignition System
Dual (two plugs per cylinder)
Cooling System
Liquid/Water
Radiators
2 plumbed in series mounted in a Y across the frame under the rear of the engine
Cooling Fan
Yes, 2
Type Fan
Electric fans/when needed
Time Between Overhauls
Rotax Recommends 500 hours, HOWEVER, Powering a helicopter EXPECT to half this Number
CH7 Angel Helicopter Power Transfer System
Rotor engagement
Clutchable V-belts – Mechanical/Cable
Engine to Transmission
Single-4" – 5 groove, GoodYear belt
Transmission to Tail Rotor
1 5/16" diameter aluminum drive shaft support by 2 intermediate bearings supporting the TR shaft.
CH7 Angel Helicopter Kit Factory Standard Flight Instruments
Quad Main Rotor Transmission
2 EGT, Engine Coolant Temperature s
Dual Rotor/Engine Tachometer
Vertical Speed Indicator
Non Sensitive Altimeter
Ground Handling Wheels
Air Speed Indicators
Summary
Reviewer
Review Date
Reviewed Item
Author Rating