Nolan
Coaxial Helicopter
Design
Herb & Jack Nolans Coaxial Helicopter – The HJ-51 AKA SkyBlazer Helicopter
There have been several new homebuilt helicopter designs appear on the market in the past few years, but the 51 HJ twin engine, coaxial rotor, pendulum control helicopter is one of the most unique and innovative to appear in several decades. And in addition, the Nolan Coaxial Helicopter actually flies – and flies well.
We have been keeping up with progress on this unique coaxial aircraft for around three years after Herb and Jack Nolan sent us a videotape of their first attempts of constructing and flying their coaxial rotor helicopter design.
The tiny ship made its first debut at the Bensen Days fly – in last spring, but we missed that event. When we heard that the ship would be flying at the PRA Convention and Fly-in we were resolved to be there.
What is really unique about this ship is that Herb and Jack Nolan had no prior aircraft design, construction, or flight experience – they just decided to build a helicopter from scratch. And that they did, plus Jack taught himself to fly.
We watched their video or the first tethered flights with humour – the first proof-of-concept prototype had giant tires and looked a lot like a flying tractor which fit in well with the décor of their farm. The first flying prototype had twin rudders which rotated on a horizontal axis.
Next they went to a single tail and finally returned to twin horizontal rudders and smaller twin vertical rudders which provide excellent yaw control.
The 51 HJ has a few similarities to the Bensen Little Zipster in that it is a coaxial rotor, pendulum design with no collective control. But there the similarities end!
The ship is powered by two Rotax 503 two-stroke engines of around 50 HP each. The two engines are coupled to a common drive train via mini-V belts which appeared to be about five inches wide.
Idler pulleys allow the engines to be started without the rotors turning – the same as commercial helicopters clutchable V-belt drive engagement.
Each engine on the Nolan Coaxial Helicopter utilizes an over-running clutch so that if one engine fails it does not lug down the other one. The output shaft is coupled to the rotor head through a driveshaft which appears to utilize automotive U-joints.
The final drive overhead drives the two rotors in opposite directions. When I asked Herb Nolan if the upper rive assembly utilized a differential gear system he replied, "Our lawyer has advised us not to discuss it because we are working on a patent." Whatever type of system is used, it works and works well.
The four short, skinny wooden blades do a good job of hoisting the ship into the air. Each blade is only six feet long and four inches chord. The blades utilize a NACA 0012 symmetrical air foil.
Herb said they first tried flat bottom airfoils and had control problems. The symmetrical blades, on the other hand, provide good lift and excellent control ability as exhibited by heir daily demo flights at the PRA fly-in.
The rudder system is also quite innovative. Twin, all-flying horizontal rudder provide good yaw control in hover and slow flight and the tiny interconnecting twin vertical rudders provide control in high speed forward flight.
And speaking of control, all flight controls (except throttles) are hydraulically actuated. The cyclic utilizes two paid of hydraulic cylinders for pitch and roll control. Rudder control uses one pair. Nolan said the system works with low pressures and provides good feedback and dampening.
We watched with amazement each day at noon as Jack Nolan conducted his demo flight. After starting the two engines the idler clutches were gradually engaged which allowed the rotors to slowly come up to speed. At high idle the blades were whirring.
A gradual increase in power lifted the Nolan Coaxial Helicopter into a hover in ground effect. Jack would rotate 180 degrees in hover, add power, and transition to forward speed. Several minutes of manoeuvres would take place which included climbing and descending turns, hovers, 360 degree turns in hover, etc.
The ship appeared to be extremely manoeuvrable and apparently easy to fly. Nolan says the ship flies like an airplane – power controls altitude and the stick controls attitude.
So far, the 51 HJ coaxial pendulum helicopter (CPH) has been flown to an altitude of 500 feet AGL and at a maximum forward speed of 50 mph. Estimated top speed is 85 mph with a cruise of 60 mph.
Since the 51 HJ helicopter has no collective control so the rotors will not auto rotate, but the ship is said to maintain flight on a single engine (apparently yet to be perfected).
To further enhance safety, a ballistic recovery chute system is planned. Herb said they would have one installed at Oshkosh the following week. The helicopter was on display and flew daily demonstrations at the 1994 PRA convention.
The coaxial rotor helicopter can be build in around 250 hours using basic hand tools since the chromoly fuselage comes pre-welded and major components are supplied pre-assembled.
We have seen a unique helicopter design evolve from a crude prototype to a successful, flying ship over a period of a few years, and the 51 HJ Nolan Coaxial Helicopter comes closest to fulfilling the universal dream of flying out of one's back yard.
VIDEO:

Nolan Brothers Coaxial Helicopter.

With its simple flight control characteristics, excellent manoeuvrability, and small rotor diameter the Nolan Coaxial Helicopter certainly meets the requirements. This design may be the one that comes closest to the age-old promise of a "helicopter in every garage".
The coaxial pendulum helicopter utilizes a welded chromoly tube frame which provides a strong roll over structure. An enclosure could easily be accomplished; either a composite shell bolted to the frame or fabric covering could also be utilized which would be lighter.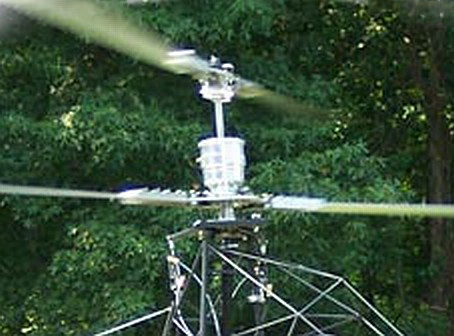 The Nolans say that the slightly larger tail rudder surfaces on the helicopter would be required if an enclosure was added.
Considering the performance with the initial twin Rotax 503 engines, the ship could probably be scaled up to a two-place model in the future.
The rudder system is quite ingenious. Notice that the forward rudders rotate about a horizontal axis.
They utilize downwash from the rotors to control yaw in hover and slow flight.
The rear pair of surfaces are hinged on the vertical axis and provide yaw control with higher speed forward flight.
Both pairs of rudders are interconnected and function in conjunction during all manoeuvres.
The rudders are actuated by a simple low-pressure hydraulic system which eliminates long cables or push-pull tubes.
NOLAN COAXIAL HELICOPTER SPECIFICATIONS
Engine
2 x Hirth 2706
Power
47.8kW (each)
Main rotor diameter
4.42 m
Length
4.55 m
Height
2.44 m
Take-off weight
383 kg
Empty weight
237 kg
Maximum speed
129 km/h
Cruising speed
97 km/h
Information from: Aviastar.org.
DESIGN FEATURES:
▣ Stick, rudder and throttle controls are similar in operation to fixed-wing aircraft.
▣ One engine is set for constant speed; other engine is used for control of climb, descent and airspeed.
▣ Tilt-able counter-rotating rotor counteracts torque so no tail rotor is required.
▣ Transitional flight can be maintained on single engine, but the helicopter cannot hover on one engine.
▣ Ballistic parachute can be fitted for extra safety.
An interesting post in the comments section of the Avistar website brings hope to the possible continual evolution of the SkyBlazer coaxial pendulum helicopter.
---
Anthony, 05.03.2015
Hello interested coaxial flyers. My air craft division is called PHOENIX ROTOR CRAFT. I have posted on here once several years ago. I am the NEW builder of the Nolan Brothers Coaxial Helicopters and all of there parts.

The new name that I have given the craft is the SKYBLAZER. I have overcome the lack of horse power problems that have plagued all of the earlier models. I do not supply these aircraft's in a kit form. For more information send me an e-mail… (Editor: visit Avistar link above).
IN BRIEF: A coaxial pendulum kit helicopter designed by brothers Herb and Jack Nolan of Eagle's Perch Inc. marketing company.
Originally, the Nolan Coaxial Helicopter was targeted at the aerial work market, such as agricultural and general crop spraying, insect control, oil and pipeline inspection and monitoring, outback fence inspection, animal herding and heli-mustering, search and rescue missions and police surveillance work.
The Nolan Coaxial Helicopter kit assembly time is said to be less than 250 hours. Many parts are commonly available off-the-shelf. Also aimed at unmanned operation such as the drone helicopter market.
SKYBLAZER DESCRIPTION: the helicopter features two coaxial, contra-rotating main rotor blades, a single-seat semi-open cockpit (enclosed by chromoly steel frame tube) without a windshield, standard helicopter skid-type landing gear and two (2) twin-cylinder, air-cooled, two-stroke, dual-ignition 50 hp (37 kW) Rotax 503 aircraft engines for redundancy.
The two Rotax engines were installed due to the aircraft lacking collective pitch control, thus precluding an autorotation in the event of a power loss.
The aircraft can reportedly hover on one engine – though there have been conflicting reports.
And another comment from the Avistar website:
DieFree@RonCadby.org, 06.11.2011
I had over a year's involvement with the Nolan brothers. I 'sponsored' and manned booths at Oshkosh and Sun n Fun with them. I was designing and creating a kit for the original functioning Perch and I could hover it.

The original design had many innovative and first time features:

a) Rotor head design for counter-rotating blades driven by a single shaft. The rotor head itself tilted on two axis.

b) Twin engines drove the single shaft through simple pulley reduction using sprag clutches to allow one-engine drive.

c) Engine fuel systems fully independent.

d) Conventional stick-rudder flight controls.

I designed a throttle quadrant that could be manually alternated between fixed wing and helicopter pilot operation.

e) A clever canted rudder design 'pointed' the pilot while moving or in hover.

f) All control movements, rotor tilt and rudder, were driven by closed loop hydraulics….no cables (except throttle) or push-pull tubes…simple.

As y'all probably know, the blade span was only 12′ and a single engine could carry you to a safe skid on landing.

Unfortunately, the Nolan brothers decided to sell everything and my involvement ended.

They were truly ingenious and I treasure the experience.
---
Nolan Helicopter Features At Oshkosh 1994
Among the most interesting new aircraft was the Nolan brothers' twin-rotor, twin-engine, fixed-rotor-pitch coaxial 51-HJ helicopter. Without any previous aircraft or pilot knowledge, lifelong innovators Herb and Jack Nolan began researching helicopters and decided to design, build and fly their own.
Finding that tailrotors were a factor in about 25% of the accidents, they eliminated the need for one by using a torque-canceling, twin-rotor, counter-rotating coaxial system and rudders that control yaw in hover and forward flight.
The most controversial feature is the fixed-pitch rotors, which preclude autorotation to a landing if power quits or some other emergency occurs.
Using a pair of completely independent Rotax 503's virtually eliminates the chance of a complete power failure, the Nolans believe, but shortly before Oshkosh, a Second Chantz ballistic 'chute was installed.
Herb says he considers the system a third chance; a program to test the viability of the ballistic 'chute on this helicopter is being designed by Second Chantz, Inc., and the Nolans.
Five years of metal cutting, trial and error, and a few accidents occurred, but Jack—the self-taught pilot of a one-of-a-kind helicopter is now flying to 500 feet and 60 mph. Top speed is expected to be 75 mph.
---
Summary
Reviewer
Review Date
Reviewed Item
Author Rating