Single Seat
Scorpion One
Kit Helicopter
Powered by a 115-hp engine, this whirlybird cruises at 75 mph and has a 140-mile range. You can build it from 15 separate kits for a total outlay of about $3650
THE SCORPION is a rare bird — a homebuilt that is a true helicopter, not an autogyro. The difference? A copter's rotor is powered while that of an autogyro spins only in reaction to aerodynamic forces.
It's a more sophisticated — and more expensive — form of air transportation than its simpler rotary-wing cousin. The Scorpion comes in kit form — in 15 different kits, to be exact.
There's one for every major component—the rotor head, the powerplant, landing gear, and so on. The advantage to the homebuilder is that he can buy a few kits at a time, building the bird piecemeal and laying out hundreds—instead of thousands — of dollars at a clip. The Scorpion is not cheap. Total price, less engine, comes to about $3650.
The Scorpion is a souped-up version of a copter first flown by B. J. Schramm, its designer, in 1965. Powerplants are outboard marine engines: an 85-hp Johnson, or a 100-hp or 115-hp Evinrude. The four-cylinder Evinrudes have proven popular because of the extra power.
A 115-hp Scorpion helicopter has an empty weight of 450 pounds and a gross weight of 750 pounds. It boasts a maximum speed of 85 mph and a cruise speed of 75. Rate of climb is 1200 feet per minute and the service ceiling is said to be 12,000 feet. Normal fuel capacity of 10 gallons provides for a top range of about 140 miles.
The airframe is a simple tubular steel job with a variety of fiberglass pilot enclosures available. The main rotor is 20 feet in diameter and the tail rotor 3 feet 4 inches. Overall length is 17 feet and the height hits 6 feet.
The rotor system incorporate s a two – bladed, semirigid main rotor and a Schramm-developed Tractable Control Rotor System. The rotor hub is fabricated of aluminum and the blades are attached to it by retention straps. The two-bladed tail rotor is also aluminum.
Though the Scorpion helicopter could never be considered the typical homebuilt craft, it has proved popular among the do-it-your-self set. Last year, a dozen Scorpions showed up at a Midwest airshow.
EDITOR: Add a modern Inntec 800cc engine from an Atrtic Cat, round out the windscreen to the nose, and you are "still" looking at a very capable "and" affordable single seat helicopter.
Summary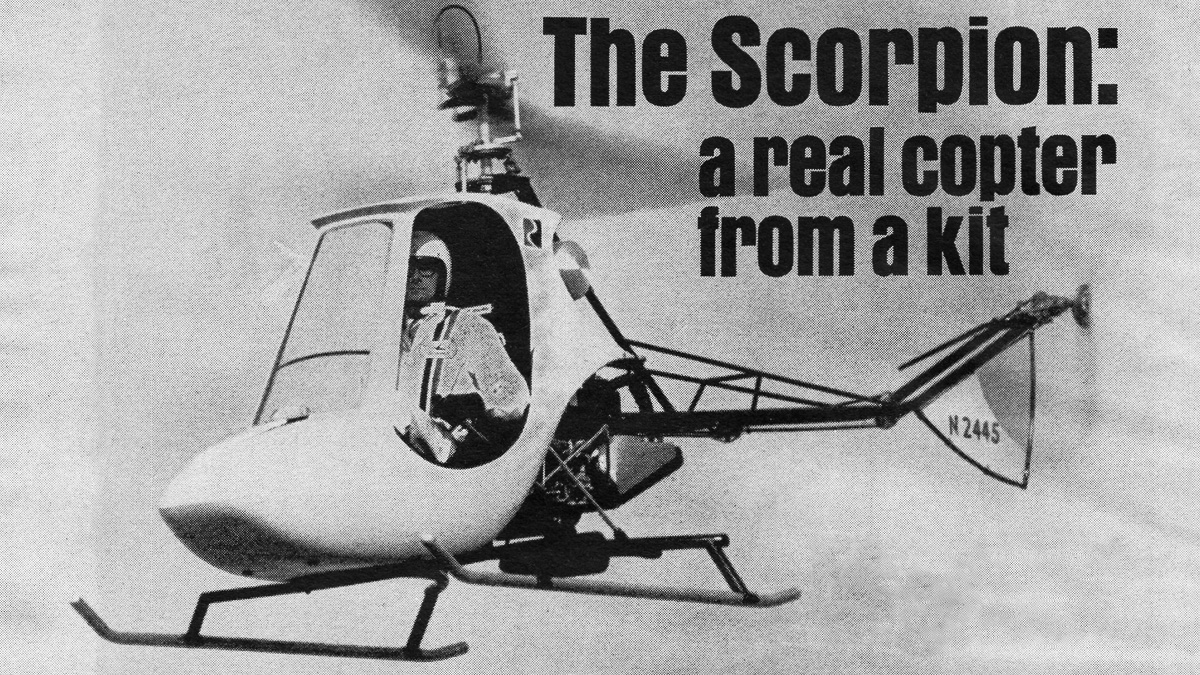 Article Name
The Scorpion: A Real Helicopter From A Kit
Description
Surprisingly this is a very capable little craft. The Scorpion One kit helicopter was the first kit helicopter in a series the Rotorway were to bring to the flying world. If you can get your hands on one, you won't be disappointed, especially with a modern two stroke such as the Inntec 800cc installed.
Author