About
Redback Aviation
Company
Formed in 2006, Redback Aviation was created as an on-going web resource for people interested in building their own helicopter. Homebuilt helicopters have been around for many years now, and there are still many who dream about building their own personal helicopter and flying it right out of their backyard. If only it were that easy! The homebuilt helicopter industry found life through the Adams-Wison Choppy plans built helicopter (Hobbycopter or Flying Triumph as it was also known). For those a little more serious would-be pilots, the Rotorway Scorpion line of kit helicopters also provided a means to realize their dreams of vertical flight.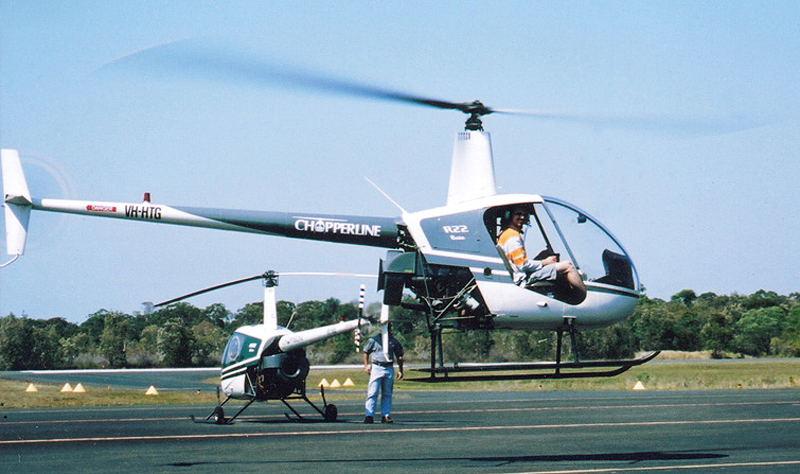 ABOVE : Adam Aitken: Helicopter flight training in a Robinson R22 helicopter at Coloundra Airport, Queensland – Australia.
I have researched many of these and other designs over the years, including a visit to the US based Mosquito factory and including personal correspondance with the likes of Ben Showers, Doug Schwochert, Ron Froeburg, Ben Cope, Don Hillberg, Don Parham, Cameron Carter, Joe Souza, Osvaldo Durana, Ken Rehler, Alf Crowe, Michael Tyler, Dennis Hawkins, John Uptigrove to name a few – in fact, almost every one ever related to helicopter home building over the last 30 – 40 years! (the list continues…) I found that sourcing fact rather than speculation tended to result in my questions being definitively answered.
ABOVE : Adam Aitken – With the Gazelle Ultralight Aircraft I piloted to obtain my Fixed Wing Ultralight License at Point Cook, Victoria, Australia (May 2005).
I personally have achieved my Fixed Wing Ultralight Pilots License (special thanks to my instructor Cathy) and performed a few hours of Rotary Wing training in R22's over the years. I have owned the most recent versions of the LoneStar Kit Helicopter with Hirth F-30 engine, purchasing the marketing rights along with it and displayed at the Avalon International Airshow 2005.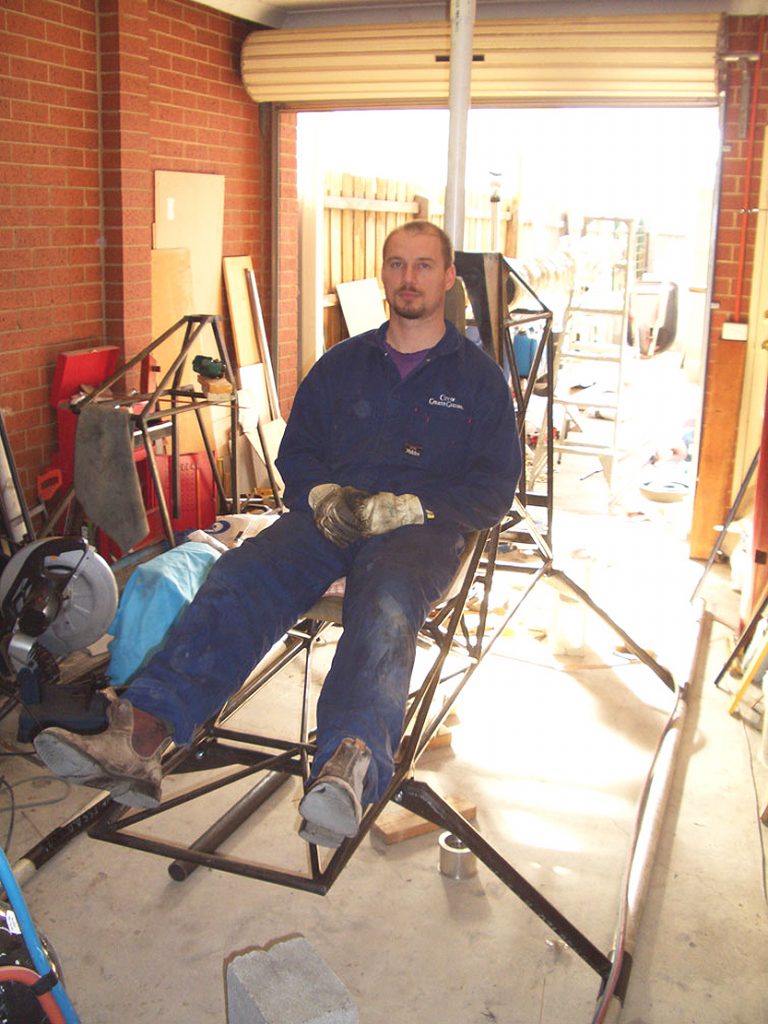 ABOVE : The SPIDER Helicopter (Mark-1) by Redback Aviation.
The helicopter it's self has since been on-sold in Australia. I have also built two (2) prototype single seat helicopters. I often worked in partnership when building. The first was of chromoly stell framework with a Subaru EA81 mounted vertically. This model was never completed but taught me a lot about undertaking the task of building and designing your own helicopter.
The other of my homebuilt helicopters was intended to be named the "Raptor" powered by the three (3) cylinder two stroke watercooled 3702 Hirth Aircraft Engine. This was later renamed the "Spider" and repowered by a three cylinder Geo/Suzuki G10 Turbo 1000cc then a four cylinder Suzuki G13BB EFI auto engine. Of typical layout, it used chromoly steel framework, a supported aluminum tube tail with an industrial right angle tail rotor gear box, the same as used in the Kinney HRH (Hot Rod Helicopter). The main rotor transmission was a Honda Goldwing rear wheel drive with clutchable V-belt from the engine. Main and tail rotorblades were all aluminum and the swashplate was from the AW95 design.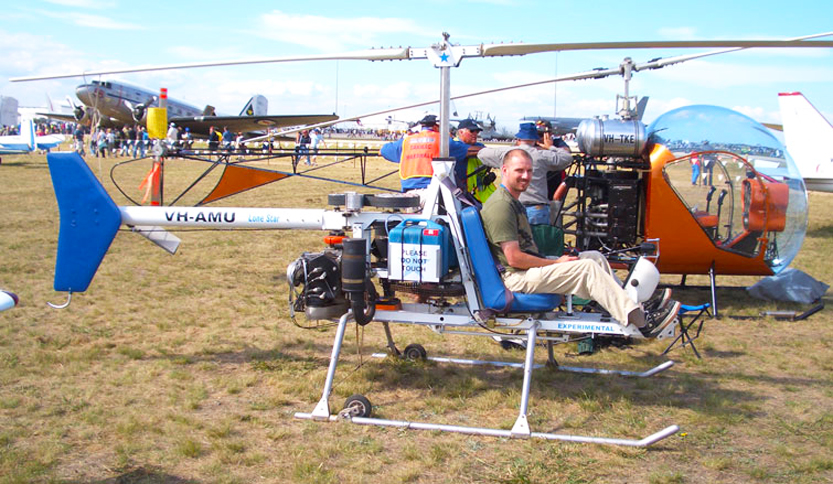 ABOVE : The LoneStar Kit Helicopter on display at Avalon Airshow Australia 2005 (with Safari Kit Helicopter in background).
The Spider experimental helicopter did make it to tethered hover stage before money and family life took priority. The helicopter was parted out with funds going towards supporting the growth of this website. In all, I have invested many thousands of dollars in my passion with the homebuilt helicopter. My current situation is that all building and designing has been placed on indefinite hold with all free time now being directed towards improving and maintaining this site for all to benefit and be inspired by the information provided.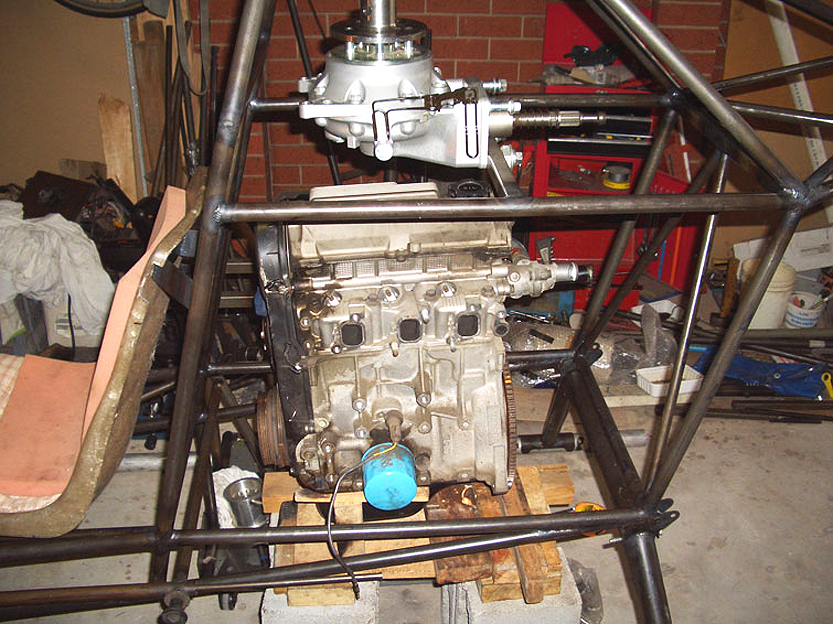 ABOVE : Spider experimental helicopter with Honda Goldwing gearbox for the main rotor and previous engine shown.
My general background is approximately 20 years in the electro-mechanical technician field. I have electrical fitting trade experience, office equipment technician history on everything from computers to photocopiers and everything in between. I've also spent time on the road as a hardware sales rep, and a state-wide internet cafe and photo booth technician along with other various vending machines. I am a self-taught web designer (since 2006) and host my own server. I also surfed for about 30 odd years all around the world. In all I have driven over one million kilometers nationally and internationally, met many people and seen many things (especially flying things!). Helicopters are my passion, and mixing them with my internet skills seems like the natural thing to do.
---
Why "Redback" Aviation? The Redback Spider is a well known and even celebrated Australian insect "icon". It is a distant relative to the Black Widow of America and is freely found in all parts of Australia. In fact, you'd be hard pressed NOT to find one in any back yard. They tend to like keeping out-of-sight and are usually found "under" things laying around in the yard such as bricks and wood piles.
I had brainstormed over business names for some time, and that is what I came up with. The Trade Mark Registered logo was a design of Steven Jones, a family friend who works at Heine Jones Architects for which I am greatly appreciative of. Anyway, I hope you've enjoyed getting to know a little about the person behind the website – Redback Aviation :: Homebuilt Helicopters.
---
Please note that all projects are currently on hold. No further information is available other than found on this site. All property is copyright protected.
---