Redback Aviation
Payment
Options
We exclusively use EXTERNAL payment processors!
Redback Aviation DOES NOT handle any payments directly with our customers.
Payment options differ slightly for different sections of this site. Besides our online Heli-Store, most payments are directed through the secure PayPal checkout system.
Our Heli-Store uses the secure Amazon checkout system for all transactions and accepts all of Amazons approved payment methods that can be viewed "here".
To maintain affordable products without the costs involved with maintaining a commercial merchant account, Redback Aviation has chosen to use the secure Paypal system with on-site shopping cart directing to the SECURE PAYPAL payment gateway.
---
Key Points When Using PayPal
▣

YOU

DO NOT NEED

A PAYPAL ACCOUNT TO USE THIS SERVICE
▣

YOU HAVE THE

OPTION TO CHOOSE

TO PAY BY CREDIT CARD "OR" LOG IN AND USE YOUR PAYPAL ACCOUNT
▣

USING PAYPAL IS SIMPLE, SAFE, SECURE AND OFFERS

PROTECTION FOR ALL PARTIES

DURING A TRANSACTION
---
---
Should you not have a Paypal account, simply click on "Continue" in the section on the lower left of the checkout page that says:
Don't have a PayPal account?
Use your credit card or bank account (where available). "Continue"



---
AS SEEN IN THE FOLLOWING FLOWCHART/GUIDE – PAYPAL CHECKOUT PAGES MAY VARY SLIGHTLY FROM THESE SCREENSHOT IMAGES
---
STEP 1
STEP 2
STEP 3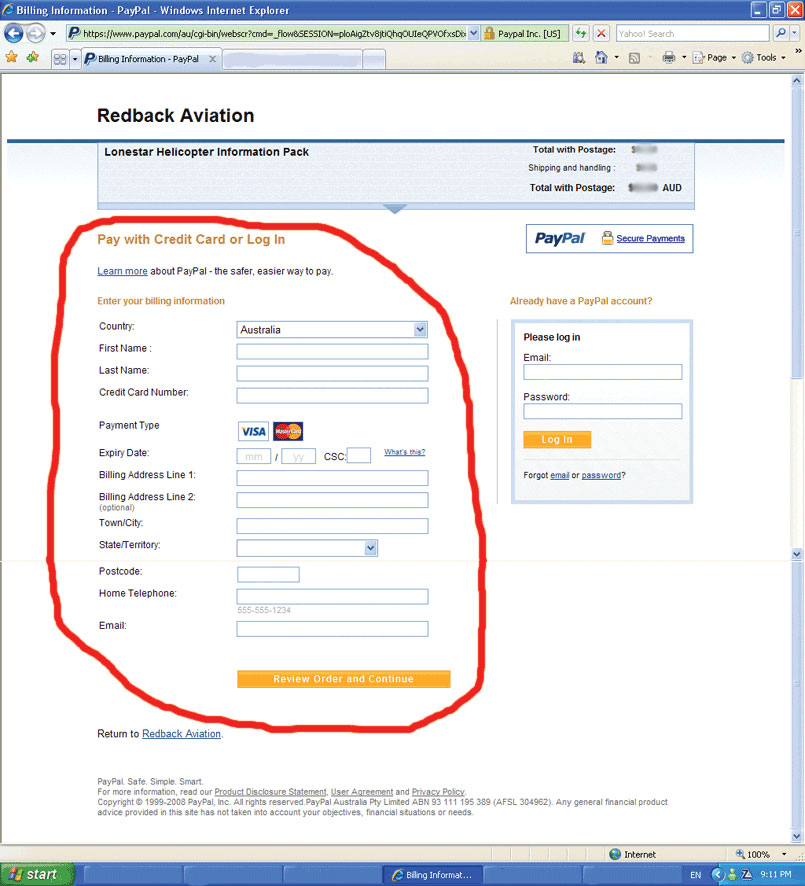 ---
Amazon Affiliate Disclosure
Redback Aviation is a participant in the Amazon Services LLC Associates Program, an affiliate advertising program designed to provide a means for sites to earn advertising fees by advertising and linking to ("redbackaviation.com" (amazon.com, or endless.com, MYHABIT.com, SmallParts.com, or AmazonWireless.com).
---
Redback Aviation DOES NOT retain any personal or payment information other than email addresses for communication purposes only.
---
DO NOT USE GMAIL, HOTMAIL OR YAHOO ACCOUNTS TO ORDER PLANS – OR CONTACT US!
1. Gmail, Hotmail and Yahoo blocks our server, why? we do not know.
2. Gmail, Hotmail and Yahoo limits the size of the download, so we cannot send it manually!
3. Gmail, Hotmail and Yahoo blocks our email address or places it in your spam folder – so we have NO WAY of communicating with you or responding to your emails.