ROTORWAY FORCED INTO BANKRUPTCY
The combination of a failed foreign market and unforeseen local real estate reversals drives helicopter company into Chapter Seven
NOTE: Historical article from the 90's.
It was another one of those bad news days. Early this morning, I received a call from B.J. Schramm, the head of Rotor way, the veteran aviation company which has been serving the flying public for 25 years. Mr. Schramm said he was calling me himself because he wanted to be sure I knew the truth about the demise of their company, not just hear rumors from other sources.
It was a very sad, but not unexpected story: B.J. Schramm had started Rotorway the hard way, working long hours to design and produce his helicopters for very small return, but always turning out the very best quality rotorcraft which could be built, made of the finest available materials. And the price of the helicopter was always kept as affordable as possible so that many pilots could enjoy it.
Even though they never made a great deal of money by selling their helicopters, the company had purchased a small amount of property, and they'd kept afloat for many years by the escalation of real estate values in the Phoenix Arizona area where they were situated.
During this period, there had been a short time when the company had managed to turn a fair profit; only to have it siphoned off by the lawyers they hired to defend them in a lawsuit.
B.J. went on to tell me that it was a combination of unfortunate events which brought down the company. After years of rising property values in the Phoenix area, the real estate market suddenly softened and leveled off, causing many area banks to feel the pinch.
Many improvement loans had been granted to Rotorway over the years, on the basis of the escalated value of their property, and the company had expanded their operations several times in this way, so Rotorway was heavily in debt.
They were not without orders, however, because 12 new helicopters had been ordered by a company in Brazil, and the people at Rotorway had devoted their complete production to completing that order.
Because they had already accepted the large Brazilian order, Rotorway told their domestic customers that their orders would be postponed until the helicopters for their current order had been built. When elections were held in Brazil and a new president was elected, nobody thought anything of it, and production at Rotorway continued unabated.
Then B.J. received a notice from South America that the newly-elected president of Brazil had ordered all foreign imports to be stopped, effective immediately. The Brazilian company which had ordered the twelve helicopters was unable to accept or pay for them, and canceled the order.
Rotorway then turned to its domestic customers, but evidently they had tired of waiting, and canceled their orders as well. Rotorway was left with no money to meet the bank loan payments, and cash flow quickly dried up.
One of the other factors which contributed to Rotorway's problem occurred in 1988, when the company moved to a new building costing over one million dollars, which they financed with a loan from one of the banks.
Another was the cost of updating the design for the new Elete which was funded from an additional half-million-dollar loan. Expenses from its expanded operations soared as well, and B.J. Schramm searched for ways to continue.
For the next few months, he made a valiant effort to attract outside investors to help save the company. Some were found, but because of the widespread fear of product liability, they all declined to participate, and prospects became dimmer yet.
At that time, there were $250,000-worth of pre-paid orders in house, and Mr. Schramm told me that for awhile, he and a few loyal craftsmen worked day and night in the factory, turning out the product. He was proud to tell me that over 95 percent of those orders had been shipped. Rotorway finally defaulted on its bank loans, and the bank foreclosed on their property.
On a potentially hopeful note, papers on the loans were sold to a third party who says he Will attempt to salvage the product line, and some Rotorway employees have been retained by the new owner. And so, yet another aviation firm has been forced to go to the bankruptcy courts toplead for relief of loans and debts which were impossible to pay off in today's economy.
Because of B.J. Schramm's reputation for honesty and integrity during the 25 years he was in business at Rotorway, we know he'll be back. He may return with another company, or he may be working for somebody else, but anyone with a love of aviation and a genius for design such as B.J. Schramm possesses cannot stay away from flying for very long.
Let's just hope that his brainchild, the Rotorway Executive, and his other excellent design, the new Rotorway Elete, will also continue to be available to helicopter enthusiasts for many years to come.
Summary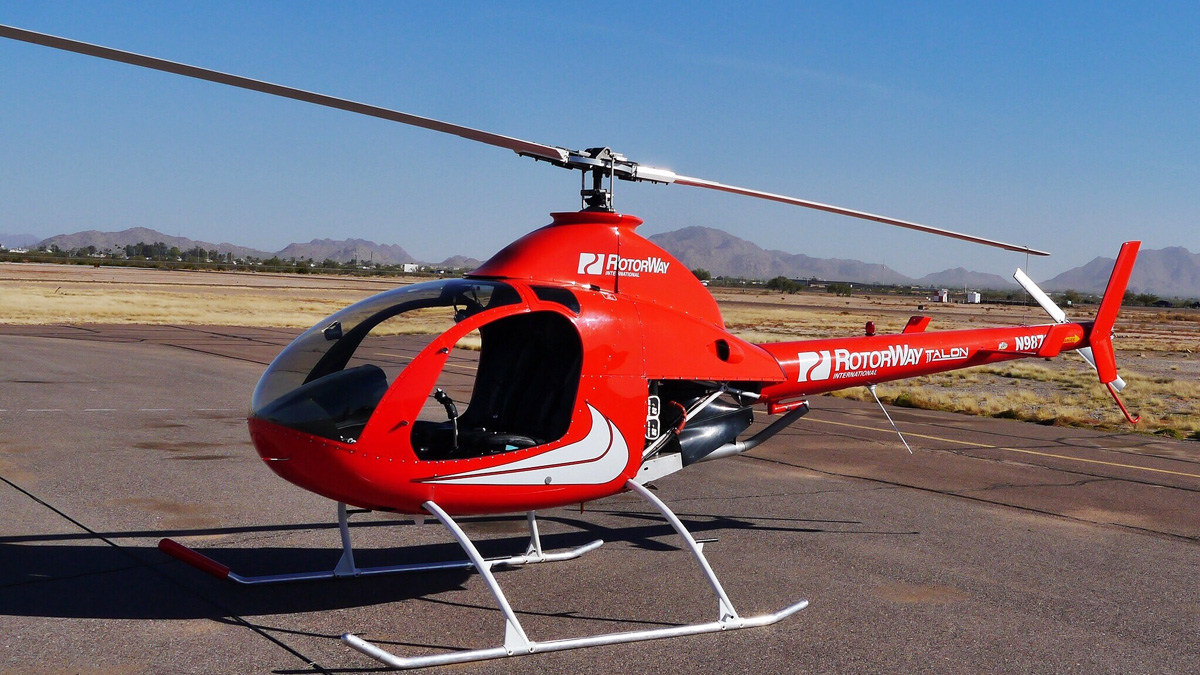 Article Name
Rotorway Helicopters - The Dark Years
Description
Rotorway Helicopters has had a colorful past, but they managed to eventually get some traction and continue as the leader in kit built helicopters.
Author