Helicopter – Convertiplane
Tilt Rotor
Technology
Bell Helicopter has revealed its offering for the United States Army's Joint Multi Role/Future Vertical Lift (FVL) Technology Demonstrator program: a clean-sheet tilt-rotor aircraft called the V-280 Valor.
Bell unveiled the concept on April 10 at the 2013 Army Aviation Association of America's (AAAA) Annual Professional Forum and Exposition in Fort Worth, Texas. Incorporating lessons learned from the Bell-Boeing V-22 Osprey, the V-280 Valor promises a 280-knot cruise speed (hence its name) and a combat range of 500 to 800 nautical miles.
It is designed to meet the Army's future need for a medium-lift helicopter that will perform both utility and attack roles, replacing the Sikorsky UH-60 Black Hawk and Boeing AH-64 Apache currently in the Army's inventory.
"The Bell V-280's unmatched capabilities in speed, range and payload, and its operational agility combine to deliver the best value for the U.S Army," said John Garrison, president and CEO at Bell Helicopter. "This aircraft is the most advanced and operationally effective vertical lift solution, providing the warfighter a decisive advantage."
The V-280 Valor differs from the V-22 Osprey most noticeably in having non-rotating, fixed engines that simplify the design and offer access to large, six-foot side doors, facilitating missions such as hoisting and rappelling. Garrison also promised that the aircraft will have lower rotor disc loading than the V-22, making downwash less of a concern for those missions.
Because the V-280 won't be constrained by the maritime mission requirements of the V-22 — such as the need for wing-folding mechanisms to save space aboard ships — it will have fewer parts than the Osprey and can take advantage of the latest advancements in composite technology.
In keeping with Army requirements, the V-280 will be designed as "a true medium-class aircraft accommodating a crew of four and 11 troops," according to Mitch Snyder, executive vice-president for military programs at Bell Helicopter. Moreover, it will be self-deployable to a range of 2,100 nautical miles. "Tilt-rotor is the only vertical lift platform that can rapidly self-deploy to any theater," Snyder said.
Taking aim at its chief competitor in the FVL competition — the Boeing-Sikorsky partnership that is designing a high-speed demonstrator based on Sikorsky's compound-rotor X2 Technology demonstrator — Garrison stressed that the V-280 is based on mature, combat-proven technology.
"The magic of tilt-rotor is something Bell has been perfecting for 55 years," he said. Bell is marketing the aircraft as a "third-generation tilt-rotor," although in fact there are three previous tilt-rotor series in its lineage: the XV-3 and XV-15 (both of which Bell describes as "first-generation"), as well as the V-22 (and its civilian variant, the AW609 now wholly owned by Agusta Westland).
"From a technical risk standpoint, I think we have a distinct competitive advantage," said Garrison, claiming that the V-280 would offer the "best value" in procurement and maintenance costs. "It [FVL] is a long road, but I think we can shorten that road given where we are."
Garrison said Bell has been working on the V-280 concept "for the better part of 18 months." The company is in discussions with possible partners for the program, but is declining to name them at this point.
Summary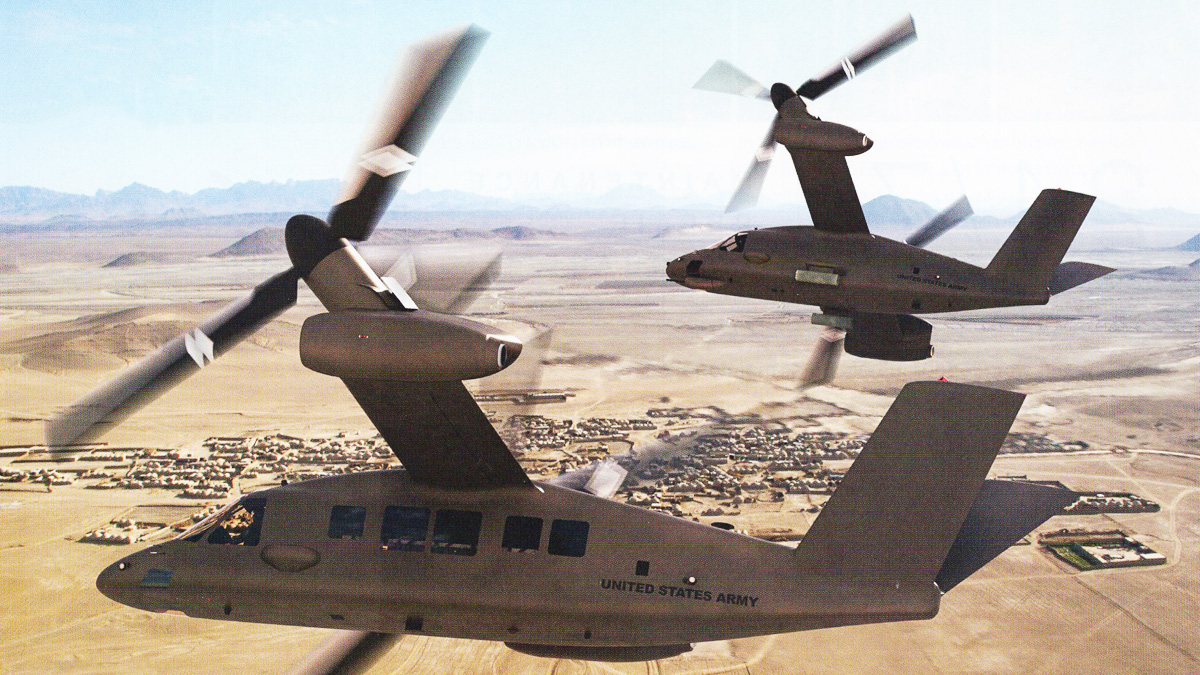 Article Name
Bell Helicopter New Tilt Rotor V-28 Valor
Description
Looking forward to new tilt-rotor options the Bell-Boeing V-22 is reborn as the new Bell V-280 Valor. Offering the best of both worlds, this VTOL aircraft can take-off vertically while still retaining all the features of a fixed wing aircraft.
Author