Pawnee Aviation
Experimental
Helicopters
McCOOK, Nebraska — John Hubert of McCook, Nebraska, says his grandkids and great-grandkids are having fun playing in "Miss McCook," the helicopter cabin that he bought in an on-line auction of "Pawnee Aviation" helicopter kit bits-and-pieces in mid-December.
The sale, conducted for Red Willow County by Big Iron, grossed $18,523.75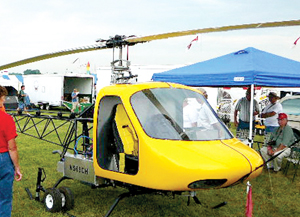 "I've never had a helicopter before," Hubert chuckled. But, John, you didn't get a whole helicopter. "When they split up the sale, they sold a pile here and a pile there," he explained.
For $1,815, John got the most identifiable helicopter parts and pieces — designs and drawings, computer with all drawings, cabin mold and cabin master, cabins, airframe fixture jig, airframe, incomplete tail boom, seats, motors for parts.
John said the helicopter cabin he purchased has "Miss McCook" on the side. At some point, it was involved in an accident and the rotor was torn off, he said. "That way I don't have to worry about having an accident in flight," he laughed.
Other successful bidders acquired other miscellaneous helicopter parts when they purchased shelving units and/or tables, workbenches, racks or shop equipment.
Terry McCorkle of McCook bought a forklift, Jerry Winkler of Atkinson bought a TIG welder, and Rick Hinz of McCook bought the two-ton engine hoist and hydraulic bender. Jay Schilling of McCook bought the paint booth.
Other successful bidders were from Wauneta, Pleasanton, Shickley, Culbertson, Cambridge, Indianola, Brady and Gothenburg, St. Helena / Yankton, South Dakota.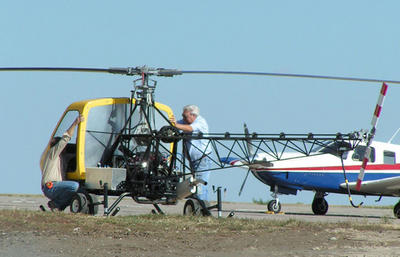 The sale grossed $18,523.75. Big Iron's commission was 10 percent, or $1,852, and Big Iron charged $300 in handling fees, $50 each on six parcels.
The balance due to Red Willow County is $16,371.37, all of which will be forwarded to the Nebraska Department of Economic Development, which, in 2012, took over control of Nebraska counties' revolving loan funds and projects. In June 2012, Red Willow County turned over to the DED the balance of its revolving loan fund — $267,500.
The county started its revolving loan program in the mid-1990s, funding it with the payments made by the two McCook-area dairies built with loans from the federal government's Housing and Urban Development (HUD) Community Development Block Grant (CDBG) Program. As the dairies made payments to the county, the county took those funds and made low-interest loans to existing local businesses or to new small businesses promising to create jobs.
At one time, "Miss McCook" flew. No more, she's in pieces and sold in scattered lots to various bidders in an online auction in December. (McCook Gazette)
Ron Willocks of Longmont, Colorado, partially financed his helicopter kit development and manufacturing project with a $200,000 loan and the $100,000 grant from the county's loan program in December 2004. Willocks defaulted and the county took possession of intellectual properties in early 2010. He turned over tools and equipment to the county in return for releasing the county's security interest in August 2013.
PAWNEE CHIEF HELICOPTER SPECIFICATIONS
Crew
1+1
Length
9.83m
Height
2.49m
Main rotor diameter
9.14m
Empty weight
689 kg
Gross weight
1089 kg
Cruise speed
140 km\h
Maximum speed
165 km\h
Range
400 km
Maximum altitude
3050 m
Powerplant
Chevrolet V-8
Engine HP
305
---
---
Summary
Article Name
Helicopter kit equipment fetches $18,500
Description
Helicopter cabin that he bought in an on-line auction of "Pawnee Aviation" helicopter kit bits-and-pieces in mid-December 2013
Author
Tuesday, January 7, 2014 Connie Jo Discoe
Publisher Name
Publisher Logo