Doug Schwochert's
AW95 Helicopter
Plans
Doug Schwochert has been tinkering with helicopters for as long as I can remember. His most notable achievement is the re-birth of the Adams Wilson Choppy home built helicopter and it's rebirth as the AW95 homebuilt helicopter.
Originally the Adams-Wilson Choppy helicopter was sold as plans and sporting a Triumph motorcycle engine, Doug took the design, re-powered it with a modern two stroke engine, simplified the construction, and released it to the public as the AW95 plans built helicopter.
---
A/W95 Affordable Helicopter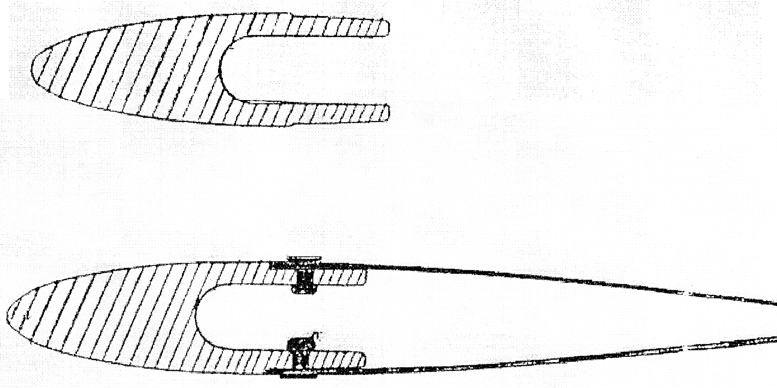 Sample Drawing of Main Rotor Blade Drawing
ROTORBLADE EXTRUSIONS
Build your own rotorblades for your Experimental helicopter with these extrusions. This 3 piece blade design uses our full length leading edge extrusion with riveted an aluminum trailing edge skins. Skins are epoxied and pop riveted to the extrusion, trailing edge is epoxied and aluminum hard riveted.
ROTORBLADE SPECIFICATIONS
Extrusion 6061-T6 aluminum

Skins 2024-T6 aluminum

Chord width 7 in

Length 10 ft

Airfoil NACA0012

Weight per ft (assembled ) 1.6 lbs

Leading edge rivits 1/8 steel pop

Trailing edge rivits 3/32 hard aluminum

Epoxy Araldite2013
PRICE EXTRUSIONS
$400.00 per pair (crateing included) Does not include shipping.
These rotorblades were available in 1998 from A-B HELICOPTERS, but unfortunately have disappeared from the market? Anyone know who might still have the manufacturing equipment for these??
Doug Schwochert's AW95 homebuilt helicopter has many proven flight hours on it as seen in video footage and at fly-ins. This DIY helicopter has become a popular design for all would-be homemade helicopter builders looking for an achievable plans-built rotorcraft.
Not long after the AW95 homebuilt helicopter's public success, Doug re-powered the AW95 craft with a small turbine engine and motorcycle final drive gearbox creating a light weight and very powerful little helicopter.
There is much footage of the AW95 flying from builders all over the world in it's original, and modified configurations. You can also find footage of Doug test flying the turbine version of his AW95 homebuilt Helicopter – a very fine machine.
After this, Doug still had a thirst for something more, so he moved on to the Helicycle kit helicopter and became an integral part of builder operations. The following pages are a variety of article and reports over the years of Doug's involvement with the AW95 helicopter.
The AW 95 Helicopter
Build You Own Affordable Helicopter
The AW95 home built helicopter is a modern up to date version of the Adams Wilson Choppy helicopter that was designed in the late 50s. The AW95 homebuilt helicopter was designed to use modern state of the art materials to replace the obsolete and hard to find components used in the original design.
The AW95 homebuilt helicopter is a single seat, open cockpit and frame fabrication helicopter.
This helicopter features a Rotax 503, 52 HP, air cooled engine with dual carburetors and ignition, 2 cycle.
The main rotor is a design from A-B Helicopter Design. Its all aluminum NACA 0012. The tail rotor is preformed aluminum.
The lower air frame is welded 4130 steel tube and the upper frame and tail boom is 6061 aluminum.
Some of the helicopters modifications and up dates include:
▣ Replacing the original 650cc Triumph motorcycle engine with a light weight 2 cycle engine along with redesigning the helicopter air frame to accommodate the modern more power to weight power plant.
▣ Redesigning the landing gear for ease of construction and simplicity.
▣ Redesigning the swash plate flight control system to both simplify construction and lengthen the component's life.
▣ Redesigning the tail rotor and it's control system for ease of construction and longer life.
▣ Redesigning the rotor grips allowing the A/W 95 helicopter to use the all aluminum A-B rotor blades for there smooth flight characteristics and affordable cost.
---
Vortech now market Doug's original AW95 design.
---
Summary
Reviewer
Review Date
Reviewed Item
AW95 Plans Built Helicopter
Author Rating