Ultimate Ultralight
Kit Built
Helicopter
THE ULTIMATE FREEDOM MACHINE!
It's the Ultimate Ultralight!
Ultralights have a maximum speed set by law, so why have a minimum speed? Why not be able to hover and take off from your own back yard! With the Mosquito Ultralight Helicopter you can do it all!

Mosquito Ultralight Helicopter Specifications
Dimensions
Overall
20 ft
Height
83 in
Length
Frame
16 ft
Overall
83 in
Width
68 in
Rotor Diameter
Main
18 ft
Tail
40 in
Weight
Empty Weight
254 lbs *
Gross Weight
550 lbs
Useful (Pilot) Weight
270 lbs
Power
Engine
Hirth 2706 2C, 2 cylinder, 2 stroke
Rating
65 HP (49 k W)
Performance
Max Speed
63 MPH *
Cruise Speed
63 MPH
Main Rotor Speed
500 RPM
Tail Rotor Speed
2600 RPM
Fuel Capacity
5 US Gallons *
*(as required by FAA Part 103, Ultralight Regulations)
Kit Helicopter General Description
Mosquito Ultralight Helicopter Materials
The frame is constructed almost entirely from 6061-T6 aircraft structural aluminum. This provides the high strength to weight ratio and reliability required in an ultralight helicopter. All solid shafts in the drive system including the tail rotor shaft are high strength heat treated 4041 steel.
Drive tubing is 4130 steel and the main rotor shaft is 4130 heat treated steel. The tail rotor drive shaft is 6061-T6 tubing. The main rotor and tail rotor blades are made entirely from 6061-T6 aluminum.
Mosquito Ultralight Helicopter Controls
The Mosquito is equipped with all the controls of a conventional helicopter including collective, cyclic and foot pedal controls. The joystick is floor mounted. Main rotor controls are located within the main mast and travel up through the rotor shaft which gives the helicopter it's clean appearance.
An inspection window is provided for preflight inspection of the swash plate. The collective is equipped with a throttle correlator to reduce the throttle control required by the pilot. The tail rotor is controlled through a push-pull cable from the foot pedals.
Mosquito Ultralight Helicopter Drive System
The drive system begins with the high powered Hirth 2706-2C two stroke engine, one of the highest power to weight ratio engines available today. The 65 HP produced by this engine provides more than adequate power for the 550 lb gross weight of the Mosquito leaving a significant amount of reserve power when required.
The primary reduction consists of a centrifugal clutch mounted directly on the engine for ease of starting and for idling without rotor movement. A cog belt transmits power to the reduction pulley. The reduction pulley contains the sprague clutch necessary for autorotation.
A floating drive shaft mounted on flexible couplings transmits power to the input of the splitter gear box. The gear box sends power to the tail rotor through the tail rotor drive shaft contained within the tail boom. A second floating drive shaft transmits power from the splitter gear box to the secondary reduction.
Two parallel high technology kevlar cog belts transmit power to the rotor shaft pulley. The driving cog belt pulley is mounted on heavy duty dual row ball bearings while the rotor shaft itself is mounted on extremely heavy duty tapered roller bearings.
Mosquito Ultralight Helicopter Rotor System
The main rotor system is of the semi-rigid configuration. The rotor head is constructed of 6061-T6 aluminum and the blade grips are composite. Composite grips have infinite life and are more flexible than the blades. This adds significant life and reliability to the rotor system.
The main rotor blades consist of aluminum sheet formed around an extruded aluminum spar and flush riveted at the spar and trailing edge. The tail rotor blades are also aluminum sheet formed around aluminum tubing.
Mosquito Ultralight Helicopter Instrumentation
Instrumentation provided with the Mosquito consists of a digital rotor tachometer which doubles as a rotor hour meter when not in use. Below this is a digital engine tachometer which also doubles as an engine hour meter when not in use. Next is a cylinder head temperature and exhaust gas temperature gauge. The final gauge is an air speed indicator.

Buyer Questions:
QUESTION: Do I have to have a license to fly the Mosquito?
ANSWER: The Mosquito is designed to be a US regulation ultralight and so no license is required to fly the Mosquito in the United States. Proper training however is absolutely essential prior to flying any aircraft. A pilot should have a student pilots license as a minimum. Other countries have different regulations for light helicopters. Consult your local aviation authorities.
QUESTION: Do I have to have a certificate of airworthiness to fly the Mosquito?
ANSWER: The Mosquito prototype has received an airworthiness certificate in Canada, however as a US ultralight no certificate is required in the US. Builders in other countries should consult their local aviation authorities.
QUESTION: Is the Mosquito a fixed pitch helicopter that can not autorotate like some other helicopters available now?
ANSWER: No! The Mosquito is a fully conventional helicopter in every way except that it is very small and light. It is capable of autorotation like any commercial helicopter.
QUESTION: What form does the Mosquito come in?
ANSWER: The Mosquito is provided in kit form. All materials are provided including the blades and the instruments. The engine is provided separately and is shipped directly from the distribution center.
QUESTION: What is required to construct the Mosquito?
ANSWER: The builder will be supplied with all the necessary materials to fabricate and assemble the frame and some of the simple control components. While the frame is being constructed all of the machined components and sub assemblies for the drive, rotor, and control systems will be shipped to you for assembly on to the frame.
QUESTION: Is there any construction assistance?
ANSWER: A comprehensive step by step construction manual is provided complete with assembly photos. There are 32 parts and assembly drawings provided along with 6 exploded view drawings to assist in assembly. Builder questions are welcome and can be sent either through email or by phone.
QUESTION: How long will it take?
ANSWER: Approximately 200 hours depending on skill level.
QUESTION: Is there any welding required?
ANSWER: The only welding required is on the exhaust system. No structural welding is required.
QUESTION: Is there any machining required?
ANSWER: No. All work is done using standard shop tools such as a drill, powered saws, vice, small press etc. All machined parts are provided.
QUESTION: Is there a video available?
ANSWER: While this information was from an early brochure, there is a massive online following of the Mosquito Helicopter brand through web sites, forums and social media. Search YouTube for endless information on Innovator Technologies and their range of kit helicopters.

INNOVATOR TECHNOLOGIES
Web site: http://www.innovatortech.ca/
Summary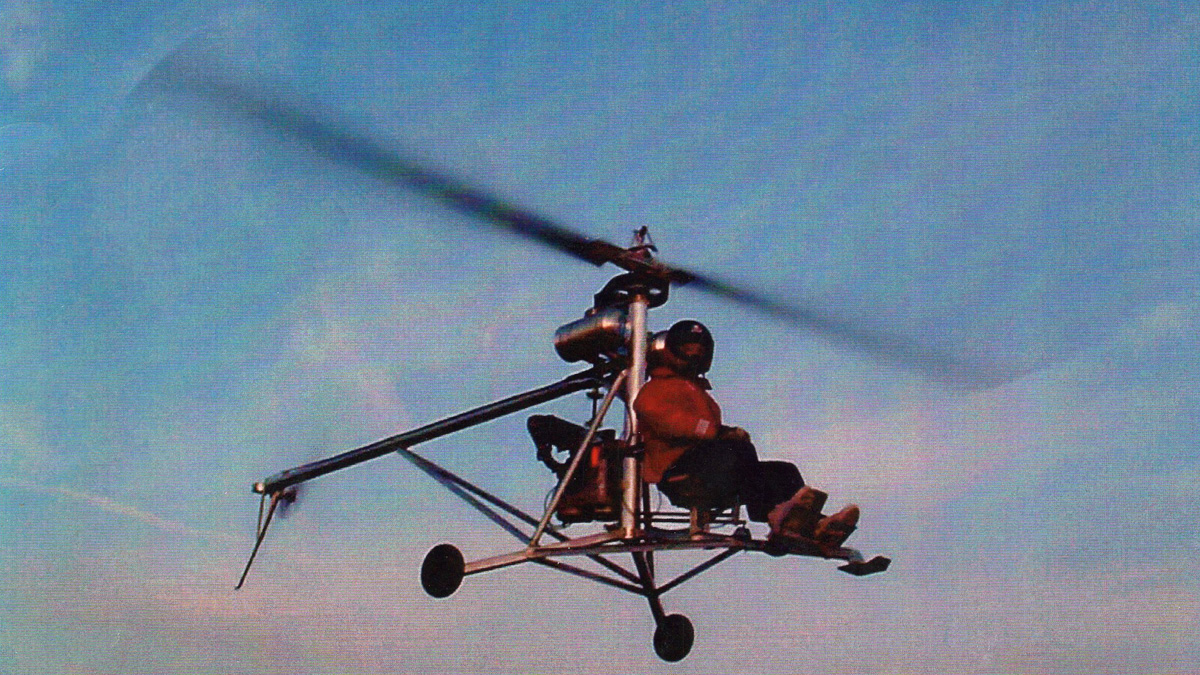 Article Name
The Mosquito Ultralight Helicopter
Description
The first rendition of Innovator Technologies Mosquito Ultralight Helicopter. This was to be later known as the Mosquito Air helicopter made from bolt together aluminum.