The Amazing
Two Place
ScheutzowBee Helicopter
Webb's Wonder From The Pool Parlor Basement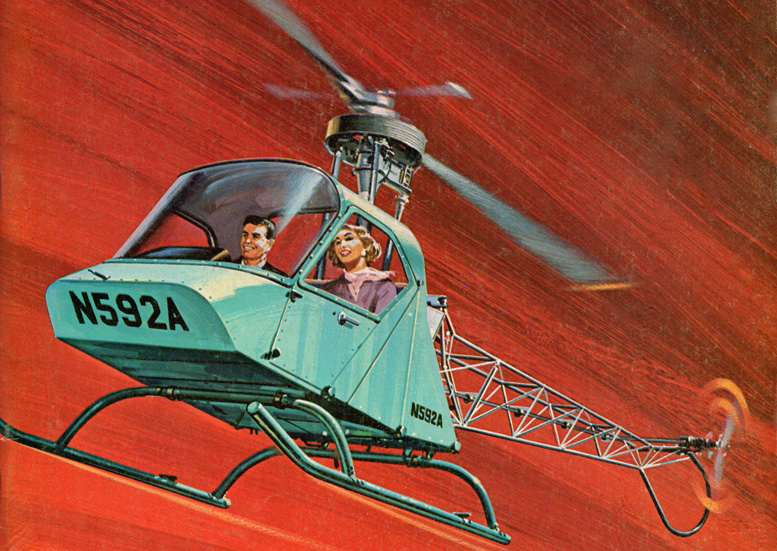 The gamble of a lifetime. A two-place helicopter with a simplified rotor using off-the-shelf auto parts to sell for $12,000 — that's half of today's lowest priced copter; so W.S.'s dream may now come true.
A new little whirlybird is hatching in the basement of a pool room in Northern Ohio. When full-fledged and avail­able in the middle of 1968, it could slash a cost barrier that has kept would-be rotary-wing pilots from dark­ening the skies with relatively inexpensive two-place helicopters.
Quiet, Webb Scheutzow (that's "Shoit-so" — as a Brooklyn husband would tell his bride: "I gotta rip in my shirt, so sew it up!") has been tending the nest since mid-1961 to bring forth his dream-bird. It is the biggest gamble in his 48 years. But 40-hrs of flying by a production proto­type have produced a strong flavor of success.
Using a remarkable "Flexhub" rotor invented by Scheutzow, the machine has reached 90-mph with some speed still remaining. It controls better than any, says Webb. It responds beautifully, say the pilots conducting flight tests.
They're all working toward certification by the end of 1967. Then they expect that a plant somewhere in suburban Cleveland will be tooled up for production. Such a timetable, plus many other factors being exactly right, could put Scheutzow Model B's on the market by July 1968 at the lowest price of any two-placer, $12,000.
Scheutzow is convincing when he explains how the price contains a small "pad" to keep it realistic. Webb already has placed orders for certain production parts and materials that require the longest lead-time, like rod-ends and bearings for the control system. He's signed for January 1968 de­liveries.
It is the Flexhub that is Webb's key to low cost. The unusual hub carries two rotor blades mounted in rubber; it is fitted with low cost rubber bushings common to both the aircraft and automotive industries. These bushings simplify construction and for opera­tion do not require lubrication.
Also, and significantly, the hub is driven by a multiple V-belt transmission system instead of a precision made aircraft-type gear box. Maintenance reduction was one of Scheutzow's primary goals, plus low manufacturing costs.
He figures his Model B will require about as much maintenance as a four-place fixed-gear Cessna single-engine Skyhawk. Webb's copter has dispensed with ball and roller bearings. Inspection of the Flexhub after 20-hrs flying indicates good durability and plenty of support for Scheutzow's theories.
"The helicopter is here to stay, but only the availability of the small, inexpensive, low-maintenance-cost model is going to make it a universally accepted transporation tool," declares Scheutzow.
A native Clevelander, Webb was graduated from John Marshall High School in 1936, studied engineering at Case Institute of Technology from 1937-39, then went on to the University of California 1941-44, majoring in rotary wing theory and industrial management. He worked as an aero engineer for such various aircraft firms as Douglas, Lockheed and Goodyear.
He then worked for Hiller Helicopters before returning to Cleveland 11-yrs ago for a job with General Motors' Cadillac Division. He managed Cadillac's military vehicle development lab at the Cleveland Ordnanc e Plant, where Army tanks are manufactured.
Scheutzow was led back to helicopter rotor studies when he came upon a report by the Army Tranportation Research Command which indicated that a simplified, low-cost helicopter hub was a needed item on the Army's "problem list."
The year of decision for Webb Scheutzow was 1961. He resigned from his Cadillac job to devote full-time to helicopter rotor and patent studies. He worked out the Flexhub, converted the two-car garage behind his home in Berea (Ohio) into a neat machine shop and started working for himself.
His son, Jan, a high-school boy of 17, helped build the first full-size flying version "test bed" of the Model B. It flew successfully in 1963 and passed various tie-down vibration, hovering and control tests. "I've put everything I owned into this project. The machine is intended to be the Cub of the rotary-wing world," said Scheutzow.
Hardly anybody pronounces his name right, but when you hear him say, "Shoit-so," you feel that it sounds quite natural for an industry that includes a Sikorsky and a Piasecki.
"Ours is a German name from close to the Polish border. The 'ow' is 'off' in Polish. 'Scheutz' in German means a rifleman or marksman. The ending of the name indicates the locale," Webb explained to us.
Asked why he calls his current craft the "Model B" since there has not been a previous Scheutzow helicopter, W.S. explained that Henry Ford pretty much exhausted all mileage from "Model A." Webb expects his Model B to gain almost as much lasting fame as Henry's any-color-as-long-as-it's-black Model A Ford.
After spending $42,000 in obtaining patents on his helicopter's unique features and building it to prove his de­sign, in 1963 Webb organized Scheut­zow Helicopter Corp. and became its president at a salary of $18,000 a year. Various public stock offerings at $10 a share have raised some $300,000.
When FAA certification is granted Scheutzow expects to start production in a new building to be built at Strongsville Airport. Later he will look for a plant site where at least 30,000 square feet of space would be available for a factory.
He hopes to keep this, too, in Strongsville because numerous auto­ motive parts producers are conveniently located in the area. Webb finds materials and services for manufactur­ing helicopters more abundant around Cleveland than anywhere in the U.S.
Webb sees helicopters as the solu­tion to rush-hour traffic jams, even the dangers of automobile travel. He can tick off hundreds of uses for his helicopter, some which he never thought of until interested persons brought them to his attention.
"I had the machine at a fair a while ago," he reported. "I noticed a fellow staring at it for a long time. It turned out he was a free-lance embalmer. He wanted to buy one of the helicopters. He said it would be a great addition to his business because he often had to travel long distances on short notice."
Webb has had queries from people in 28 states and 24 countries who want to become dealers for his machine. Among the areas: Poland, South Africa, Australia, Greece, Spain, Portugal, Alaska, Germany, Hungary, plus many Canadian cities.
Scheutzow's son, Jan, was graduated as an aeronautical engineer specializing in rotary wing aircraft from Princeton University in June. He has job offers from California where he could continue studies or he may join his father.
Scheutzow Helicopter will be what Webb calls a "Piper-style" organization. It's one that will have low overhead to help keep that final copter price within those desirable low limits. Most other helicopter firms do not consider Scheutzow a competing company but rather a complimentary one because his machine is in a low-priced category.
SCHEUTZOW MODEL B
Scheutzow Model B Helicopter Specifications
Gross weight
1500-lbs
Empty weight
910-lbs
Useful load
590-lbs
Engine
156-hp
Fuel Capacity
25-gal
Range with 25-gal
200-mi
Fuel consumption
7-gal/hr
Rotor diameter
27-ft
Maximum airspeed (est)
95-mph
Hovering (out of ground effect)
7200-ft
Hovering (in ground effect)
10,800-ft
Climb rate
1250-ft/min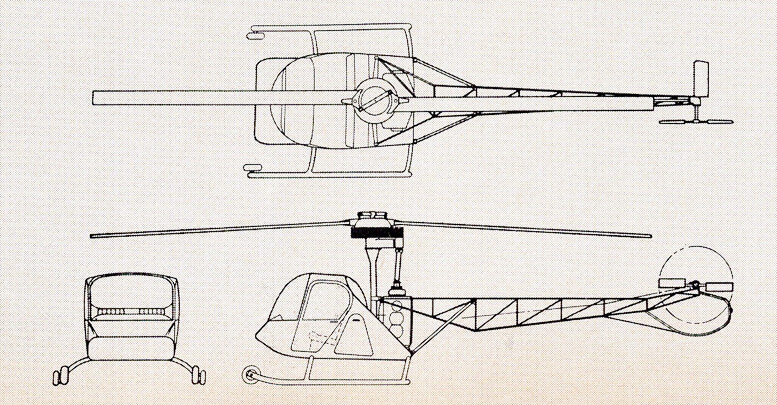 Summary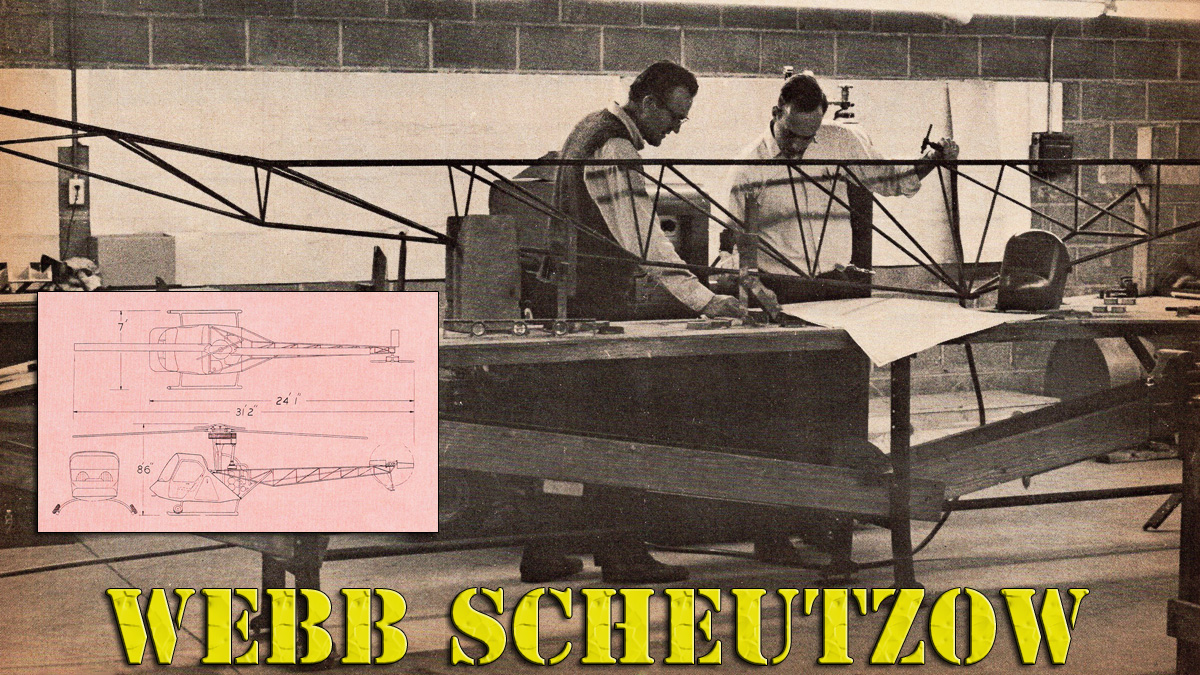 Article Name
Webb Scheutzow Two Place Helicopter
Description
Webb Scheutzow is one of those quiet helicopter pioneers that we know little about. Yet his helicopter sported cutting edge technology when it was built and designed way back in the 1960's. Elastomeric bearings, hingeless rotorhead, low maintenance drive train - it had it all.
Author
Publisher Name
Publisher Logo