Scheutzow
Hawk 90 & Hawk 140
Helicopters
SCHEUTZOW HAWK helicopters will bring up-to-date helicopter performance and maneuverability to sport aviation. Proven construction and reliability are also goals of top priority.
The single-place HAWK 90 and the two-place HAWK 140 will use as many common components as possible. Present plans incorporate the proven Scheutzow BEE elastomeric FLEXHUB rotor system under a patent licensing agreement being negotiated with Scheutzow Helicopter Corporation; also, the corporation will have a first option to manufacture HAWK components.
The two HAWK designs feature construction techniques designed for home building and a modular arrangement of components providing for step-by-step purchase of materials. To attain good maximum forward speeds, parasitic drag is given careful attention. Minimum weight and clean lines, essential for performance, was the basis for selecting the canopy style fuselage.
To provide minimum drag, good helicopter elbow room, and downward visibility, HAWK 140 uses a canopy concept very much like the North American OV-1O. Fuselage construction is sheet metal although wood construction can be adapted if this is your specialty. Main rotor and tail rotor blades are proven all-metal construction.
Scheutzow BEE Promotional Video from Ryan Scheutzow on Vimeo.
Rotor transmission systems will use "V" belts, including the tail rotor drive which will employ special belt damping devices. Wheel landing gear is used rather than skid gear, to avoid the inconveniences of ground handling typical of skid gear.
A high "T" tail configuration is used to put the horizontal stabilizer above the main rotor wake. An important construction feature is the mast mounting system which is an inverted "X" structure with a three-point attachment to the fuselage made in elastomerics to provide vibration isolation.
The cross bar of the inverted "X" is mounted low in the fuselage. This feature provides the major interconnection structure for the fuselage and dynamic components. In addition to mounting the fuselage and main rotor, mounts are provided for the engine, landing gear springs, and control cluster.
This central dynamic mounting system will be supplied as a factory component. Other components to be factory-supplied are rotor blades, main rotor hub-drive-control component, and tail rotor. Our goal will be to supply all precision and critical fatigue parts.
Modern high speed performance and a safe design, one in which there is a solid knowledge of fatigue life, are the two most important features in HAWK helicopters — whether your choice is the little red HAWK 90 or the larger HAWK 140.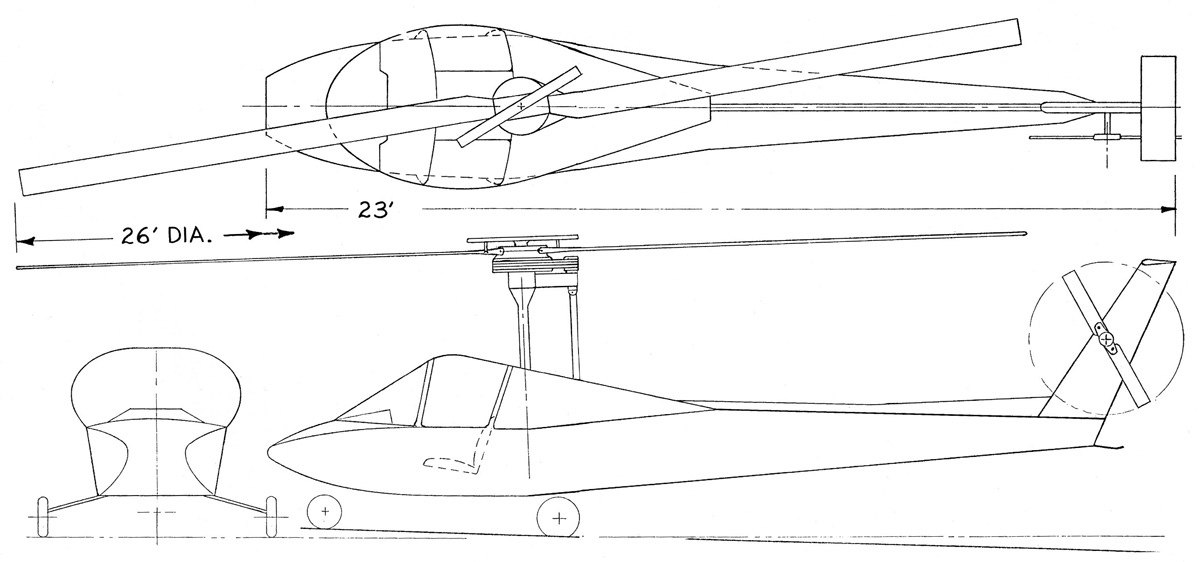 ---
Old Time Airshows
Summary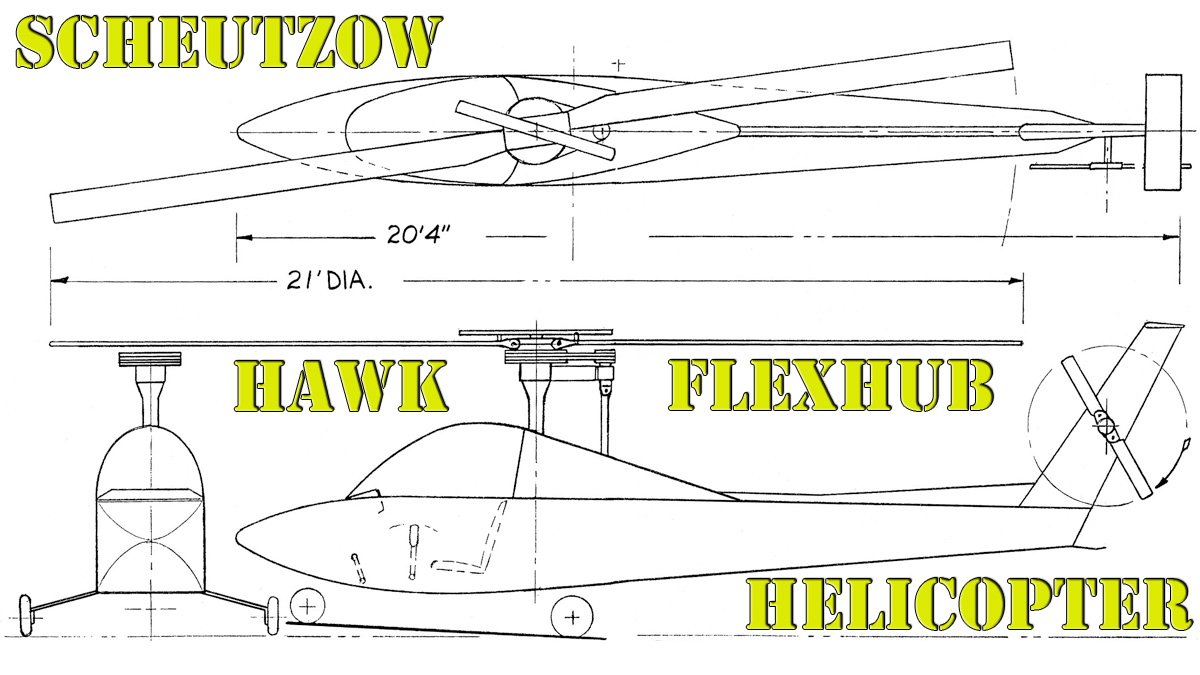 Article Name
Scheutzow Hawk Helicopter
Description
Webb Scheutzow does it again with his helicopter innovations leading to the design of the Hawk helicopter. Two models have been proposed, the HAWK 90 single seat helicopter and the HAWK 140 two seat helicopter. Both exhibit Webb's unique rotorhead design.
Author