Early Military
Ultralight Helicopter
Prototypes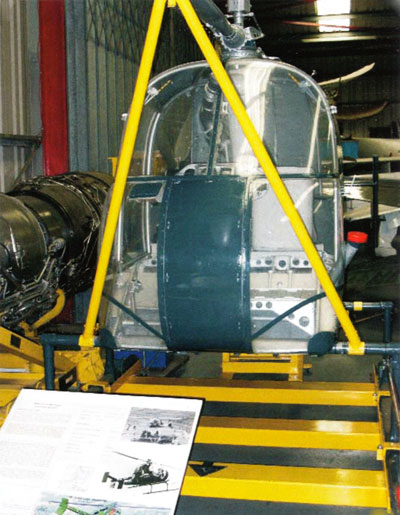 Built by Fairey Aviation, the manufacturer of the previously featured Rotodyne, at it's factory in Hayes, UK, near today's Heathrow Airport, the Fairey Ultra Light helicopter was built to satisfy two British Army requirements in the mid-1950s.
Included requirements were battlefield reconnaissance and various roles as a general purpose helicopter for use as an air runabout'. A side-by-side, enclosed cabin, two-seat helicopter with the pilot seated on the right, leaving the passenger/observer in the left, allowing a clear view forward and rearwards.
The core of the Fairey Ultra Light airframe is a light alloy box that contains a 'crash proof' fuel tank. Atop this box is a rubber mounted pylon that supports the rotor head and other gubbins associated with the support and feed of the rotor blades.
A 'box girder' tail boom carries the tail plane, fins and rudder, with a bolted joint halfway down it's length, so that the entire aircraft can be broken down into a 9-foot x 10-foot 8-inch x 6 foot 6-inch package for air or surface transport. The twin, tubular steel landing skids have holes in their sides so that 'porter bars' can be inserted through them allowing the aircraft to be carried manually.
Similar to the French-built Djinn, this Fairey Ultra Light aircraft has tip drive rotor blades and therefore no reactive torque, doing away with the shafts, gears and other baggage associated with other machines having their rotor blades conventionally driven off the engine, requiring an anti-torque, tail rotor.
The cantilever monoplane type tail unit features two fixed end plate fins and a moveable, stainless steel central rudder beneath the tail plane on the center line of the engine's jet efflux for maximum directional control.
The Fairey Ultra Light helicopter power plant is a single, French, Palouste BuPe2 gas turbine, re-engineered by Blackburn-Turbomeca & General Aircraft Ltd., with a Nimonic 90 Alloy turbine, rated at 185kW.
The tip jets burn a mixture of fuel from the main fuel tank, drawn up through the mast and out through the blades where it is mixed with compressed air from the Palouste's over-sized turbo generator and ignited in the small combustion chamber at the end of each blade. (Although this sounds like a complicated assembly, the company claimed the complete rotor assembly and engine could be changed in less than two hours).
The prototype Fairey Ultra Light helicopter first flew on August 14th, 1955 and after a program of concept proving, ground testing and test flights, was joined by G-AOUJ, which first flew 20th March 1956.
However, as a Ministry of Supply economy measure, support was withdrawn and the Army program cancelled. However, development was continued on a private venture basis, leading to six airframes being constructed to carry on project testing.
In September 1956, the Fairey Ultra Light helicopter, capable of being transported on a three-ton lorry, was exhibited at the UK's Farnborough Trade Show, where it was demonstrated taking off and landing on the back of a standard, flat-bed truck. Additionally, tests for rate of climb, reaching approximately 6.75 meters/second, and auto-rotations to earth at about 20 meters/second.
Part of the Fairey Ultra Light trials saw G-AOUJ being operated in rough sea conditions from a small platform on a British frigate, HMS Grenville, to check the suitability for anti-submarine and observation duties at sea.
Fairey Ultra Light Helicopter Medical Applications
In October 1958, the Fairey Ultra Light helicopter GAOUJ was fitted with a modified nose to take a stretcher and it took part in a UK Medical Corps Casualty evacuation exercise. 1958 also saw the aircraft shipped to Canada for cold weather trials and local demonstrations.
By this time, the aircraft was being offered for crop spraying and under-slung load lifting, with the promise of an improved version for both standard & tropical conditions, with an extremely high vertical rate of climb. However, despite the general success of the design, Fairey did not succeed in marketing the aircraft and the project was finally abandoned in 1959.
Whether it had been due to the early stages of Fairey being taken over by Westlands and rationalization of merging projects or Fairey's own decision remains unanswered. G-AOUJ stood at White Waltham Airfield, UK for some time before being sold off for scrap.
By some miracle, or just plain good luck, an eleventh hour rescue was effected by a Mr Peter Swettenham, the helicopter ending up at his home in Essex, UK. — albeit minus engine, rotor head and tail unit. Its history then became very sketchy to say the least, until it was discovered in a barn on a farm near Harlow in 1977, in a very derelict condition.
A successful survey, was followed by its purchase by the British Rotorcraft Museum (now known as the International Helicopter Museum), joining the museum collection in 1978, finally moving to Weston-super-Mare in May 1979 for storage awaiting restoration/preservation. The aircraft has since been passed to the Cotswold Aviation Preservation Society, with the aim of, following restoration, a return to the IHM for display.
A further example of the Fairey Ultra Light helicopter, G-APJJ, is preserved and displayed at the Coventry Aircraft Museum, painted up in UK Royal Navy colors, and is purported to be the only complete airframe anywhere in the UK. Coventry also holds a further, incomplete airframe, but this is in store and not accessible to the public. It is this aircraft that features in the accompanying photographs to this article.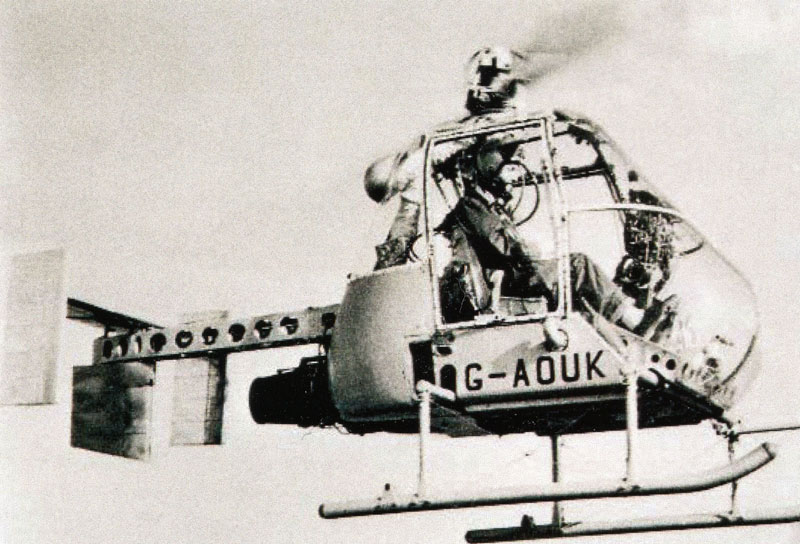 Fairey Ultra Light Helicopter Specifications
Overall length (less rotors)
14-feet 1-inch (4.30m)
Rotor diameter
28-feet 3½-inch (8.62m)
Gross Weight
1800-lb (817 kg)
Max Payload
640-lb (290kg)
Cruise speed
98-mph (158 km/h)
Max endurance
2-hour 30 minute
Vertical rate of climb at s/1
950-feet /minute (290-m/minute)
Hovering ceiling (out of ground effect)
5000-feet
Max range
184 miles (297-km)
Summary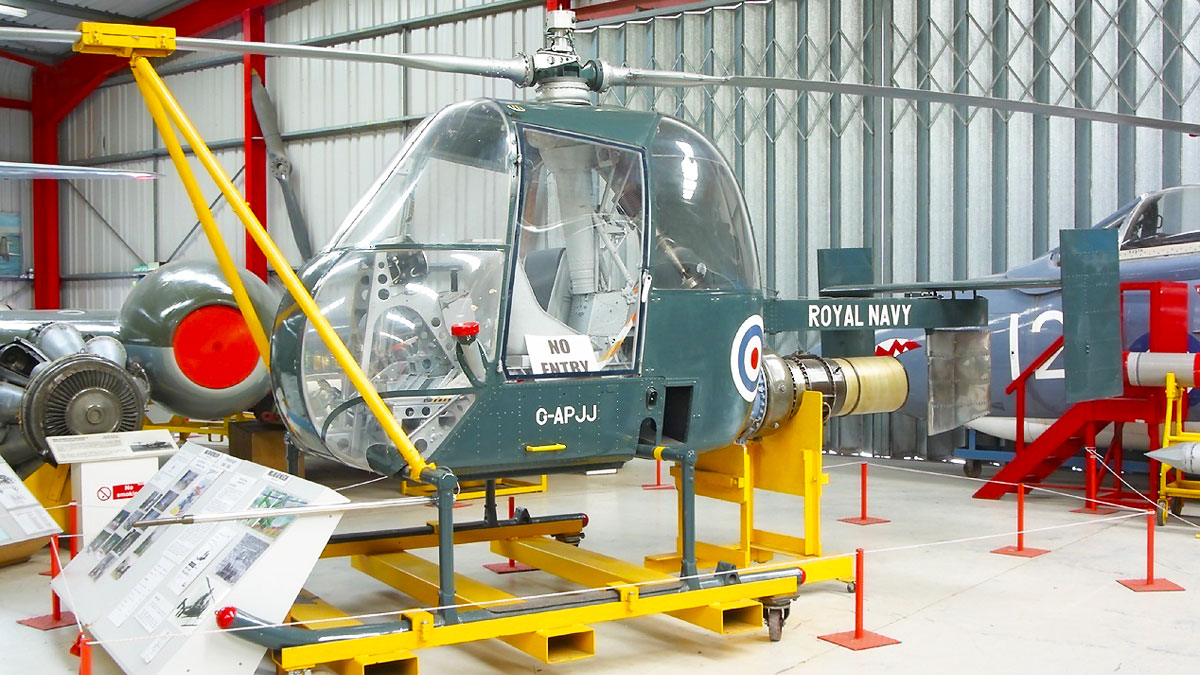 Article Name
Fairey Ultra Light Helicopter
Description
Fairey Aviation has a history with various early rotorcraft including their own take of the French-built Djinn being the Fairey Ultra Light Helicopter.
Author