Aerokopter AK-1
Kit Built Helicopter
Image Gallery
With helicopter flying being traditionally of high cost, Dynali Helicopters SA took up the challenge to produce a small, very safe, high performance helicopter at a relatively modest cost, the design was kept simple to return a high degree of reliability.
The Dynali H2 is a light-weight, two-seat, fully enclosed helicopter aimed at the leisure aviation market, with a full load of 560kg (1,235#), giving a useful load of 245kg (540#) (Rotax) or 650kg (1,433#) and 300kg (661#) respectively (Subaru).
One may well imagine this helicopter going down the same road as the R-22 and becoming utilized as a low cost training machine, particularly with the military of some of the poorer countries. The main structure of the airframe consists of welded, stainless steel tubes, with a carbon fiber tail boom and composite cockpit.
The overall design of the cabin allows a progressive deformation during any unplanned impact; this protective cage utilizes the standard safety arch principle associated with racing cars (e.g. Indy car – US, Formula 1 – UK). The twin skids are attached by triple supports; also energy absorbing in any potentially harsh landing.
The main, semi-teetering, rotor blades with independent flapping axis, (EDITORS NOTE: It is not clear, from the photos, how independent flapping axis is achieved – possibly similar to the R22 helicopter?) are composite and of Dynali's own design.
A central spar of foam and carbon is lined with carbon fiber and polyurethane foam, with a unidirectional wound fiber skin and finished to a NACA 23112 profile and operates at 530rpm, though during flight-testing they were tested up to 650rpm. (This construction method is used successfully by Eurocopter and has shown a very high resistance to fatigue)
The 3500 rpm tail rotor is of the Fenestron type, consisting of eight carbon/Kevlar, composite blades manufactured by DUC propellers in France, that are in a protective housing, which contributes greatly to a lower noise level in flight. The aircraft received certification in France – where initial orders were received – on October 28, 2004, in the CNSK2 category. This is a dedicated category in France for kit built helicopters.
Considering it's certification in CNSK2, it will not surprise anyone to find that the company quotes "standard helicopter instrumentation, with flight instrumentation to French helicopter production standards" (see photo of instrument panel here). Certification in other countries will now follow. Although offered initially with the Rotax 914 Turbo, from August 1st, 2005, the Subaru EJ25 will be the only power plant used for the H2.
Dynali H2 Helicopter Specifications
Dynali H2 Helicopter General Information:
Empty Weight: 415kg (915#)

MTOW/Max gross weight: 660kg (1,455#)

Fuel Consumption: 20 lit/h (5.3gph) (Rotax) or 14 lit/h (3.7gph) (Subaru)

Duration: 4h with 2 POB

Fuel Type: Unleaded 95 Octane (MOGAS)
Dynali H2 Helicopter Fuel control:
Electronic fuel injection system with engine rpm governor

Dual fuel pumps

Dual ignition
Dynali H2 Helicopter Flight Parameters:
Min speed: Hover

Cruise speed: 165 – 175km/h (102-108mph)

Top speed: 190km/h VNE (118mph)
Dynali H2 Helicopter Warning Systems:
Magnetic chip detectors

Low rpm light with accompanying cabin warning horn

Low fuel – oil warning

Low water alarm
Accommodation: Whether tall or short, there is more than enough adjustment in the rudder pedals (20cm total travel available). A five point harness comes as standard.
For training use, the H2 offers floor mounted cyclic stick controls and Dynali claims that the freedom and accessibility of the collective pitch control allows ease of auto-rotational exercises with an instructor. A build time of around 200 hours is predicted by the factory – which, of course, is dependent on the skills level of the builder.
Your kit is delivered with every part numbered for easy assembly using detailed drawings that have been simplified to a maximum for ease of construction. However, Dynali does not stop there, they take note that numerous clients may be put off by assembling a kit at home.
For these customers, Dynali provides a facility right alongside the Nivelles factory, in Belgium, where customers can assemble their kits and benefit from the manufacturers know-how and assistance. The heated facility is reserved solely for such individuals.
Accommodation is available to clients in fully equipped studio flats during their kit assembly if required. Training is available at the factory for those in need of this option. Agents are already established in France, Belgium, Africa, Arabian Peninsula and Spain.
The French distributor, FIH, claims orders for 15 from the Gabonese military, 20 options for the Dominican Republic and 25 of the agricultural version for Brazil. The H2, in French marks, made an appearance at Bois de la Pierre near Toulouse in 2004 and returned again this year, where the featured photographs were taken in May.
Current kit price (as of June 2005): Euro 90,000 ($111,645 USD) at the factory.
Not sure, or thinking of becoming a local distributor? A factory visit and/or test flights with a factory pilot can be pre-booked by calling (Belgium)
---
VISIT: Dynali Website
---
Summary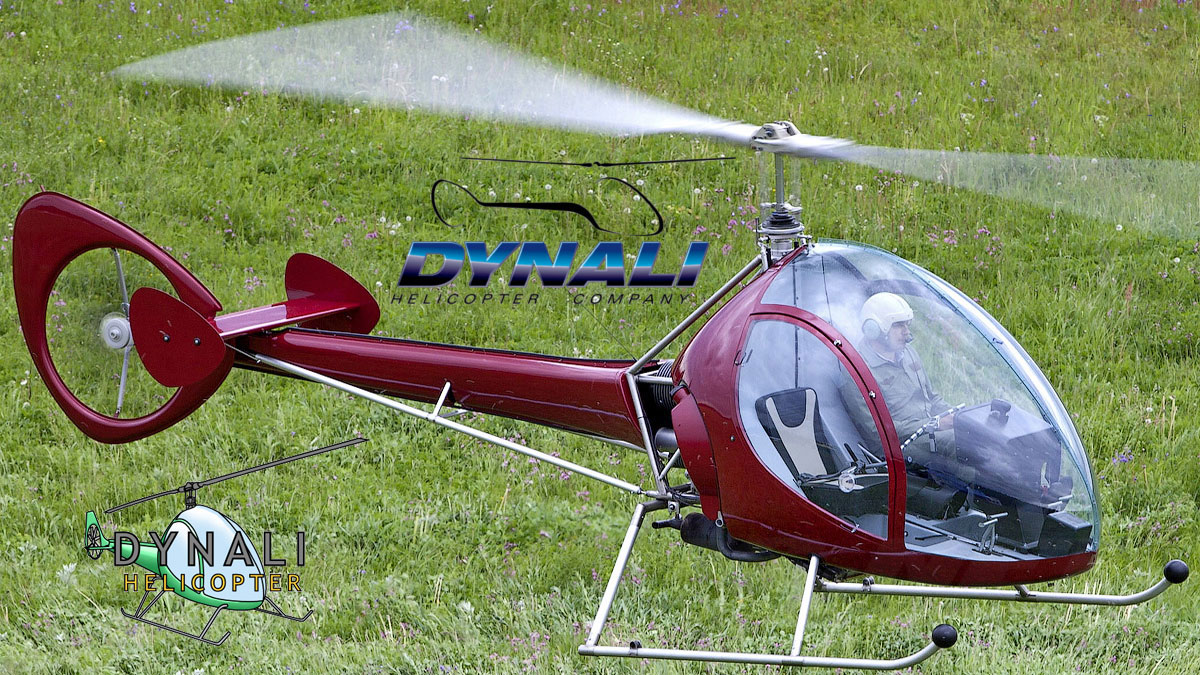 Article Name
The Dynali H2 Light Helicopter
Description
The Dynali H2 Light Helicopter is another of the well engineered light helicopters to come out of Europe. The Dynali H2 carries some unique design features.
Author