Canadian
Home
Rotors
15:45 I arrive at the shop (C.H.R.I. home of the Safari kit hel­icopter) and back the truck up to our shop travel trailer (bachelor quar­ters). Connected, I head to Stage Two, headquarters of the Ear Falls fifth annual Trout Forest Music Festival, as our portable bachelor quarters was again donated as tem­porary residence for several musi­cians attending the festival.
While disconnecting and leveling the trailer I noticed an OPP (Ontario Provincial Police) car drive up. Constable Ronnie Bell stepped out of the driver seat and asked for the illustrious Chief Pilot for C.H.R.I., Mark Richards.
Presenting myself as a humble servant for C.H.R.I., she then explained her request of my partner.
"On Wednesday, August 9th, 2000 an older couple who are long time residents of Ear Falls went fishing and got lost." Lac Suel (85 miles x 5 miles) is a man-made reservoir for a hydraulic power generation sta­tion.
"Would you be able to fly the shoreline?"

"Of course! I'll locate Mark." I found Mark heading back to the shop and followed him. Would he be willing to help?

"Of course!"
Officer Ronnie Bell explains the situation to Mark, while I start calling local pilots to help in the search. Sergeant Kevin Hunter from the Red Lake detachment is on the radio, while driving into Ear Falls to take command of the local search.
Officer Ray Aceti shows us on a local fishing map the area to search. There have been five planes working the southeast end of Lac Suel and our Safari helicopter will work the northwest end. The plan is to fly straight to McKenzie Bay and then start by flying the shoreline looking for a 16 ft. aluminum boat.
A call came in before our lift-off stating there were a couple of possi­ble boats coming from the bay west of McKenzie, called McIntyre Bay.
At 16:30, with a call to my wife,Carol, telling her I would not be home in time for supper, again, I left with Mark. A full 28 gallons on board, Mark and I lifted off, cleared the trees, and headed to McKenzie Bay.
The last persons to see the missing couple were on a houseboat. They gave the couple 50 liters of gas and pointed the couple north in the direction of home. From the air you can easily see how people become disoriented due to the hundreds of islands and bays.
This is the second time this year (2000) that C.H.R.I. has been called upon to fly in search of missing persons on Lac Suel. Cruising 75 to 80 mph at 22 inches manifold, Mark and I cover the shoreline. We have no beaches, just trees and rocks to the water. Safari country, where the pucker factor is high.
During the flight we are tree-top to 200 feet altitude watching the shoreline and water for a silver boat. We found a family of Bald Eagles at almost every point or island, and several flocks of Canada geese. We spotted some 35 boats with American fishermen enjoying our natural resources.
Many were busy fishing and did not hear our approach. It is quite comical watching their reaction when they do finally notice us. We spent 90% of our flight over open water and I casually mentioned to Mark that we could not do the search as well and stay within gliding distance to shore. Mark just raised his brow, and kept flying and watching the shoreline.
Standard Model Safari Helicopter Kit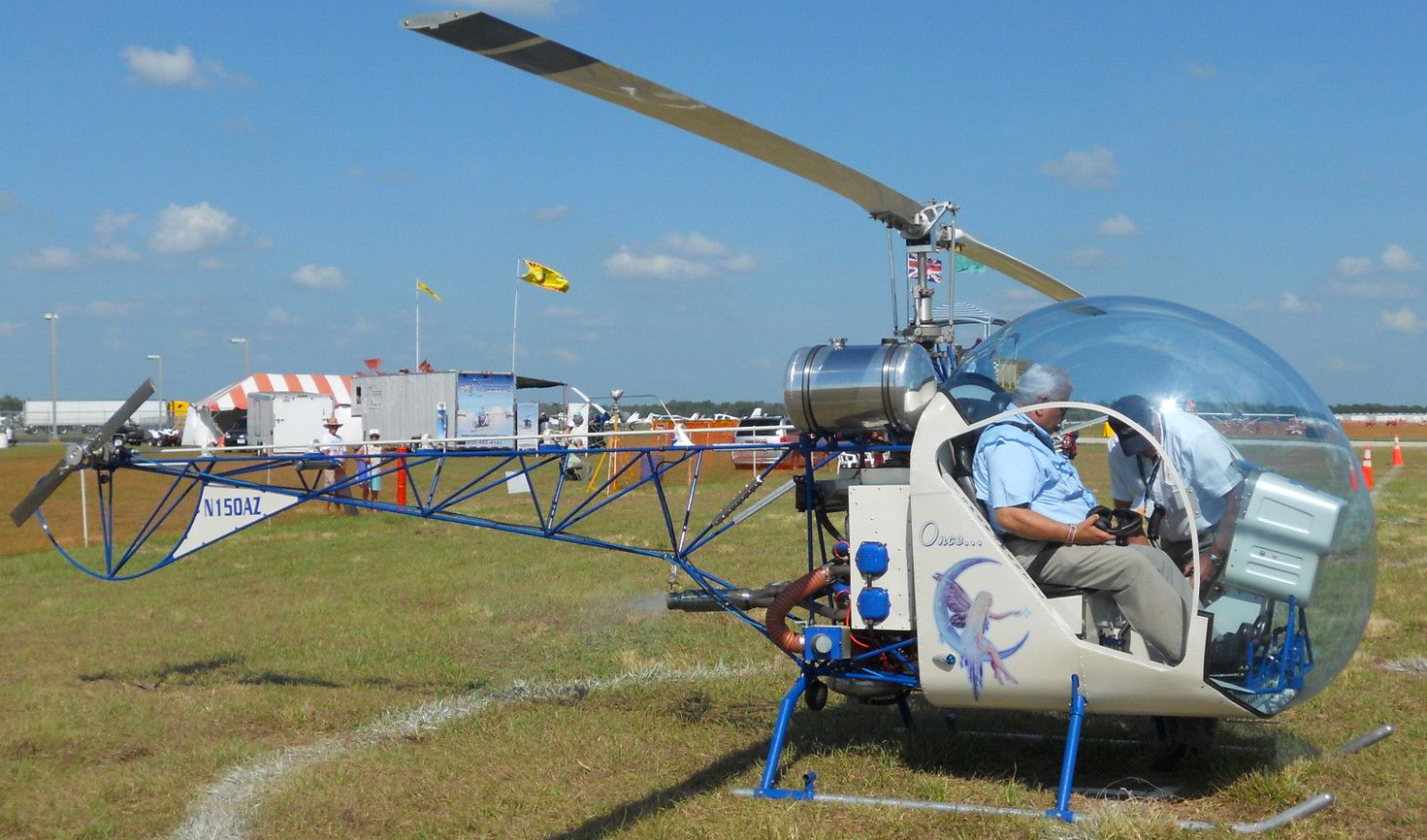 My thoughts quickly drifted through the past 21 years of development and perseverance, to earn his unstated confidence in our Lycoming powered Safari helicopters. Just outside of McKenzie Bay we found two houseboats securely anchored to trees in a perfect location, a large U-shaped island that provided protection from any wind coming off of this huge lake.
Following the northwest shore, past Rocky Point and Shanty Narrows we worked our way back to Ear Falls. Coming up to Sable Island, another smaller horseshoe shaped island, we spotted a third houseboat owned by friends of ours. Now it was time to loosen up.
At 200 ft above water level we head to the houseboat for confirmation. Yes, it is Glen and Donna Coulson with their kids. Smoke billowing out from under the overhanging roof indicates that the barbecue was in full operation, or Glen was just charring supper! Mark makes a hard right and lines up for a low level "Howdy".
I spot three empty lawn chairs left on the sandy point, next to the houseboat, and asked Mark to finish the buzz-job off by blowing the chairs over into the water. We both laughed, but the chairs were steadfast, and the search had to continue before dark.
During the two hours and 20 minutes of flying we covered all of our assigned area and had/tank remaining. Nearing home I wanted to land at White Wing Lodge, owned by the brother of the missing woman, to get an update on the search. Dave was out searching with local bush pilot extraordinaire, Ted Trippier.
We circled the camp and docks but thought better of landing because of the loose articles we could see in all the boats tied to the docks. Second choice was the dock of Kay Air Flying Service, next to White Wing Lodge, with only their Twin Beech and Cessna 180 moored to their dock.
A slow eight-foot taxi-hover over the main T-shaped dock, 90 degree pedal-turn and Mark skillful­ly lines up on the eight foot wide dock. Tail to the planes and bubble facing the shore Mark executes another feather-light, flawless land­ing.
Latest Model Safari 500 Helicopter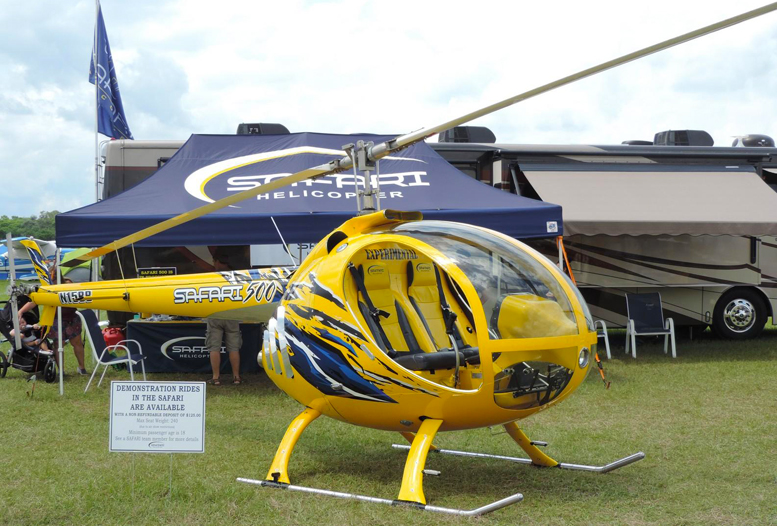 Some of you may have seen Mark land and take off from the top of my truck box during our airshow trips, and his everyday trailer land­ings. Landing on new docks are a piece-of-cake for him. Peter and Karen Kay came down to the dock to ask if we needed fuel to further the search.
Life in the Great White North is precious and everyone pitches in to help. Karen phoned White Wing Lodge, but they had not been told of any sightings. I called the OPP detachment, and was told that we could return home and would be called the next day if required.
After thanking the Kays for their offer of fuel, Mark and I lifted off and headed out over the bay towards home. "Mark, enough fuel? Buzz the sawmill and I will look to see if Candice Lee Sweet (my hard working daughter) hears us and looks out."
Down to the treetops and we make a large circle around the mill. No such luck. Out over some land for five miles, across the English River and we see a crowd of people all working to set up for the Festival. Another hard right and a single 360 back to Mark's private but mobile helipad. Fifteen minutes after landing we are back at the shop, Safari in tow.
Kaj Nummelin was to be doing some night flight training and had offered to fly down the center of Lac Suel to locate campfires. We would then fly to those locations the next morning for confirmation.
Early Friday morning the couple was found with empty gas tanks again, but alive. Both were taken to hospital for recov­ery, and are well. In these searches each aircraft is given a location. When done you then refuel and search a location others have completed, and they yours.
It is an experience doing these searches, and I am always wor­ried about what we will find. Another concern is that we miss the lost party in our search and the second search plane finds them. One tends to get a nagging feeling of guilt.
I am proud to say that the couple was eighty miles south of our area, and all ended well. Please don't let these small adventures scare you. Seriously think about giving yourself a holiday in Canada's Great White North, and try out the hospitality while hunting, fishing, or just relaxing.
Imagine a place where you can leave your car unlocked and your keys in the ignition. We still have all that and want to share it.