Rotorway
Exec Helicopter
Advertising
AFFORDABLE ROTARY WING FLYING

SEE IT AT HOME… AND BELIEVE IT… THE THRILL IS BACK!!
The RotorWay Exec is an unbelievable innovation in personal transportation! After all, who would believe this helicopter costs less than a luxury sports car?
That its main rotor hub utilizes state-of-the-art elastomeric bearing technology found in helicopters costing $150,000 and up, or that when it comes to performance, safety and styling it meets or beats anything in its class, or that its four cylinder water cooled 152 H.P. power plant runs on auto fuel, not expensive AVgas!??
Can you believe all this?
YOU WILL!!!… Once you see it on video!
SEEING IS BELIEVING
As the old saying goes, seeing is believing and not only will you see first hand the evolution of helicopters in general and the evolution of the Exec in particular. but you'll also take a heart pounding ride with our pilot through picture postcard deserts and majestic snow covered mountain peaks.
Then it's on to breathtaking Lake Powell where sculptured red rock towers rise hundreds of feet from the waters edge providing awesome views of the pristine blue water beaches below. Then, with tranquility behind us it's time for more action packed high speed flying. You won't believe what this ship can do… until you see it!
UTILITY WITH EXCITEMENT
You'll see that fun isn't the only thing the Exec has to offer. Agricultural spray equipment and water floats add utility to the long list of uses this personal helicopter has to offer.
If you've ordered one of our information packets in the past you'll definitely want this video, and our updated information package. You won't believe what the Scorpion and Exec have evolved into… until you see it!
COST EFFECTIVE OPERATION

Something you CAN believe however, is the fact that the low end of general aviation is dying, if not already dead. FACT! Sales of 2 and 4 place fixed wing aircraft are currently 20% of what they were 10 years ago! Why? Most industry experts say skyrocketing costs are to blame.
That's hog wash! When you allow for inflation over the past 10 years, the cost really hasn't increased all that much. So, what's the reason? Lack of new designs is one thing, but even more so is the fact that entry level fixed wing aircraft don't offer much excitement or utility.
Think about it. Is it cost effective to fly the company airplane 200 miles9 Not very, and distances longer than that are best traveled on commercial flights. This is especially true now with airline deregulation.
Plus the fact that you still need ground transportation going to and from the airport. In case you haven't realized it… it's time for a change. It's time for the helicopter. You're ready for excitement and we've got it…THE THRILL IS BACK!!!
Point to point NOT airport to airport is the most-efficient way to fly within a 200 mile radius. The Exec totally fulfills the urgent demand for this type of essential transportation.
HELICOPTER VS. SMALL AIRPLANE
Some people will tell you general aviation hasn't changed in forty years. The truth is they just haven't been looking in the right direction. Helicopters WILL replace the small airplane! We've made this tape to prove it to you, so prepare yourself for some shocking reality! On top of all this, it isn't necessary to be IFR rated to fly a helicopter.
If weather moves in and you're halfway to your destination just land where you run out of sky and safely wait it out. With as little as 2 or 3 acres of land you can park it at your home or office. (Depending on local housing density.)
For you video buffs, this production utilizes the latest in Digital Video Effects and state-of-the-art Ampex Digital Optics combined with an incredibly dynamic soundtrack! The days of two dimensional travel are over. You can live in a whole new world of affordable three dimensional point to point transportation!
See it…then believe it! THE THRILL IS BACK!!!
---
SPRAY EQUIPMENT OPTION FOR ROTORWAY HELICOPTERS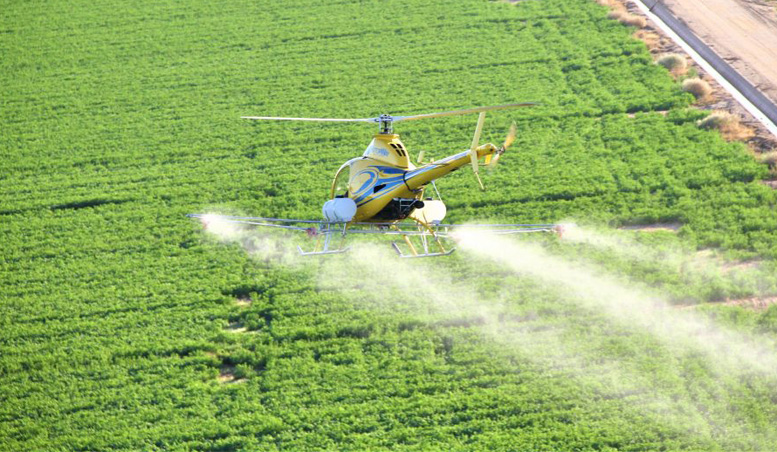 In an effort to add more versatility and increase the cost-effectiveness of its helicopters. RotorWay Aircraft has completed testing of a new agriculture spraying system. Now available as an option for the Exec model, this unique sprayer will provide the farmer or rancher with expanded use of his personal helicopter.
Dual 10-gallon capacity tanks, mounted aft of the cockpit on both sides of the ship, along with a 12-volt pumping system, provide the Exec with 160 acres of coverage at one pint per acre with a swatch of 35 feet.
A maximum load of 20 gallons will cover 160 acres in 01:20:00 at 30 mph. This ultra low-volume system is ideal for the small or mid-size farm or ranch operation.
Traditional spraying methods cost a minimum of $3 to $5 per acre of application. The Exec's spray system retails in the neighborhood of $3,450, so it could easily pay for itself in one season.
The spray system is designed to be easily installed or removed from the helicopter in just a few minutes. With the system removed, an operator can check irrigation canals, fences, livestock, crop conditions and, of course, his favorite fishing hole!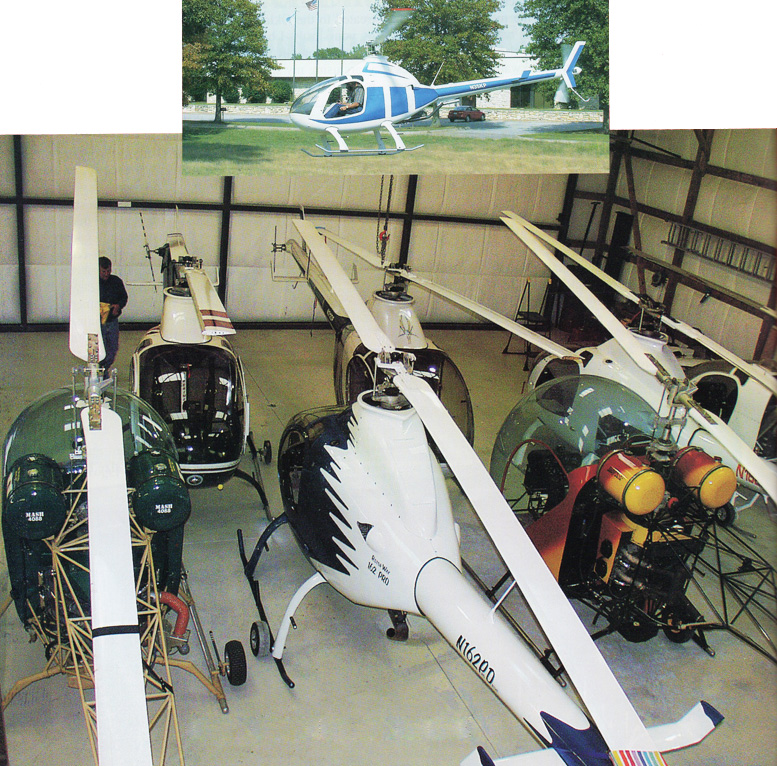 Summary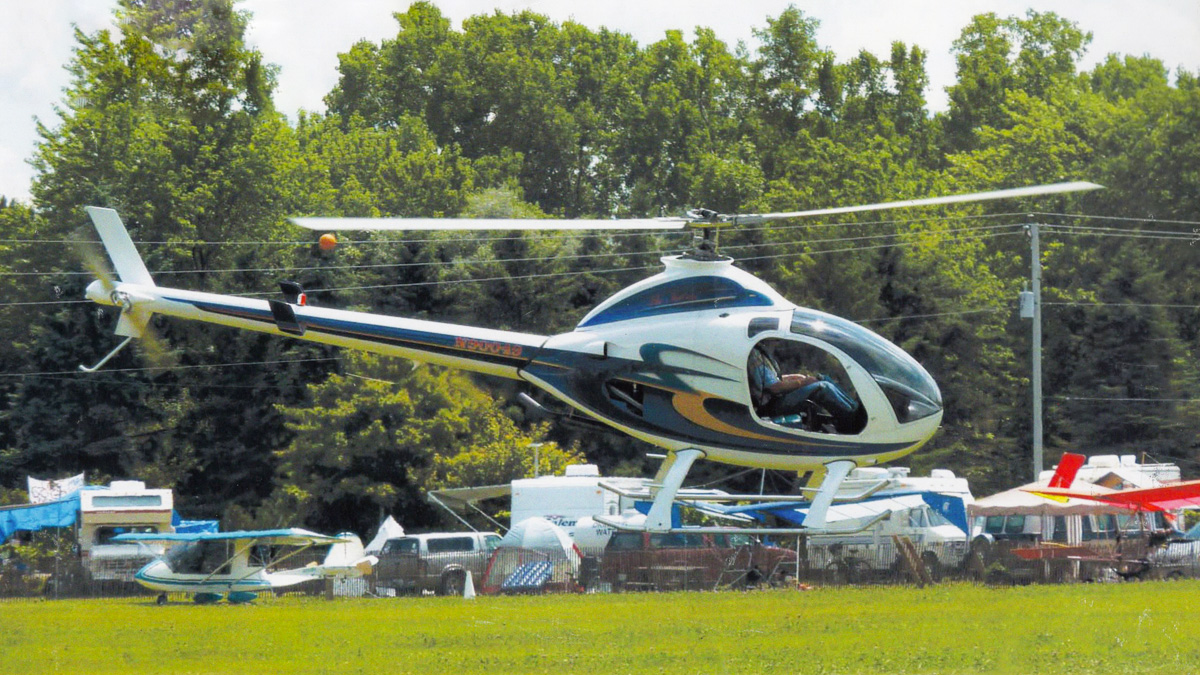 Author Rating





Brand Name
Product Name