Belgium's
Masquito Helicopter
Project
The Masquito M80 was a Belgian two-seat ultralight helicopter created by the brothers Stefaan and Paul Masschelein being designed and built by Masquito Aircraft in the mid 1990's. The prototype was designated the Maschelin M58 Masquito. It was powered by a 64 hp (48 kW) Rotax 582 engine driving a two-bladed main rotor and a conventional two-bladed tail rotor. Both the M58 and the M80 helicopters had two side-by-side seats and were fitted with two traditional style fixed skids as a landing gear but a rather unusual overhead cyclic control.
The M58 first flew in May 1996; it was later modified to the proposed production model with a modified Australian designed four stroke air cooled Jabiru 2200 engine and re-designated the M80 (replacing the Jabiru magnetos and carburetor with electronically-controlled dual ignition and fuel injection of their own design).
The Masquito went through many technological changes at a production and test facility in Diksmuide, Flanders, Belgium including a fluid drive tail rotor, various engine modifications and the eventual addition of a cooler for the main rotor gearbox.
Masquito M80 helicopter hovering – note the unusual semi-reclined seating
Three further M80 prototypes including the last fitted with a custom made M2.6L engine were built but the type failed to gain the appropriate certification and no others were produced due to inadequate funding.
ORIGINAL MASQUITO HELICOPTER SPECIFICATIONS
Crew
2
Powerplant 1
1 × Jabiru 2200 flat-four piston, 60 kW (80 hp)
Powerplant 2
1 × Masquito M2.6L flat-four piston, 89 kW (120hp@3700rpm)
Fuel Capacity
64 litres (17 gallons)
Minimum Speed
0
Cruise Speed
148 km/h (92 mph)
Top Speed
180 km/h (112 mph)
Range
680 km (422 miles)
Endurance
4 hours
Service ceiling
3050 m (10000 ft)
Empty Wt.
170 kg (375 lb)
Useful Load
220 kg (484 lb)
Gross Wt.
390 kg (859 lb)
HIGE
2000 m (6560 ft)
Main rotor diameter
4.60 m (15 ft 1 in)
Tail rotor diameter
1.0 m (3.ft 3 in)
Width
5ft
Height
2.25 m (7 ft 4½ in)
Length
5.80 m (19 ft 0¼ in)
Length over all (rotors turning)
6.22 m (20 ft 5 in)
The Masquito M2.6 engine developed during 2002-2005 weighed approximately 110 lbs. It was developed from the Jabiru 2200 by increasing the bore. Other changes include dual, variable timing, electronically-controlled ignition, fuel injection, and forced-air cylinder cooling. Engine performance quoted was for operation with the helicopter transmission.
The company has been defunked since 2003 after the French an EU refused it certification to fly in it's current configuration. The Masquito was an OK chopper and innovative design but with way to many harmonics to fly safe, one of the biggest issues on ALL helicopters to date. The refusal to certify an aircraft of a company running on a shoe string budget lead to their unfortunate collapse.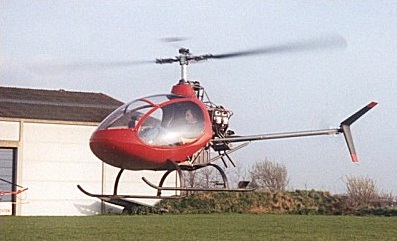 >
Design features – (final version)
Carbon composites blades.
Rotorhead with Hiller servo bar.
Carbon fibre tail boom.
Shaft driven tail rotor.
Modified 2.2 Liter Jabiru Aero Engine
For a four (4) cylinder, horizontally opposed engine, this engine's overall dimensions are extremely small. The engine was designed and manufactured by Jabiru (Australia) for their 2 seat airplane, with peak power developed at 3,300 rpm.
After nearly three (3) years of testing in our prototypes, we found we needed to make substantial modifications to the standard engine to provide optimium results in our M80 helicopter. Most of the time between September 2000 and February 2002 was spent making these various changes.
---
PLEASE NOTE: Masquito Aircraft are no longer in existence and the Masquito kit helicopters are no longer produced. The company was eventually dissolved with some of the staff pursuing a new aircraft engine manufacturing project (ULPower) with no relation to the original Masquito Aircraft company or helicopter. All property is copyright protected.
---
Summary
Reviewer
Review Date
Reviewed Item
Author Rating