Helicopter
Engine Options
– Mazda Rotary
Mazda-Powered Rotorway Scorpion 2 Kit Helicopter
An introduction to Mazda Rotary Helicopter engines: My lovely wife Shirley and I had been flying fixed wing aircraft for many years. Back in 1972, Shirley bought me a set of plans to build a homebuilt helicopter. Those plans set dormant for many years.
A number of friends got me interested in gyrocopters, and after taking some gyro lessons and while looking for a used gyro or kit to build, I found several scrapped Scorpion helicopters for sale – cheap! After 20 years.
My original plans finally materialized into my first homebuilt helicopter, the Rotorway – powered Scorpion two seat helicopter. I had 475 hours on this ship.
In February, 1995, I started work on building my first Mazda-powered Scorpion helicopter.
This project took me two and one-half years to complete. The first thing I did was to make fiberglass female plugs for the cabin, a new style instrument panel, seat backs and radiator shroud.
I made the cabin an extra four inches wider and two inches higher than the original allowing for more comfort for larger framed people.
The following is a list of further modifications that I made to this Mazda Rotary-powered Scorpion helicopter:
Taller landing gear for more ground clearance.

Simplified main rotor gear box using a '92 Ford Explorer front differential (3rd member).

Design and built a simplified oil pump system for main rotor gear box upper bearing.

Simplified tail rotor shaft drive, shaft flex couplings, gearbox and collective linkage, straight tail rotor shaft replaces belts.

Redesigned tail boom, straight and simpler to eliminate U-joints in the tail rotor drive shaft.

New style vertical fin, Helicycle style.

Lengthened main rotor shaft.

Retrofit Mazda 13B, twin-rotor, 200hp engine.

Made new belt clutch system with Warner electric linear actuator smooth engagement.

Uses updated standard Exec head with elastomeric bearings.
Helicopter Heartbreak
I completed this second Mazda Rotary helicopter, another Rotorway Scorpion on June 30, 1997. After hang testing for balance, the first hover went fine.
Later that day I decided to move the battery from in front of the passenger seat pedals to under the passenger seat so I could use the skid weight when carrying passengers.
On the next hover attempt it came off a little unlevelled. This was normal with the shifted weight and had happened many times before.
However, when it started a left roll, I was unable to stop it with the cyclic stick because of the modification to the pedals that restricted movement of the cyclic against my leg.
The rest wasn't pretty, but, the long and short of it was that the Mazda Rotary helicopter was destroyed and nearly completely consumed by fire!
Luckily I did not receive any major injuries. Only a few bruises and hurt pride. This happened just three weeks before my planned participation in Homer Bell's fly-in.
What a heartbreaker!
Recovery
I waited about six months before I could bring myself to start working on another helicopter.
I sent the Mazda engine off to have it rebuilt and started making a new helicopter cabin and the other parts from the molds that I had made previously.
I re-designed the pedals to allow full cyclic range this time – lesson learned!
I worked day and night for about three months and finally finished this third Scorpion Mazda Rotary helicopter pictured here. I hope to fly this new machine this fall.
---
Mini 500 Helicopter
Showing some European ingenuity and great scavenging to create a nice design, one persons interpretation of an experimental helicopter. While there are many questionable areas of helicopter construction, it looks like a great start to a fun little homebuilt helicopter design.
VIDEO:

Norton Style Rotary powered Mini-500 helicopter
---
A look at the Citroën RE-2, a Wankel-powered helicopter
By the time Citroën realized that the Comotor joint-venture it had set up with Germany's NSU was a failure, it was too late and the bulk of the damage was already done. The French automaker had spent an immense amount of time and an almost immeasurable fortune trying to fine-tune the Wankel rotary engine.
It had built a single-rotor engine that was fitted to the experimental M35 coupe and a dual-rotor mill that powered the GS Birotor, but it had never managed to solve the engine's core issues such as its unacceptably high fuel consumption.
As a last ditch effort to make a profit from the Comotor engine, Citroën decided to diversify and allocate its resources to building an aircraft. In the early days of the project the company considered two different possibilities: called RE-1 internally, the first was an autogyro, a hybrid that was part helicopter and part personal aircraft. Dubbed RE-2, the second project was a simple lightweight helicopter.
After months of careful research, Citroën's top brass decided to move ahead with the RE-2 and quickly recruited Charles Marchetti, a well-known engineer that was responsible for the design of the Alouette helicopter, to help out with the project.
According to a book published by the late Xavier Massé, the RE-2's body was 283 inches (718 centimeters) long, it sat 102 inches (259 centimeters) high and it weighed 1,543 pounds (700 kilos).
The RE-2's engine was an evolution of the Comotor 624 unit that was found under the hood of the ill-fated GS Birotor but it had larger rotors and its Solex carburetor was replaced with a Citroën-designed fuel injection system. It propelled the aircraft to a cruising speed of 108 miles per hour (about 173 km/h) and up to a maximum altitude of 11,482 feet (roughly 3,500 meters).
As work on the helicopter drew to a close, Citroën realized that it had overlooked a major problem: it did not have a pilot capable of testing the aircraft. Dominique Gilles was recruited at the last minute and the RE-2's first flight took place on December 24th, 1975. Gilles later reminisced that the doors were removed from the aircraft in case something went haywire and he had to jump out.
Gilles did not have to jump out and the RE-2 completed its maiden voyage without any notable issues, but Citroën still had to obtain a certification from the government before it could legally sell the helicopter to the general public. During the rigorous certification process inspectors realized that the Comotor engine overheated at high rpms, an issue that sent Citroën back to the drawing board.
In the meantime, the French automaker changed hands and found itself part of the newly-founded PSA Peugeot-Citroën group. Peugeot's view was that there were more pressing issues to deal with than trying to get a Wankel-powered aircraft on the market and it reportedly did little to support the project.
After many additional hours of development and several more test flights the RE-2 obtained a six-month operating permit on June 14th, 1977. More tests flights followed but the government's certification was never obtained.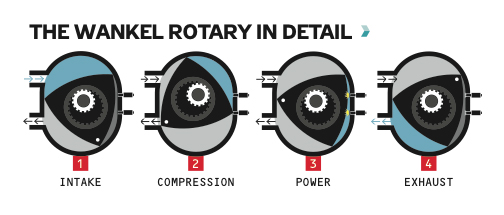 Finally, on May 5th, 1979, Peugeot ordered Citroën to immediately put an end to the RE-2 project. The aircraft was tucked away in the company's museum after flying a total of 38 hours. Citroën stopped all Wankel-related research that same year, abandoning a rotary-engined CX equipped with fuel injection and a five-speed manual transmission.
VIDEO:

Citroën RE-2 helicopter, 1975
---
---
Youngcopter NEO NOTAR Rotary Powered Two Seat Helicopter: Mazda Rotary Helicopter Engines
"With NEO a new generation of kit helicopters starts. We have designed NEO equally for pilots, passengers and builders. NEO is the result of a forward-looking design philosophy and it embodies the synthesis of modern helicopter technology and exciting styling".
"NEO is powered by Neosis, a liquid-cooled 180 HP rotary engine. Neosis features a very compact design and smooth operation. Neosis has a fuel injection and runs on unleaded automotive fuel. It is controlled by a single lever".
Ron Bartlett On The NEO Helicopter from Germany
The NEO (German for 'new') was launched to the public at the Berlin Air Show in May 2008. Developed by Bjorn Jung, an aeronautical engineer from the city of Mainz in Germany, and his company, 'Youngcopter', the initial availability was planned to be in kit form. The NEO has no tail rotor; instead, the NEO relies on a jet control system similar to the NOTAR.
The acronym NOTAR being a registered MD trade mark Jung has chosen to call it JCS which stands for Jet Control System Initially, the power plant was reported as a 'small turbine', though a twin-rotor Wankel (company refers to it as the NEOSIS) now seems the engine of choice for the two – seater.
Jung maintains that since the NEO is smaller and lighter, requiring only a quarter of that aircraft's thrust for the directional control ability, it negates the need for a large tail unit or end plate fins. Anti-torque sucks air in from a vent atop the rear fuselage and out through the tail boom via an adjustable thruster.
The composite structure of the airframe is the central element holding together all other sub assemblies. It consists of 10 main parts only and is manufactured in a single process. At the 2008 show, claims were made of 50 hours of ground testing since that phase of development had begun in the fall of 2007.
With basic engine/transmission runs, jet directional control system and ground running with blades fitted. By the end of 2009 the company claimed to have accumulated valuable testing time and having gained a lot of practical experience, which were directly transferred to the prototype.
This development requires a lot of time which is why we cannot state a delivery date for the first kits at this time. We kindly ask you for some more patience! – says Jung. Accommodation in the NEO includes a 'generous' baggage area accessed by tipping the two contoured seats forward. The cyclic stick, noticeably offset on the static exhibit, features a 'half-T bar' that obviously has its origins based on the Robinson concept.
ROTARY NEO NOTAR HELICOPTER: Read more about the NEO helicopter Youngcopter.
---
Hillman Wankelbee AKA Hillman Wankel-B Helicopter
"After Douglas Hillman developed WankelBee helicopter with rotary combustion engine (first flown 1975) and two-seat Hornet (first flown 1978), Hillman Helicopter designed Model 360 as three-seat utility helicopter of very modern design which first flew 1981".
READ MORE: Hillman Wankelbee at Aviastar.
---
HUGHES TH-55A OSAGE
"792 model 269A helicopters purchased by the U.S. Army between 1964 and 1967. Selected as its standard training helicopter and named after the Osage Native American tribe; student pilots nicknamed it the "Mattel Messerchmidt". It was fitted with military radio and instrumentation. An experimental TH-55A was fitted with an Allison 250-C18 turboshaft engine, and another would be fitted with a 185 hp Wankel RC 2-60 rotary engine".
READ MORE: Hughes TH-55A Osage Wikipedia.
---
Berger-Helicopters
Hans Berger, a noted Swiss inventor, formed Berger-Helicopter, to develop a series of light helicopters of his own design. The BX-50 of 1961 and the BX-110 of 1974 were built as prototypes, with the BX-110 proving sound enough to earn a certificate of airworthiness from the Swiss Board of Aviation.
Besides these two machines, Berger's other inventions were a jet-powered car, and numerous other helicopter designs. Professionally, Berger was the sales representative for Brantly in Switzerland and Liechtenstein.
The Berger BX-111 model helicopter was a – 2 seat design with Wankel-type engine and coaxial rotors.
Berger BX-110 HELICOPTER
The Berger BX-110 was a prototype light helicopter built in Switzerland in the early 1970s. The single example (registration HB-YAK) was built by Hans Berger, a Swiss inventor and helicopter dealer. It was powered by a Wankel automotive engine and remained on the Swiss civil register until 1994.
It was of conventional light helicopter configuration, with pilot and passenger sitting side-by-side under a large Perspex bubble canopy, with the tail rotor carried on a tubular boom. The powerplant and fuel tanks were located behind the cabin, and the three-bladed main rotor had foldable blades. Landing gear was originally of skid type.
Originally powered by a converted NSU Ro 80 Wankel-type automotive engine, Berger later fitted a BMW 6012 turbine to the aircraft, and later still another adapted automotive Wankel engine, this time from a Mazda RX-7. At the time of the latter conversion, the undercarriage was changed to tricycle configuration.
Specifications (final configuration)
Berger BX-110 Helicopter General characteristics
Role: Utility helicopter

Manufacturer: Hans Berger

First flight: 3 June 1974

Number built: 1

Crew: one pilot

Capacity: 1 passenger

Length: 6.05 m (19 ft 10 in)

Main rotor diameter: 7.40 m (24 ft 3 in)

Height: 2.57 m (8 ft 5 in)

Main rotor area: 43.0 m2 (463 ft2)

Empty weight: 400 kg (880 lb)

Gross weight: 720 kg (1,590 lb)

Powerplant: 1 × Mazda RX-7 automotive engine, 86 kW (115 hp)
Berger BX-110 Helicopter Performance
Maximum speed: 175 km/h (109 mph)

Service ceiling: 2,800 m (9,184 ft)

Rate of climb: 4.0 m/s (790 ft/min)
CREDIT: Jane's Encyclopedia of Aviation.
---
VIDEO:

Improvements that could bring back the Mazda rotary engine as a market leader
---
LEARN MORE ABOUT THE ROTARY: Read about the pros and cons of the rotary engine including history and development at Wikipedia.
---
EZYCOPTER HELICOPTER ROTARY: Read about other small rotary engines Ezycopter.
---
Rotaire Technology (1988)
Rotaire Technology founded in 1985 and located adjacent to a 2750′ paved, private airstrip custom builds Mazda Rotary Engines for experimental aircraft use. After an initial research and development program, we delivered our first two engines (for a Defiant) in February, 1986. Since then, we have delivered more than 20 engines in various configurations.
A partial list of fixed-wing airframes which have flown/flying/been fitted for Rotary Engines are:
Cessna 172

Defiant

Piper Tri-Pacer

Bede BD-4, BD-5

Enterprise Flying wing

JetHawk

Bushby MM-1 Racer, MM-2

Prescott Pusher

Cessna 150

Cessna 337

Piper Cherokee 6

Mooney Executive

Long-EZ

Glassaire RG

Fanliner

Orion

Lake LA-4

as well as the Cobra, Skystar, Hiller and Air-Jet Helicopters.
ROTAIRE TECHNOLOGY WILL CUSTOM BUILD AN ENGINE FOR ANY APPROPRIATE AIRFRAME, and has a team to install it. Among the options available are turbo-charging, throttle body injection, stratified charge, distributor less ignition, and water injection.
---
Summary
Article Name
Mazda Rotary Helicopter Engines
Description
Mazda Rotary Helicopter: There've been many old & new helicopters built or converted to use the wankle style rotary engine similar to Mazda 12A 13B engines.
Author
Adam Aitken - John Dellasus
Publisher Name
Publisher Logo