Revolution Helicopter's
Mini 500
Kit Helicopter
FINALLY, A NEW HELICOPTER YOU CAN AFFORD!!!
The first new Mini-500 shown in the photograph nearing completion, was pulled off the production line and displayed at the 1991 EAA Fly-In in Oshkosh, Wisconsin.
"We just made out 52nd sale and many of these customers should expect to receive their aircraft sometime by the end of this year," said Dennis Fetter, chief designer and president at Revolution Helicopter Corp.
"The interest in the aircraft has been overwhelming!", Fetters said. "Although RHC anticipates an extremely large domestic market, surprisingly, two thirds of its advance sales have been overseas", said Fetters.
RHC makes the Mini-500 affordable and practical for almost anyone to own their own helicopter. Before, it was impractical because of the tremendous expense involved in operating and maintaining a helicopter.
"The total design spectrum of the Mini-500 is a one-man utility and sport aircraft providing true helicopter capabilities and performance", Fetters said.
VIDEO: Original promotional Mini 500 video
The Mini-500 is inherently more stable than helicopters of its type primarily because of the new patent pending control system. The use of this machine is only limited by one's imagination! Already inquiries and purchases have been made for recreation, commuting, agricultural, medical, traffic and border patrol, among others.
VIDEO: Factory Destructive Testing of the Mini-500 helicopter
---
Dennis Fetters is still contactable at http://www.fettersaerospace.com/ though the Mini 500 is no longer in production.
---
Want the short version of the Mini 500 history? …read the full story here Aero News Network.
---
Mini 500 Helicopter Standard Equipment Includes
Vacu-Formed Instrument Panel
Dual Rotor and Engine Tachometer
Carpeting and Trim
Magnetic Compass
Sensitive Altimeter
Vacu-Formed Interior Panels
Hourmeter
Control Friction Locks
Form-Fitted Fully Upholstered Seat
Slip and Bank Indicator
Electric Starter
Removable Cabin-Access Doors
Engine Coolant Temperature
Extra Space for Additional Equipment
Pre-Balanced Main Rotor Blades
Vertical Speed Indicator
Navigation and Landing Lights
Ground Handling Wheels
Air-speed Indicator
Throttle Correlation
Electric Clutch Engagement
---
Mini 500 Helicopter Descriptive Data
Mini 500 Helicopter Main Rotor
Articulation
Semi-rigid teetering
Number of Blades
2
Diameter
19 feet
Blade Chord
8 inches (Constant)
Tip Speed @ 100% RPM
547 FPS or 373 MPH
Blade RPM
550
---
Mini 500 Helicopter Tail Rotor
Articulation
Free to teeter, rigid in-plane
Number of Blades
2
Diameter
3 feet 10 inches
Blade Chord
4 inches
Precone Angle
2 degrees
Tip Speed @ 100% RPM
536 FPS or 365 MPH
Blade RPM
2671
---
Mini 500 Helicopter Drive System
Engine to Upper-Sheave
(Two) Two groove power band V-belts with 2.433:1 speed reducing ratio
Upper-Sheave to Drive line
Sprague type over running clutch
Drive line to Main Rotor
Spiral-bevel ring and pinion with 4.857:1 speed reducing ratio
Drive line to Tail Rotor
Spiral-bevel gears
---
Mini 500 Helicopter Powerplant
Model
Rotax 582
Type
Two cycle two cylinder, rotary valve engine, lubrication by oil pump, liquid cooled, with integrated water pump
Displacement
580.7 cm3 (35.41 cu.in.)
Normal Rating
67 BHP @ 6500 RPM
Temperatures Operational Values
Mini 500 Helicopter CHT: (Cylinder Head Temperature)
Normal
110-130°C (230-270°F)
Max
150°C (300°F)
Difference Between 2 Cylinders
10°C (36°F)
---
Mini 500 Helicopter EGT: (Exhaust Gas Temperature)
Normal
500-620°C (930-1150°F)
Max
650°C (1200°F)
Difference Between 2 Cylinders
25°C (45°F)
Crankcase Temperature Maximum
80°C (175°F)
Cooling Liquid Temp Max
80°C (175°F)
---
Mini 500 Helicopter Timing System
Ignition Type
Breakerless DUCATI capacitor discharge dual ignition with magneto generator
Generator Output
170W AC at 6000 l/min. and 13.5V RMS
Ignition Timing
1.96mm = .077 in. (18") BTDC
---
| | |
| --- | --- |
| CARBURETOR | 2 x BING 36, cable choke |
| FUEL | Regular automotive gasoline, octane number not below MON 83 or RON 90 (unleaded preferred) |
| LUBRICATION OF ENGINE | Super-two stroke oil, proposed ASTM/CEC standard TSC 3, mixing ratio 1:50 (2%) by oil pump |
| ENGINE T.B.O | 500 hour maximum |
---
Revolution Helicopter Mini-500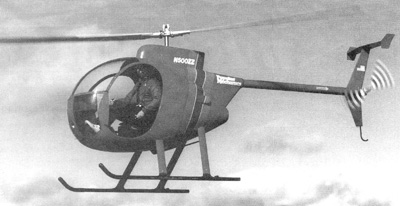 Our hats are off to the fine folks at Revolution Helicopter, for having the foresight and ingenuity to survive the great midwestern floods of 1993. Production facilities have moved to higher ground and we are happy to be able to report that all is well in Revolution land.
The Mini-500 is a single-seat, metal-and-composite helicopter with some impressive statistics. And it looks real good, too. Optional equipment being planned for the future includes: floats, a cabin heater, and auxiliary fuel tanks, but as it stands now, all available equipment is standard.
Powered by a Rotax 582 producing 67 horsepower, the Mini-500 looks and acts like a real helicopter. The machine stands 8 feet 1 inch high with a length of 22 feet 6 inches, and weighs in at 330 pounds. The two-bladed rotor is 19 feet long. Control inputs are accomplished via traditional collective, cyclic, and anti-torque pedals.
Sounds like a real helicopter so far, doesn't it? Top speed is listed as 95 mph, cruise will work out to 75. Fifteen gallons of fuel can be carried on board, giving the bird an ultimate range of 225 miles while burning unleaded auto fuel at the rate of five gallons per hour.
The climb rate isn't bad, either: 1100 feet per minute with vertical takeoffs and landings. Maybe the two most exciting aspects of the Mini-500 are the facts that the kit comes complete, which means the kit cost and the cost to complete it are the same.
You can interpret this as: the engine is included in the kit. The estimated time to build this sucker is pretty impressive too-only 40 to 60 hours. Just think: one good week off from work and you could be flying your own personal helicopter.
The kit price is $24,500 (1994 prices)complete-as I said, that's the only way it comes. Info packs are $15 and the video (also available in PAL) is $30. Technical assistance is available to builders that hit a snag through a hot-line service operated by dealers and the factory.
Summary
Review Date
Reviewed Item