Finding
Previously Unknown
Helicopters
We received the accompanying photos of this interesting experimental helicopter from Robert Borovec in Washington state. Robert said that he was down in Texas picking up a small light plane that he had purchased when he ran across this ship in a hangar on a small field in San Antonio, According to the local FBO the unique ship had been successfully flown.
There are several ways to counteract the torque developed by the main rotor shaft and the method utilized in this ship is one of the more simpler ones. The whole tail section forms a wing which is mounted in a vertical position and the wing is pivoted along the longitudinal axis of the airframe. The downwash from the main rotor provides airflow over the vertical wing which forces the airframe to rotate to the left or right depending upon the angle of attack of the wing section.
This is not the first experimental helicopter that we have seen using this configuration for anti-torque control. Several European prototype ships have used a similar system, and at least two tipjet designs that we know of use a similar system for directional control.
The ship has side-by-side seating and the drive train utilizes a Kawasaki motorcycle engine and automotive differential. Airframe construction appears to be mainly large diameter, welded aluminum tubing and is well triangulated.
It would be interesting to know how this type of torque control works in cross wind conditions. It might have limited control effectiveness unless the experimental helicopter was headed into the wind.
This configuration might be a good candidate for use in a hovering gyroplane design since the vertical wing would present very little drag in the normal gyroplane mode.
There are still a lot of good ideas for rotorcraft that have surfaced over the past twenty or thirty years that have not been fully developed. Perhaps we will hear more about this ship in the future. If anyone in the San Antonio are a has any additional information, let us know.
BELOW LEFT : Close up of the rotor and mast. Note the automotive differential and swash plate with control stick.
BELOW RIGHT : Left side view of the experimental helicopter showing the motorcycle engine installation and the landing gear details.
Summary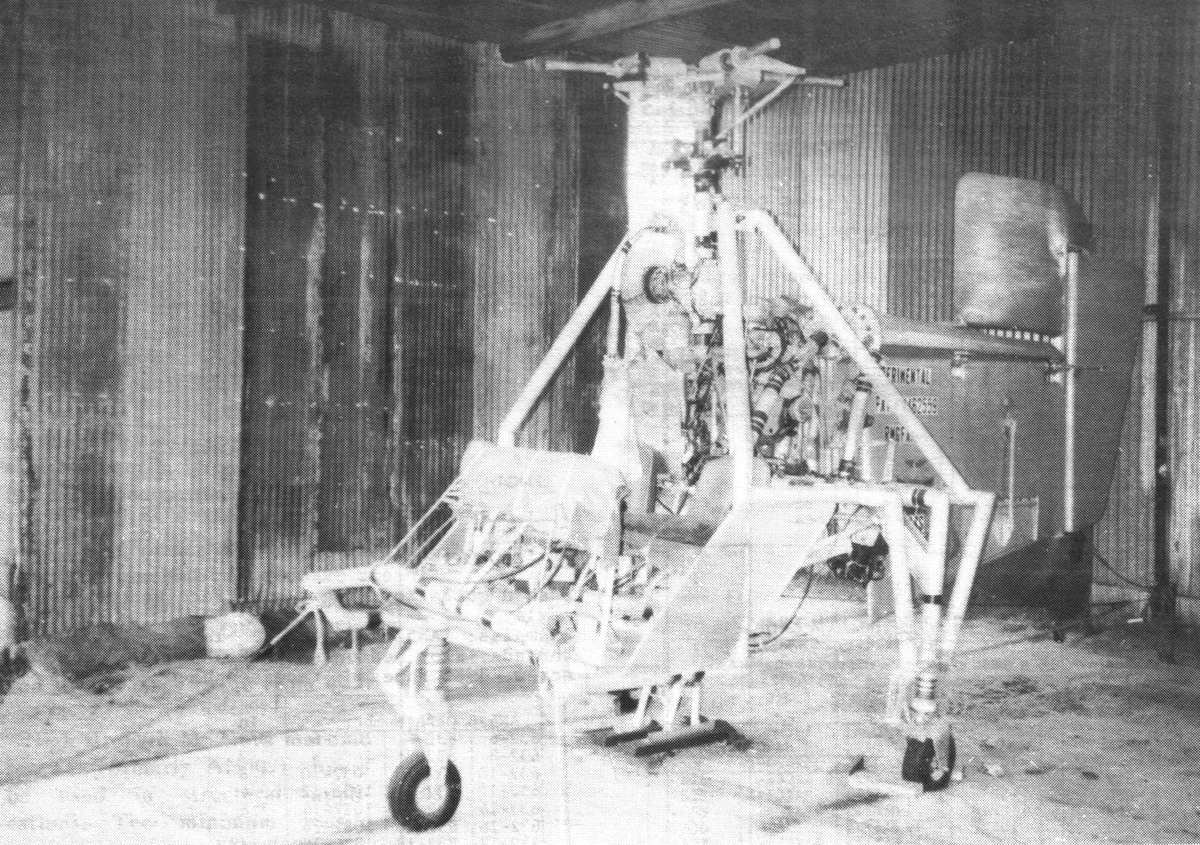 Article Name
Unknown experimental helicopter found in shed
Description
Unknown experimental helicopter: The ship has side-by-side seating and the drive train utilizes a Kawasaki motorcycle engine and automotive differential.
Author