Helicom
Commuter II-A
Kit Built Helicopter
A Brand-New, 25-Year-Old Homebuilt Helicopter :: The Commuter II-A Helicopter

WAY BACK DURING World War II, an AAF Ferry Command jock with a square jaw and eyes squinty from thousands of hours of herding C-54 transports all over the Pacific Theater, had a fantastic idea.
So after the war was over, while GIs in countless bars were singing, "We will all enlist again… in the pig's …we will!" Harold "Pop" Emigh, Sr, like the rest of the worriors, did not intend to reenlist.
Instead, he planned to come home and set the world afire with a fun little metal sport plane whose design would be the essence of simplicity. He would call it the Emigh Trojan, and its fuselage would consist of two identical halves joined together.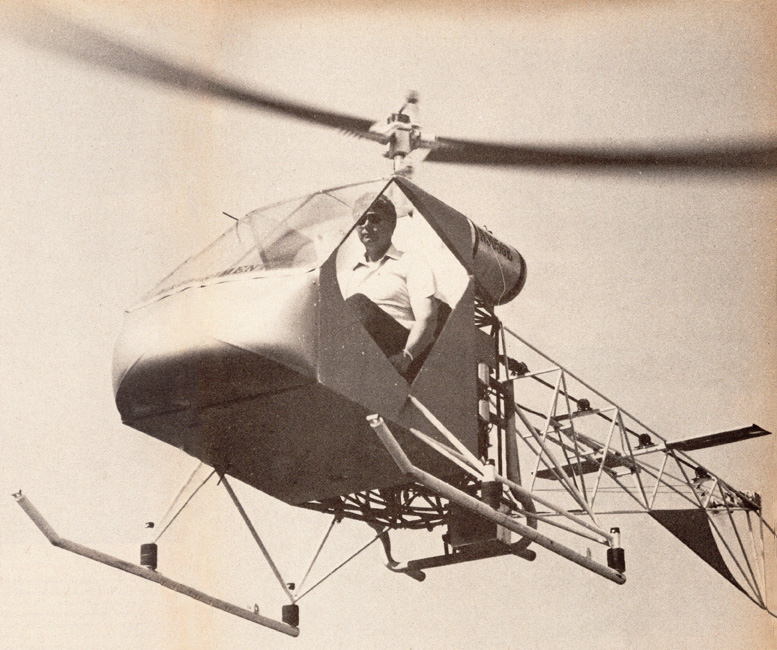 The wingtips, ailerons and tail surfaces would all be interchangeable. It would sell for under $3000, and fly at 115 mph with two buddies inside. Its wings would be notable for external ribbing.
Well, the Trojan went into production but less than 100 were built, and today they're just a memory of the postwar period, though a few are still flying Pop Emigh moved into aerospace work and helped design the Navajo and Polaris missile systems and other way out stuff.
But again he had a top-secret project in his head — a single seat helicopter that would use an aircraft engine driving the main and tail rotor blades with simple drive-shaft and universal joint links, instead of the fashionable V-belts that, he believed, were subject to slipping and constant adjustment.
The Commuter II-A Helicopter Is Born
A smooth automatic clutch system evolved for the Commuter II-A Helicopter project, which he shared with son Harold Jr. program director at North American Space Concepts, and an associate, Bill Foster. The clutch was some ingenious thinking by reversing a centrifugal clutch.
They also wanted the main rotors to freewheel properly in autorotation in case of engine failure, and so called in Borg-Warner's engineers to do the job of designing a sprag overrun clutch. A direct gear drive system turned the main rotor blades opposite to the direction of crankshaft rotation, further to simplify the mechanics.
For helicopters main rotor blades, Emigh went to an all-metal type, with solid 7075-T6 extruded leading edge spars and cast aluminum alloy ribs, covered with 2024 T-3 Alclad skin .032 inch thick. The blades combined rotor disc diameter was 20 feet. Emigh left the fuselage sort of boxy for strength and safety, not beauty.
Called the Emigh Helicom (later to become the Safari Kit Helicopter), the single-seater was given a rugged flight test program, then marketed, until in 1969 a two-seater design was introduced and a bigger Lycoming 125-hp engine substituted for the 90-hp Continental in the solo model. Blades were lengthened to 23 feet diameter, and it flew well but needed a bit more power.
A 150-hp Lycoming was installed, and the Helicom-Commuter helicopter, as it was known, flew well as both a cargo lifter and a people carrier. Commuter II-A Helicopters today are flying all over the world, in England, Liberia, South Africa, Hong Kong, Australia, Puerto Rico, Canada, and in many states of the good ol' US of A.
New Life For The Commuter II-A Helicopter
Well, Pop Fmigh retired to live the good life in Palm Springs, California, and last year Helicom and the Commuter II-A Helicopter tooling was acquired lock, stock and rotors by International Helicopters, Inc, of Mayville, in upstate New York.
IHI's president is Gary Weatherly, and the Veep is Robert G Dart, also president of Aero Industries at Mayville's Dart Airport, makers of metal tool boxes Both are experienced helicopter pilots.
They trucked all the Emigh helicopter jigs, patterns, and other stuff back to Mayville and celebrated Helicom's 25th birthday anniversary by giving it a new name — the International Heliopters' Commuter IIA, virtually the same machine but with a bigger rotor disc of 25 feet in diameter (Zero-time Lycoming 0-320s of 150 hp are also available for $4995).
What they've got is touted as "the most powerful kit helicopter available today," the Commuter II-A Helicopter weighs only 700 lbs empty and can carry a 600-pound payload. You can buy a set of plans, or a complete kit, all at once or in stages.

Basic kit is the airframe, containing all necessary tubing and materials to construct the complete forward frame, tail boom, engine mounts and landing gear (you'll have to fit and weld the tubing).
The control-system kit includes factory-machined parts ready for installation plus required control rods, 22 rod ends, pulleys, cables, cyclic and collective stick grips and other hardware. An engine installation kit for vertically mounting is included with purchase of the engine, with all necessary hardware and mounts.
The oil sump is cast and ready for drilling and fitting the pickup and drain hoses in the vertical position. A special carburetor kit, required to fit the carburetor in an upright attitude on the Commuter II-A Helicopter, includes the carburetor elbow, air filter, and hardware for installation.
Pressure cowling for cooling and firewall kit also are included, coming as aluminum sheeting ready to cut and pop-rivet to form the cylinder head cooling baffles. Exhaust tubing comes all pre-bent ready for welding.
The fan and clutch drive assembly is all factory machined, ready to bolt in, and the basic main rotor assembly is preassembled, including the entire gear box, clutch, mast, swash plate and rotor shaft unit with necessary hardware. The tail rotor gear box also comes preassembled, as well as the pitch-change device.
Fuel tanks are in kit form ready for assembly, and the fuel system kit includes required hoses and fittings, gascolator, valves, etc. Other kits include the horizontal tail, main rotor blades and head assembly, and tail rotor final kit with blades and hubs preassembled.
Cabin kit includes a molded plastic nose piece and all required parts to build the cabin, including plexiglass for the windscreen and sunroof (tinted) Ceconite fabric for cabin sides and bottom and vertical fin comes with tapes, dope, inspection rings and paint. Other kits include the interior kit, instrument group, wiring materials, battery and the big 0-320 Lycoming.
Later on they plan to offer the Commuter II-A Helicopter with a more aerodynamic streamlined fiberglass enclosure, doors, floats, lights, an improved exhaust system, a heater and a turbocharger for improved altitude performance after all have been thoroughly flight-tested.
The Commuter II-A Helicopter has a maximum forward speed of 100 mph and cruises comfortably at 90 mph. With 22 gallons of fuel its range is 225 miles (plus 15 minute reserve). Empty weight is 700 pounds, gross weight 1300 pounds. Price of total kits less engine runs $8982, with engine $13,977 (1979 prices).
International Helicopters also offers a handbook for helicopter home-builders written by "Pop" Emigh, who says in its preface "More often than not, homebuilders have the desire and ambition, but not the knowledge, to design their own helicopter."

Without some basic understanding of helicopter aerodynamics, it is very difficult to assess the claims of helicopters that are advertised for homebuilt construction.
It is the hope of the author that after serious study, the potential helicopter homebuilder will be less receptive to exuberant advertising claims, "There follows a whole bunch of formulae and engineering data that, if completely absorbed, should make you an expert."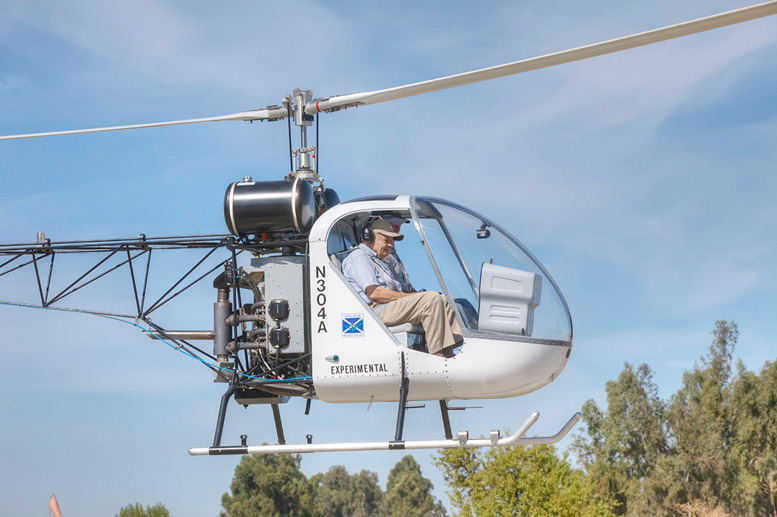 COMMUTER II-A HELICOPTER SPECIFICATIONS
Engine
150 hp Lycoming
Ignition
Dual
Cruise Speed
90 mph
Max Speed
100 mph
Fuel Capacity
22 Gallons
Range
225 miles
Empty Weight
700 lbs
Gross Weight
1300 lbs
Useful Load
600 lbs
Seat Capacity
2 Place
Rotor Diameter
25 ft
Overall Height
8 ft 2 inches
Overall Length
29 ft
Cabin Width
3ft 4 inches
Price (Approx)
$8,000 less engine, $1,3000 with engine.
FURTHER INFORMATION: Latest version of the Commuter helicopter design.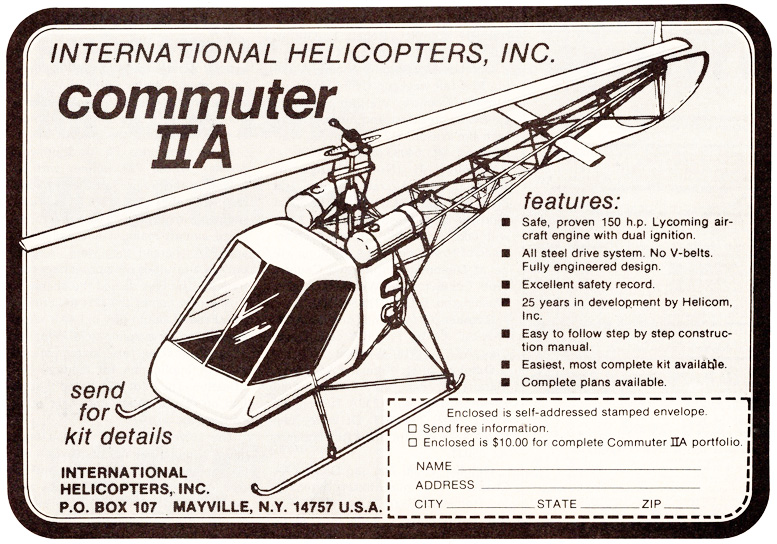 Summary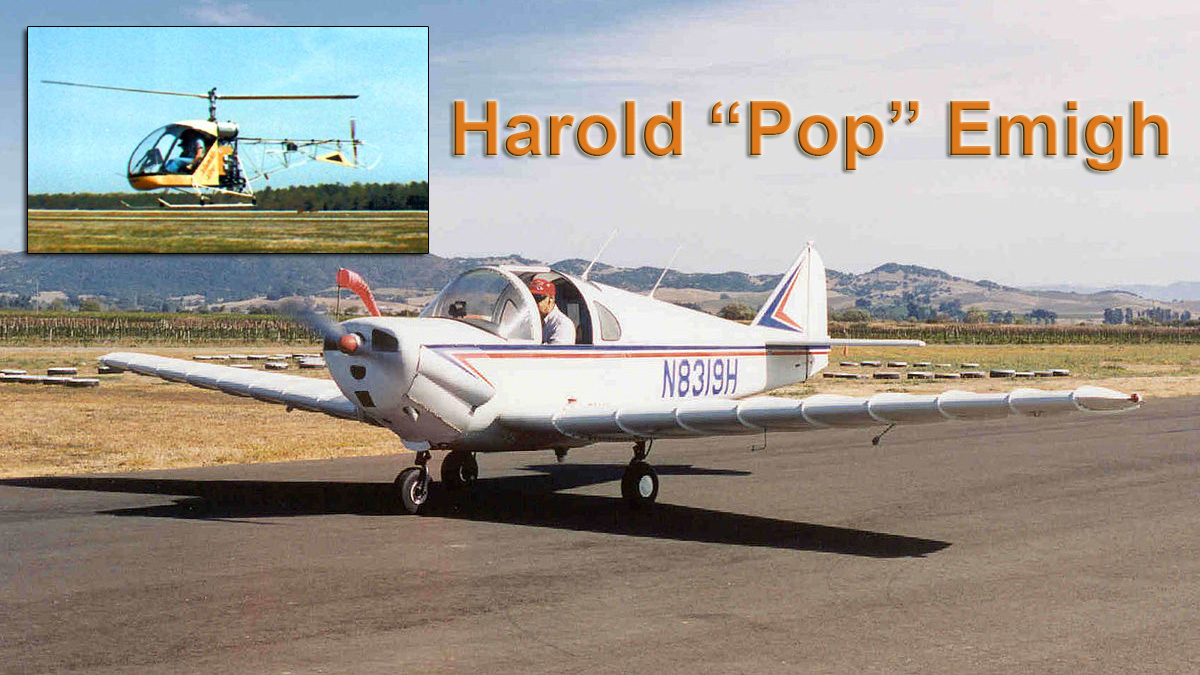 Article Name
History Of Harold Emigh Helicom Commuter II-A Helicopter Kit
Description
It's been 25 years since Harold Pop Emigh provided the world with the helicopter that was to become the Commuter II-A Helicopter and later the Baby Belle and then Safari kit helicopter.
Author