Mazda Rotary Powered
Scorpion II
Kit Helicopter
I purchased the frame from Ron Froberg in Hartselle, Alabama on August 1, 1992. We started work on the Scorpion 2 helicopter project August 17. To date we've got about three months of spare timework on the project. We are shooting for a completion date of January 1993.
We also bough our Hughes 269 helicopter rotor blades from Ron. He has been very helpful with information on the project. I'd also like to thank Jim Hodges in New Jersey and Ben Showers in Pennsylvania for their help and encouragement on this project. They are all fine rotor junkies with much experience and knowledge.
Other modifications that I've made to the Scorpion 2 helicopter are that I've converted and updated Rotorway's standard swashplate, also I've built a conventional main rotorhead and also tail rotor assembly.
I've decided to use full-length Hughs 209 blades and have lengthened the steel tail boom section 10 inches to accommodate the longer Hughes blades. I've also built a right angle gearbox drive unit out of a boat motor lower unit to run the tail rotor system that seems to be working very well.
The Mazda Rotary engine has been geared 10 to 1 so at 500 RPM the rotor shaft turns 500 RPM. The right angle drive also runs off the engine's main shaft and is a 2 to 1 gearbox so the tail rotor blades turn 2500 RPM.
The Scorpion 2 helicopter's radiator fan is direct drive also off the main engine shaft which helps reduce the number of belts.
The transmission case was shortened and gutted and new end plates and a new through shaft made of 4140 were installed. The shaft still runs in oil and the clutch assembly was saved so that the copter could be started without turning the blades.
The 4 to 1 gearbox is the original Mazda rear end. We were going to have an aluminium casting made for the housing but when I was finished cutting the original down it weighed less than 6 pounds, so we've decided to use it rather than spend all that money on the aluminium housing.
The primary and secondary engine drive pulleys are aluminium 8 belt pulleys with the sprag clutch installed in the secondary pulley. We are very pleased with the Scorpion 2 helicopter project so far. We have almost no vibration at all anywhere.
If all goes well we'll complete the project for under $3500.00. Since I took these pictures featured, I've completed all controls and hung a weight on the tail to compensate the tail rotors weight.
Main rotor shaft and right angle gear box driven by the horizontally mounted Mazda engine through PowerBand belt reduction drive provides for a very reliable transmission system.
The original Scorpion 2 helicopter utilized a vertically mounted two-stroke outboard boat engine and multiple "V" belt drive to the main rotor shaft. The tail rotor was also belt driven by a series of long "V" belts. This conversion maintains the "V" belt driven tail rotor system.
The Scorpion II helicopter provides adequate seating for two people. An optional fiberglass enclosure was also offered for the Scorpion kits which made the ship more comfortable to fly in inclement weather.
The Mazda rotary powerplant is nestled between tubing support members of the airframe. The rotary engine is exceptionally smooth running and develops sufficient power for a two-place helicopter with reserves to spare.
The compact Mazda rotary engine is easily "hopped up" by porting adding larger carburettors or modern EFI systems. The rotary is rated at 130 HP in stock form and can be upped to 150 without much work. The Mazda rotary engine is rapidly becoming a very popular engine for use in light helicopters and RV aircraft.
For weight and balance calculations, I put 400 pounds of sand in the two seats and hung the copter and am very pleased to say that it is in perfect balance.
As you can see by the pictures I've not cleaned or painted anything as of yet. I've decided to complete the Scorpion 2 helicopter first then completely disassemble it and detail it at that point.
In the close-up of the primary reduction drive you can see that the Gates PowerBand belts are becoming popular on homebuilt helicopters transferring more power with less wear and are replacing standard "V" belt systems.
The Scorpion 2 helicopter instrument pod with basic instruments necessary to monitor engine performance. Full dual controls are utilized on this ship which were not installed when this photo was taken.
Close-up of the radiator installation. The cooling fan is directly driven off the engine shaft for better reliability. Several old Scorpion airframes have been retrofitted with a variety of auto engines such as the Mazda rotary and Subaru 4-cylinder powerplants.
The Rotorway Scorpion II kit helicopter which is no longer in production was originally powered by an Evinrude 115 HP V4 two stroke boat engine that was loud, smoky and had a lot of vibrations with marginal power.
The Scorpion helicopters can still be found across the world at reasonable prices if one is willing to do a lot of work to restore and bring them up-to-date.
---
ROTORWAY HISTORY – FROM ONE TO TWO SEATS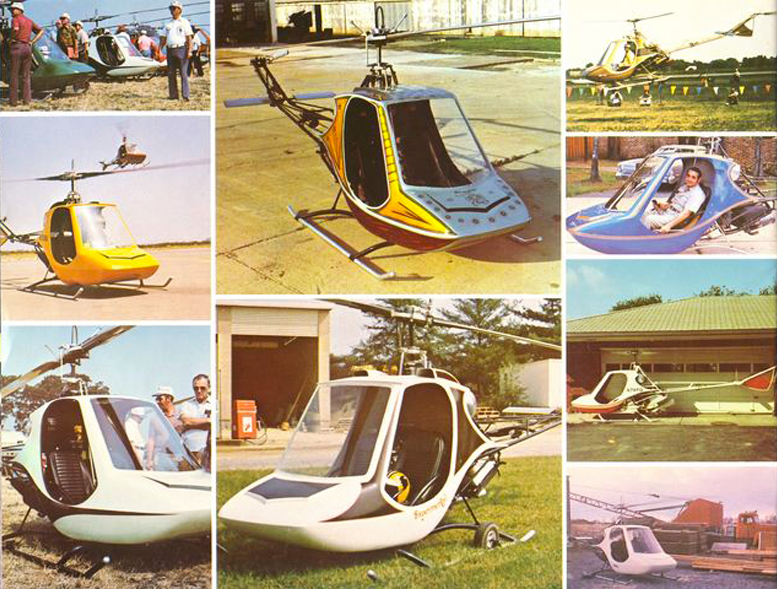 THE SCORPION 2 HELICOPTER
In 1972, the Rotorway Scorpion II kit helicopter was introduced with an Evinrude OMC 125 horsepower, 2 cycle engine which provided the added power to fly two lightweight people in cool, low density altitude environments.
But despite all the improvements, overhaul times on the major components were still not up to the desired levels with more time spent maintaining the Scorpion helicopter than actually flying it.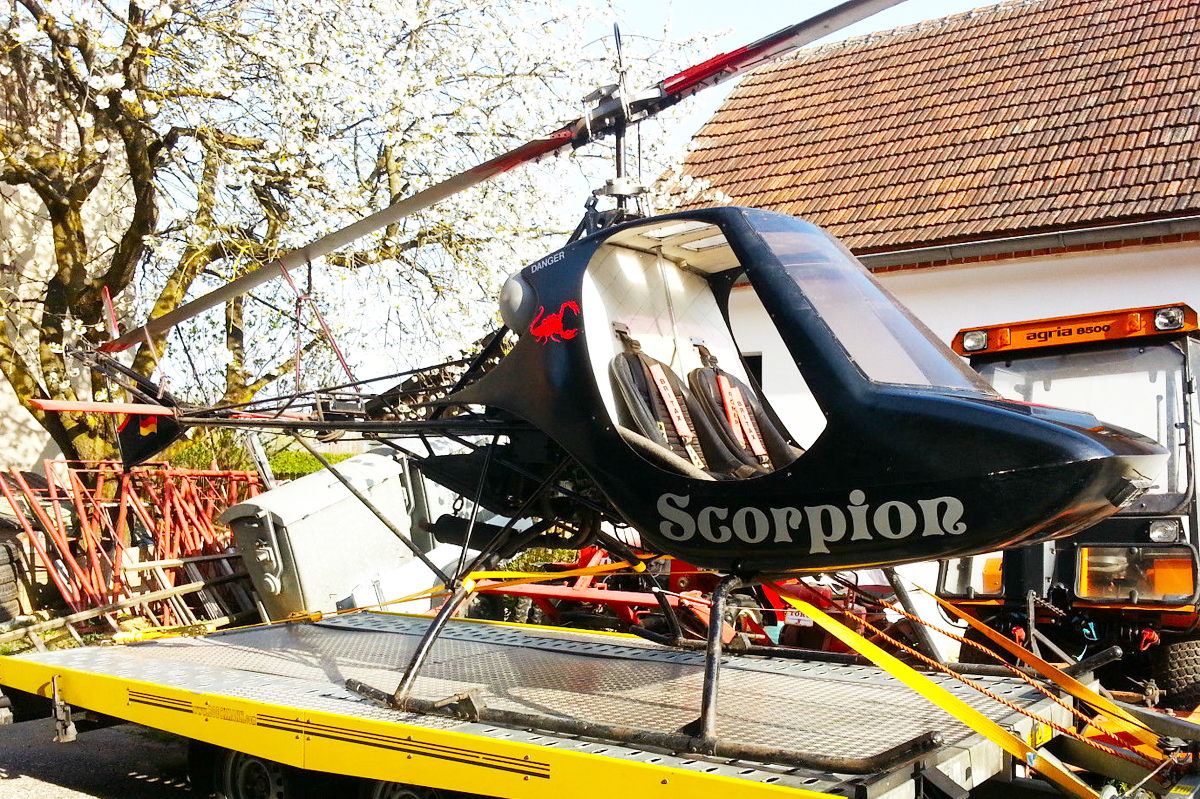 In 1974, the Rotorway company embarked on a major redesign of the two seat kit helicopter once more with the end goal of reducing the amount of maintenance time required per every hour of flight.
The first, and most important item to be addressed was the elimination of the inefficient 2 cycle engine outboard engine that was low in power and operated in a narrow zone of optimized conditions.
The Rotorway kit helicopter company realized that there would never be a way to sufficiently dampen the excessive vibration and low torque associated with this type of engine primarily as it was purpose built as an outboard boat engine to which it was well suited.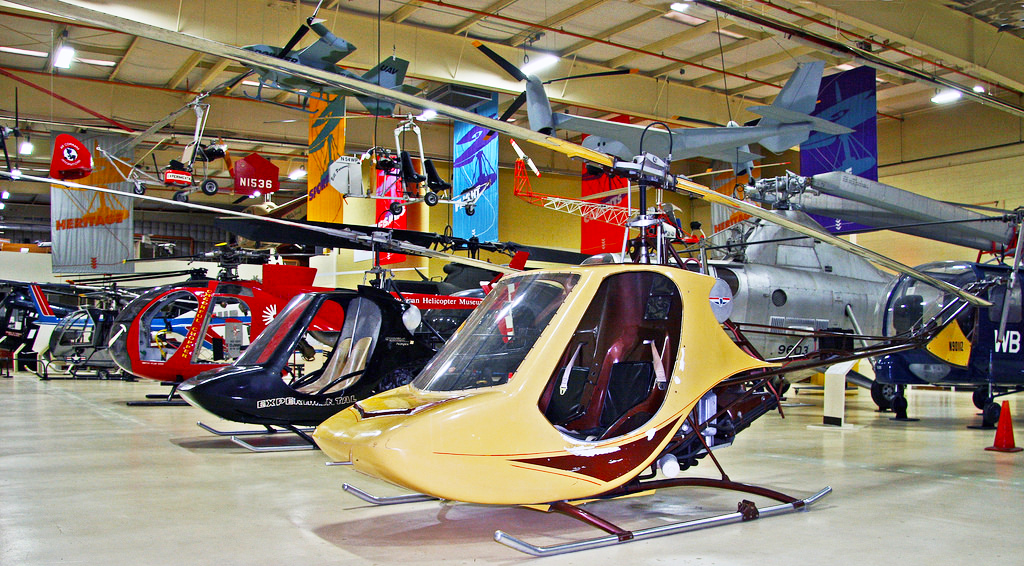 The two stroke engine vibration was found to cause rapid wear in various flight and drive parts and had a tendency to cause cracks in airframe and critical drive systems components.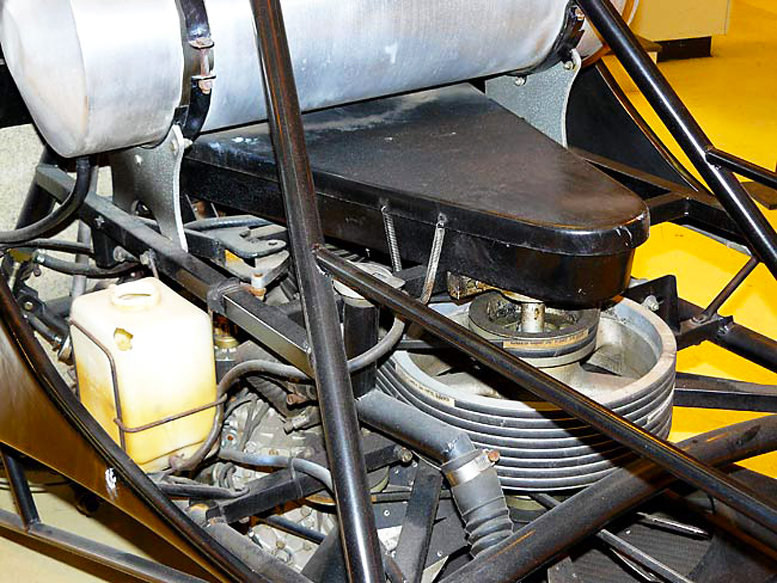 Unable to find an engine manufacturer to make their 4-cycle engine suitable for the helicopter at the time, RotorWay set forth on an aspect of the company that is unique to this day – producing their own engine for their helicopter.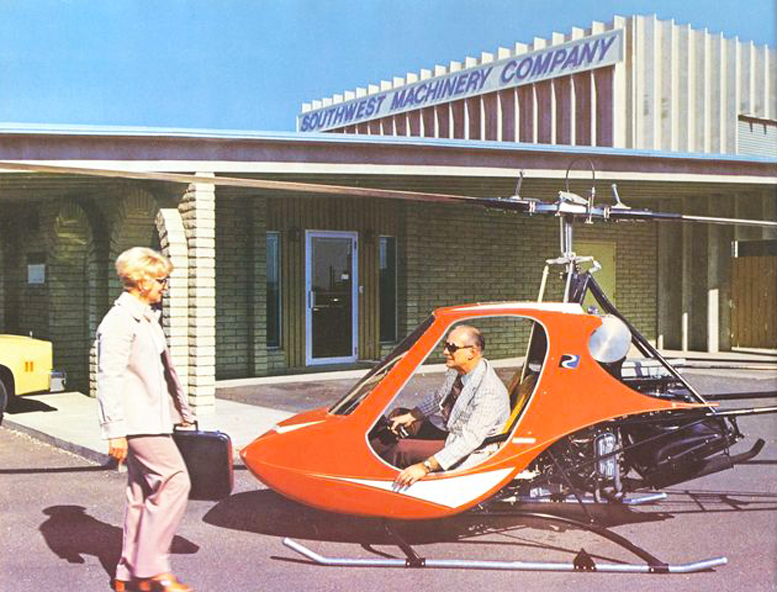 Called the RotorWay RW 133, this new 4 cycle, 4-stroke engine now had the added power and torque the company was looking for to fly their helicopter beyond the previous engines capabilities.
The updated Scorpion 2 helicopter fitted with the company's new RW 133 four stroke engine now had a cruise speed of 80 mph with a range of 120 miles and a increased useful load of 420 pounds.
Later versions followed of the company's four stroke four cylinder helicopter engines, first the RW 145 and then moving to the RW 152, represented continuous improvements made by RotorWay.
These predecessors of the RI 162F engine helped Rotorway make today's kit helicopter product possible. The engine continued improvements not only with FADEC, but also an optional supercharger to maintain HP at altitude.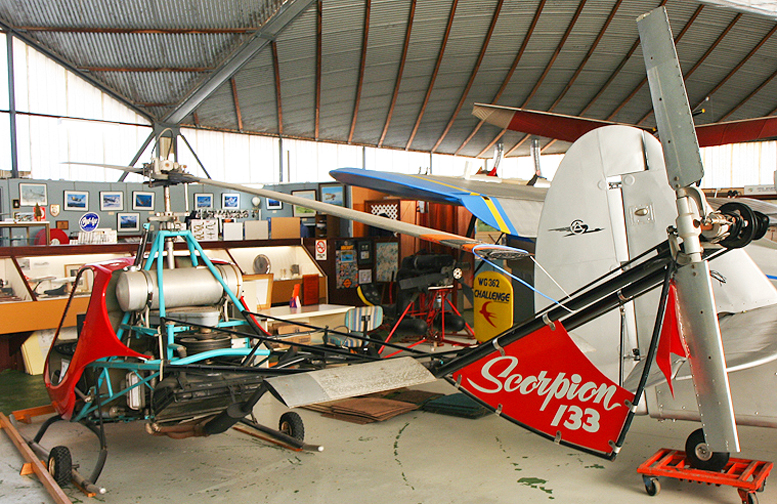 Nearly everything on the Rotorway engine (and most of the kit) was produced in-house. From the cast rockers to the crankshaft and rod forgings, the RotorWay brand stood for excellence both in operation and design.
Rotorway Scorpion II Kit Helicopter
With a two-place helicopter available, RotorWay was able to begin instructing customers on how to fly their aircraft. Done at Scorpion Sky Center in Tempe, Arizona, this new program would remain an invaluable customer service tool from that point on.
---
---
Summary
Reviewer
Review Date
Reviewed Item
Mazda Rotary Powered Scorpion 2 Helicopter
Author Rating