Belgian Masquito M80
Light Kit
Helicopter
Stefaan and Paul Masschelein, two Belgian brothers, decided to design and produce a new kit-built helicopter – the Masquito M80 — having been serious aviation buffs for the preceding 20 years.
During those 20 years they had worked mostly on very light aircraft and, although their designs had technical merit and success, they were unable to secure adequate funding to back their projects without losing their controlling interest.
Despite this, initial design work on their first helicopter attempt, the M58, began in November 1994. The prototype M58, having been completed early in the year, achieved hovered flight during May 1996, powered by a Rotax 582 engine.
John Pescod heard of the project and, while visiting the construction of the prototype, became fascinated. So much so, he joined forces with the brothers in late 1995 and assumed the role of administrative and financial executive. This allowed the brothers to focus their efforts on the design and assembly of the aircraft.
Stefaan, Paul and John formed Masquito Aircraft n.v. in June 1996, the company's purpose being to build, certify and manufacture production versions of the M58. Following many disappointing meetings with various bank managers, they finally secured financing for taking the M58 through the UK, CAA certification process.
The commercial bank's funding was secured following their being impressed with the design and it's future potential. In March 1997, the company decided to replace the two-stroke Rotax engine with the Jabiru 2.2, four-stroke.
The new Masquito M80 helicopter
This decision came about due to some 'spirited exchanges' between Masquito n.v. and Rotax following the engine manufacturer's refusal to provide M58 clients with a guarantee for their 582 engine because it was mounted vertically — despite tens of thousands of two-stroke outboard marine engines functioning quite happily when mounted this way.
The power plant change also resulted in a model number change and the former Rotax powered M58 became the Jabiru powered Masquito M80 helicopter. The change in motive power meant significant extra costs with the necessity of extended development time in order to incorporate the redesigned components needed to accept the Jabiru engine.
After initial testing on four prototypes, the Masquito M80 arrived at a stage where certification flight-testing could begin. The UK will be the first country to officially accept the M80 and certification will be sought under the CAA's BCAR-VLH (British Civil Aviation Requirements – Very Light Helicopter) ruling.
It therefore follows logically, that the first clients would be expected to come from the UK. This should be followed by France, whose DGAC have given written confirmation that the M80 will be given a CNSK 2 permit (Special Category Permit for kit-built aircraft) dependent on, and on the back of, UK certification.
The UK certification may well prove the springboard for other European aviation authorities to accept the M80 for certification in their countries. An M80 'Experimental' version should then become available in the US and Canada, the experimental category kit being the first version to be made available in those two countries.
It is assumed that with UK certification achieved US/Canadian experimental certification shall be relatively simple. However, once establishment of a customer base is well under way, the company will seek to also certify the aircraft in the US, 'Primary Rotorcraft Category' (PRC).
Satisfying these regulations will, the company feels, increase sales potential of the M80 as various utility roles such as pipe/power line surveillance, fish spotting and even helicopter flight training, etc, become possible.
A longer time span attaining PRC certification is anticipated, as the requirements are more stringent than the 'experimental' category and the FAA closely involve themselves in the process.
Other countries targeted by marketing will be those that already have regulations in place for a 'Very Light Helicopter' category, particularly Australia (sheep mustering) and South Africa (flight training and utility use).
Dealership applications in this marketing process are currently being invited, with (at the time of writing), only one preliminary agreement – GA1A, Brazil – having been reached.
The current idea is that initial Masquito M80 kits will be sold directly to customers. However, this will not mean a lower selling price as the method is meant only as a way of keeping in close touch with these early customers, obtaining feedback on the building process, construction times and to lend assistance/advice should any problems arise.
The price of the M80 has yet to be determined due to several unanswered questions. Amongst them attaining sufficient power reserves to allow the M80 to operate at near MTOW when flown at high altitude and in all climatic conditions, with the subsequent extra development costs involved.
The major unknown factor is trying to reliably predict the aircraft's potential sales numbers. This leads to custom-made components being bought in a wide variety of prices, with up to 50% discounting if ordered in sufficient numbers.
R&D costs also need to be recouped within a reasonable time frame; the % of the total R&D costs per ship being directly proportional to the projected sales numbers. Based on the partial information currently available to the company, they estimate a kit form M80 will cost 65,000 – 70,000 EUR. This is ex-works in Belgium and excludes taxes.
When considering the costs involved in your purchase, Masquito n.v. expects the buyer to accept full responsibility for shipping and all associated risks of transportation of the kit from the production facility to it's final destination, therefore it is imperative that the buyer have adequate insurance coverage to ensure any loss or transport damage is covered.
The Masquito's unique design implies low levels of maintenance. The parts required as spares are very limited and the necessary overhaul is not complicated. Couple these levels of maintenance and the unit purchase price, and the Masschelin brothers reckon these advantages will be hard to beat.
In fact, talks with the Jabiru engine manufacturer on the feasibility of using unleaded automobile fuel instead of AV gas, may lead to a lowering of operating costs still further.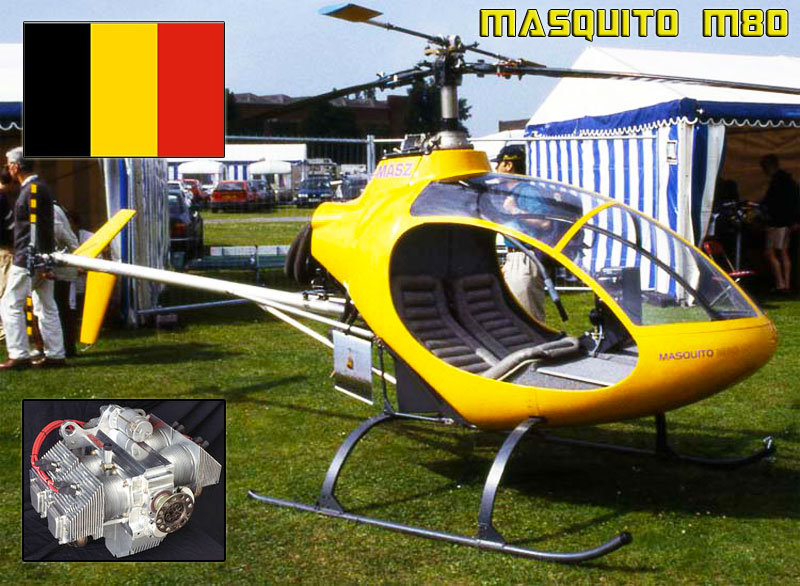 Now the Masquito M80 technical bit:
Main construction materials consist of a combination of chrome molybdenum steel, titanium 3AI-2,5V tubing, titanium 6A1-4V sheet and billet, with high grade aluminum — Carbon composites being employed where allowable to reduce the A eight to the lowest, affordable configuration possible.
The carbon composites and titanium alloys were introduced after the 2nd Masquito M80 helicopter prototype turned out too heavy, despite early convictions that an acceptable empty weight could be achieved using chromoly steel.
Current landing gear design involves the use of unidirectional carbon fibers that result in a thinner vertical section and reduced weight compared to the original designs, and only returns a slight decrease in maximum allowable vertical descent speed for ground contact.
The main power transmission will be using declutchable "V"-belts that utilize an electric motor to engage the clutch and to keep the power belts at the correct tension. The tail rotor (on the prototypes) is driven hydraulically, with hydraulic pump pushing m1 to a hydraulic motor, which then turns the tail rotor. Size and vs eight are the main advantages here.
EDITOR'S NOTE: Still nothing much out of these guys, but while certainly an attractive ship, the present computed spec of 12.71b/hp does not forecast great performance.

The previously rumored hydraulic T/R drive has gone away due to excessive weight. Present design incorporates a flexible shaft drive to the T/R! Yep looks like a big speedometer cable. Gets rid of resonance in the tail rotor drive.

Unconfirmed rumors have a R22 in the UK destroying it's tail boom due to resonance in the tail rotor drive created by an excessive over speed. Efforts to confirm rumors, showed that older R-22's did have a problem that has been fixed on the later ships.

NOTE: The Masquito specs will probably change as they get back into production.
Tail rotor assembly design settled on a conventional layout, the Fenestron option examined closely and rejected mainly for it's heavier weight and higher drag in forward flight. The Notar' option was also explored, but like the Fenestron, this would require a much larger power requirement than the chosen 'classic' design and would ultimately decrease the hover and climb performance of the M80.
The two-blade teetering main rotor is carbon composite with a 9-degree linear twist and a Hiller servomotor for increased stability in the hover. Each blade has a weight in the tip to increase inertia and decrease rotor speed decay in the unlikely event of an engine out.
The composite 'virtual hinge' rotor head is equipped with elastomeric collective pitch thrust bearings. Flying controls are conventional and manual, the Hiller servomotor providing cyclic pitch control.
The Masquito M2.6L, four-cylinder, four-stroke, air cooled engine (production model developed from the prototype's 2.2) has been derated to 80hp at sea level. This engine features dual, variable timing, electronic ignition, electronic multipoint fuel injection, pressure and temperature compensation, and max rpm limiter.
Masquito M80 Helicopter Figures
M80 Masquito Helicopter Specifications
Fuel capacity
17.7 US gal / 14.7 Imp gal (of which 15.9 & 13.2 respectively, is usable)
Max Range
324 n. m. (600km / 377miles) With internal fuel / no reserves. Translates to 4hr endurance
Length (rotors turning)
6.22m (20ft 5in)
Length (fuse)
4.85m (15ft 1 lin)
Overall height
2.25m (7ft 4 1/2 in)
Cockpit max width
1.30m (4ft 3 1/4 in)
Empty equipped weight
230kg (507 lb)
MTOW & land weight
450kg (9921b)
VNE
97kt (180 km/h: 111 mph)
Max cruise speed
80kt (148 km/h: 92 mph)
Max rate of climb (sea level)
335m /min (1,100 ft/min)
Hovering cciling IGE
2,000 m (6,560 ft)

As stated in other articles, the web site has not been updated sincc 2003, though whispers emerged that certification process is "progressing nicely". As soon as I hear further, an update will be included in a future issue.
---
NOTE: No longer in production – project terminated.
---
Summary
Reviewer
Review Date
Reviewed Item
Author Rating