Three Cylinder
Adams Wilson
Helicopter
Ben Showers' (Adams Wilson Choppy helicopter builder) good friend, Jim Hodges in New Jersey who is building a Choppy and is also editor of Spiral Wings, a newsletter for Adams/Wilson Choppy builders (1992).
In fact, Jim sent us Ben's article along with some B&W Polaroid photos of his Adams Wilson with a preliminary installation of the three-cylinder Geo Metro engine. Hodges built the Adams Wilson Choppy in totally stock form with the 750cc Triumph motorcycle engine which was a little short on power for the asymmetrical rotor blades he is using.
In less than a month after we received the photos of the preliminary installation we received additional shots of the installation that is now very near being finished. Jim says that the Adams Wilson Choppy now resembles a "light attack helicopter" in its present configuration.
The plans – built symmetrical blades require a little less power than Rotor Hawk or Rotordyne blades which are a common substitution by builders who would rather buy than build their own blades. Jim had called me on several occasions to discuss the three cylinder Sprint/Geo engine and finally decided to "go for it."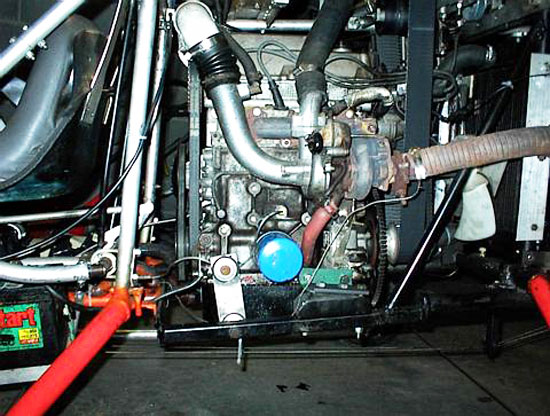 He had to machine an adapter plate for the single barrel carburetor that replaces the throttle body (The '89 Geo Metro engine utilizes throttle body fuel injection. The later model Geo engines with fuel injection are rated at 70 HP and Jim thinks his is the 70 HP model.
The intake ports on the Geo throttle body manifold are a little larger than the carbureted models which should provide a little boost in power. The ship utilizes the stock, main rotor, right angle gear box since the Geo engine is mounted horizontally.
Power from the Triumph motorcycle engine was applied to the gear box from the transmission output shaft on the engine and allowed the use of the clutch and transmission. This feature provided the capability of cranking up the engine without powering the rotors.
Hodges improvised an idler clutch for the Geo engine installation. Jim also fabricated a steel tube exhaust system that we had recommended. We learned of this exhaust system from Duane Engle who gleaned the info from some guys in San Diego.
They were working with VW powered sand rails and Baja Bugs and developed the system through trial and error and a lot of dynomometer testing. The exhaust pipes are only 14 inches long and utilize "fender washers" for baffles inside the pipes. We built up one for our Chevy Sprint and a friends Subaru EA81 engine.
With the simple exhaust pipes installed the prop makes more noise at idle than the engine. The noise increases when power is added, but it is about as quiet as a stock muffler setup and is supposed to provide performance close to a full length tuned exhaust.
As of this writing we have only cranked up the engines and listened to the exhaust noise. When time and weather permits we will run thrust tests to determine if this simple system provides any performance improvement.
Perhaps we will finally see a Adams Wilson Choppy or two actually flying after so many years of inactivity. The Geo/Sprint powerplant may just make this age-old design practical. And, if it is not enough power for some of you heavy weights, you can use the 4-cylinder 1300 or 1600 cc Suzuki engines. They only weigh an additional 20 pounds.
A LITTLE HUMOR: Maybe a little optimistic but!!! with a little elbow grease and some long nights work in the shed, maybe this could be the outcome…?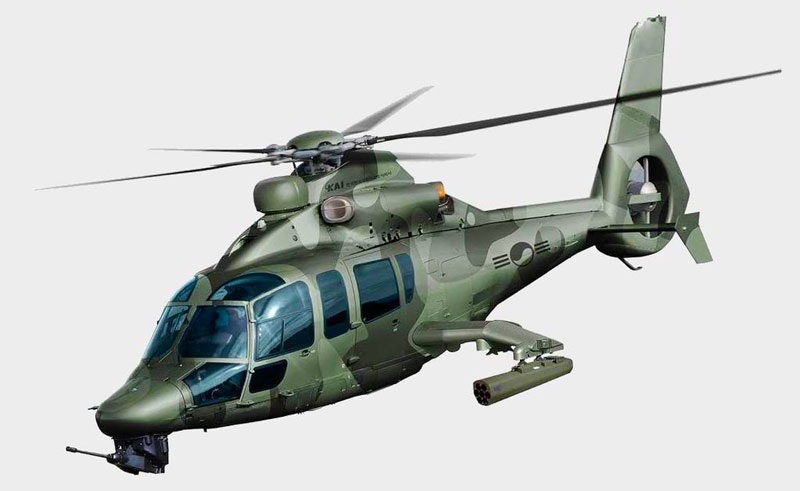 Summary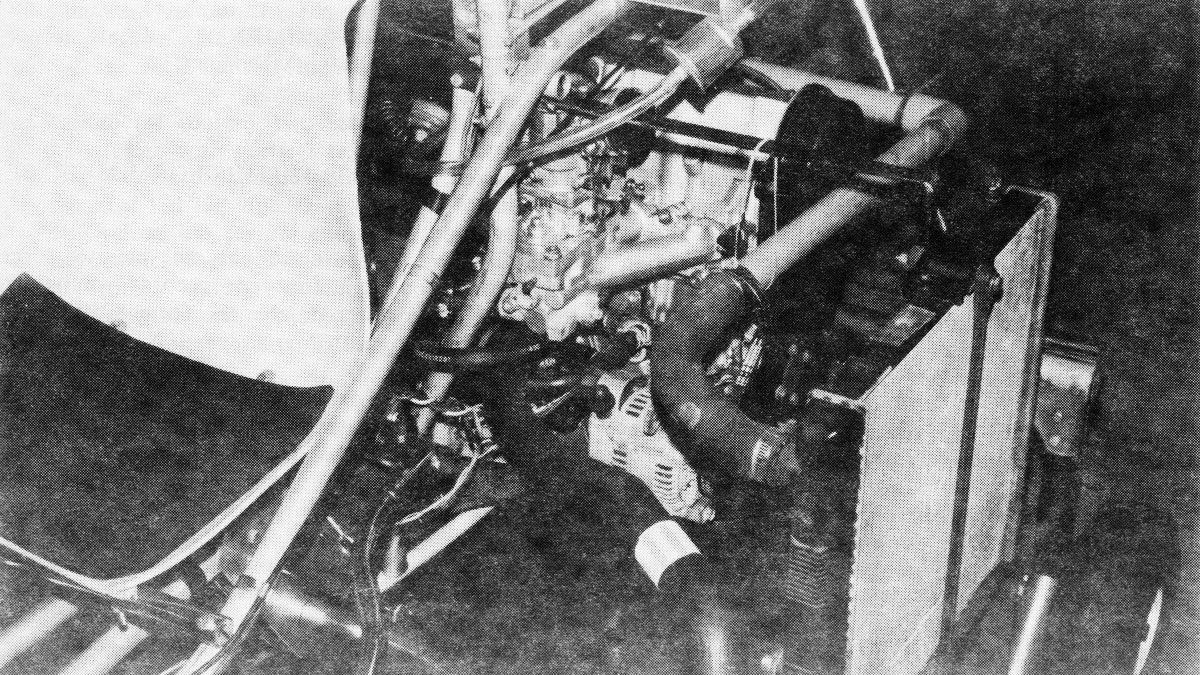 Article Name
Adams - Wilson Attack Helicopter
Description
Another interpretation of the Adams Wilson Choppy plans built helicopter. Jim Hodges is powering his helicopter with a Geo Metro 3 Cylinder auto engine.
Author
Publisher Name
Homebuilt Rotorcraft Magazine