There Are Better Helicopters Than The Adams-Wilson
BUT TRY AND BUY ONE UNDER $20,000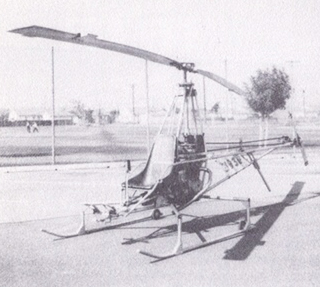 The ADAMS-WILSON HOBBYCOPTER is without question the finest helicopter available to the overage person. It is not only the result of professional engineering calculations, but more definitely the culmination of over five years of practical test experience. True simplicity is achieved by a functional straight forward design.
Such important points as four cycle, air cooled engine, autorotative ability or completely conventional controls were not omitted on the Hobbycopter just because they are generally considered too complex. For this reason the novice or the helicopter pilot feels natural in the seat of the Hobbycopter.
In short the Hobbycopter will undoubtedly remain a timeless criterion for future designers of light helicopters Of course there will always be promises of new power plants, control and flight systems just over the horizon. These promises should not be confused with the actualities of the Hobbycopter.
New theories are to be proven – Hobbycopters are to be flown!
REGULATIONS AND LICENSING REQUIREMENTS
The Hobbycopter is certainly one of the most thoroughly tested single seat helicopters in use today. The original prototype has been subjected to many hours of severe tie down experiments. It has flown unrestrained at the end of a tether allowing inexperienced flyers an opportunity to familiarize themselves with the controls of a true helicopter.
But more important, the Hobbycopter flies as you would expect it to: Independently in free flight; forwards, backwards, sideways and straight up out of ground effect. Yet categorically the ADAMS-WILSON HOBBYCOPTER is an experimental, uncertified helicopter. And here lies a real advantage to the average person.
For being a single seat experimental aircraft the Hobbycopter can be built and maintained by you even if you are not an A. & E. mechanic. Further more, it can be flown by any private pilot with only a fixed-wing license. Even so, time logged in the Hobbycopter may be counted towards a helicopter rating. Surely these benefits outweigh the limitations prescribed in this category.
When you begin your Hobbycopter project, contact the nearest Federal Aviation Agency office for a registration number and at that time discuss your intentions with the Safety Agent. His helpful advice and cooperation will be essential in licensing your helicopter.
Upon completion he will regulate the operation of your machine in accordance with are a conditions. And unless otherwise stipulate d by the Safety Agent, these are the basic restrictions applicable to the experimental helicopter.
It must be flown solo only, it cannot be flown more than 25 miles from base at least the first 75 hours. It cannot be flown over heavily populated areas at least the first 75 hours. It cannot be flown for hire or profit. The importance of close cooperation with the F.A.A. cannot be overstressed. They are interested and eager to help. Let them.
PLANS FOR THE H0BBYC0PTER…
…HAVE OUTSOLD BLUEPRINTS OF ALL OTHER HELICOPTERS – HERE'S WHY!
The Hobbycopter was the first practical one-man helicopter made available and from its conception was meant for owner-construction. This important fact is clearly reflected by the plans. Not merely a quickly prepared after thought, the blueprints are completely detailed without being overly complex.
Dimensions are given for making and assembling every part and all standard pulleys, belts, bearings , bolts, etc., are indicated by name and number. Several photos showing the construction are included plus 8mm color movies of a completed Hobbycopter in action.
The cost of building the Hobbycopter as well as the time required is very low. A close estimate would depend on whether factory component kits were used and of course on the varying cost of local materials. Even though a fantastic amount of time and money has been spent developing this helicopter, we've kept no secrets.
The detailed plans will answer any question you may have concerning the Hobbycopter. They are priced at $35.00 and will be sent post paid by return mail anywhere in the world along wit h the photos, movies and special information pack – age mentioned below. If you've ever wanted a real helicopter, this is certainly the starting place.
SPECIAL OFFER
A special information package is now available and will be sent post paid for the cost of $5.00 which can be applied to the purchase of the complete plans. The purpose of this information is to further acquaint you with the Hobbycopter.
The package contains one complete full size drawing from the set of blueprints to show the type and quality of the plans, four 8″ x 10″ photos showing different views of the Hobbycopter, dealership information for those interested in area sales potential and a check list chart which compares features of other one-man helicopters to the Hobbycopter.
ADAMS WILSON HOBBYCOPTER HELICOPTER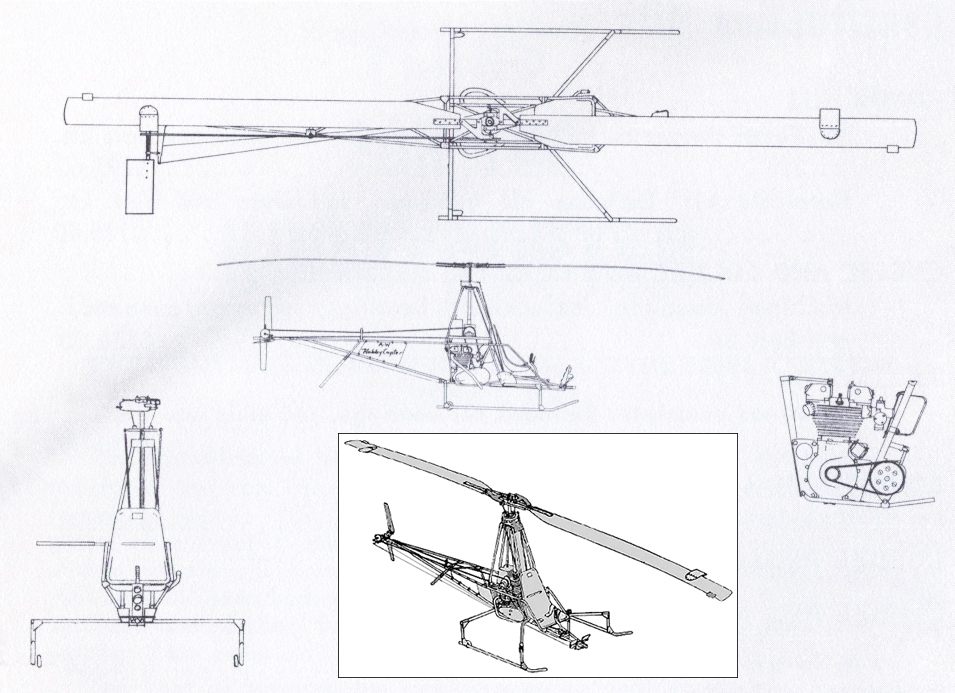 Class 1 Helicopter as detailed in Military Specification Bulletin Mil – 8-8501
GENERAL SPECIFICATIONS CONFIGURATION
Single place.

Two bladed single main rotor.

Anti-torque tail rotor.

Bolted aluminum tube airframe.
HOBBYCOPTER HELICOPTER CONTROLS
Main Rotor cyclic and collective pitch effected by swash plate.

Maximum registered control forces: cyclic ½ lbs; collective 5 lbs; rudders 5 lbs.

Tail Rotor pitch bell crank operated. Autorotation is accomplished by manual clutch disengagement, lever at cyclic stick.
HOBBYCOPTER HELICOPTER FUSELAGE DIMENSIONS
Height 6 Ft.

Length 15 Ft.

Width 5 Ft.

Required hanger space (ready to fly ) 15 Ft. x 17 Ft.
HOBBYCOPTER HELICOPTER WEIGHTS
Empty 345 lbs.

Useful load 210 lbs.

Normal gross 555 lbs.

Power Loading 13.8 lbs. per h.p

Disc loading 1.66 lbs. per sq. ft
HOBBYCOPTER HELICOPTER MAIN ROTOR
Hub Semi rigid

No. of blades 2

Airfoil NACA 0012

Construction. Solid Spruce
HOBBYCOPTER HELICOPTER TAIL ROTOR
Drive V-belt

Hub Teetering

No. of blades 2

Diameter 37 in.

Chord (mean). 3-5 in.

Airfoil. NACA 0012

Normal speed. 2000 R.P.M.

Construction. Formed aluminum
HOBBYCOPTER HELICOPTER POWER PLANT
Triumph motorcycle engine. Rated at 43 H.P. 650 c.c. vertical twin cylinder O.H.V.

Magneto ignition.

Dry sump lubrication.

Kick lever starting.

Fuel 100 octane.

Fuel consumption approximately 2.2 gals, per hr. at sea level.
HOBBYCOPTER HELICOPTER PERFORMANCE
Est. maximum speed. 65 M.P.H. Est. ceiling. 8000 Ft.

Est. Range. 85 miles.

Speeds registered with prototype fitted with 34 H.P. Triumph engine.

Forward 41 M.P.H.

Sideways left. 15 M.P.H.

Backward 18 M.P.H.

Sideways right 8 M.P.H.
HOBBYCOPTER HELICOPTER AIRFRAME
Materials Kit. All tubes, plates and gussets cut to size and formed, ready to assemble. Includes bolt kit $445.00
HOBBYCOPTER HELICOPTER ROTOR GEAR BOX
With sprocket and pulley adapter and bearing $255.00
HOBBYCOPTER HELICOPTER ROTOR SHAFT
Machined complete. Includes thrust bearing and bolt kit. $ 55.00

Materials kit. Includes thrust bearing and bolt kit $ 35.00
HOBBYCOPTER HELICOPTER SWASH PLATE
Machined complete. Includes all bearings, rod ends and nut and bolt kit $165.00

Materials kit. Includes all bearings, rod ends and bolt kit. $95.00
HOBBYCOPTER HELICOPTER ROTOR BLADES
Statically balanced and varnished. Ready for assembly to hub. $335.00

Statically balanced and fiber glassed. Ready for assembly to hub. (State color preference) $430.00

Materials kit. Blades airfoil shaped. Includes weight housings. $180.00
HOBBYCOPTER HELICOPTER ROTOR HUB
Machined complete. Includes all bearings, rod ends and bolt kit. $295.00

Materials kit. Includes all bearings, rod ends and bolt kit. $115.00
HOBBYCOPTER HELICOPTER CYCLIC AND COLLECTIVE CONTROL MECHANISM
Machined complete. Includes all bearings, rod ends, push rods, and bolt kit $130.00
HOBBYCOPTER HELICOPTER TAIL ROTOR
Machined complete. Includes all bearings, rod ends and bolt kit. $130.00
HOBBYCOPTER HELICOPTER LONGITUDINAL STABILIZER KIT
HOBBYCOPTER HELICOPTER RUDDER PEDALS
HOBBYCOPTER HELICOPTER PULLEYS, BELT AND SPROCKET
Complete. Alloy Sprocket $65.00
HOBBYCOPTER HELICOPTER GAS TANK
Aluminum with indicator $55.00
HOBBYCOPTER HELICOPTER FIBER GLASS BUCKET SEAT
Includes seat belt $45.00
HOBBYCOPTER HELICOPTER INSTRUMENT PANEL
HOBBYCOPTER HELICOPTER INSTRUMENT GROUP
Includes engine tachometer, altimeter and compass 145.00
HOBBYCOPTER HELICOPTER GROUND HANDLING WHEELS
With brackets $12.00

Unless otherwise noted, materials kits contain complete material stock for unit but require various machining, forming or drilling operating by the homebuilder.
HOBBYCOPTER HELICOPTER ENGINES
650 c.c. TR6 – H rated at 43 H.P. Includes carb and mag $525.00

Used engine prices quoted upon request.
HOBBYCOPTER HELICOPTER ENGINE MOUNTS AND ACCESSORIES
Engine frame, transmission, clutch and oil tank as pictured (less engine) modified to fit airframe kit. Motorcycle parts used but reconditioned as necessary $195.00

For light hi-torque clutch add…$25.00
HOBBYCOPTER HELICOPTER PRICES SUBJECT TO CHANGE WITHOUT NOTICE
Delivery generally effected in 10 to 45 days depending on factory back log. But all orders shipped as soon as possible on a first come, first served basis.
---
PRELIMINARY DEALER INFORMATION
A long time enthusiast car doubtless count a number of friends and acquaintances who smile patiently or even scoff at the idea of an individual building a true helicopter. This skepticism is typical, and succeeding in the face of it, is a personal triumph of tremendous magnitude, Indeed the thrill of assembling your own HobbyCopter and the excitement of flying it are rewards almost beyond imagining.
Knowing this, we have never felt the need of promoting the HobbyCopter solely for its sales potential. It would seem almost sacrilegious to market it through a person who is motivated only by profit and has no real feeling of enthusiasm. Yet, we can't deny that a huge sales potential does exist. In fact, it's hard to imagine building or owning a HobbyCopter without being continuously exposed to profitable opportunities.
It is necessary that our dealer program be flexible to match the varied circumstances of our potential dealers, the builders and owners of the Hobbycopter.
The profit and discount possibilities can vary as the following examples will show:
An individual builds a HobbyCopter from the plans in spare time, He has invested S7DO.OO and then sells it to a persistent acquaintance for $2,000.00.

Two or more friends are assembling a machine each, and place a multiple kit component or plans order thereby saving due to handling, crating and shipping simplifications.

A busy rancher with a completed machine acts as agent in selling several complete kits during the year taking very little time from his occupation.
---
IT'S WORLD FAMOUS
The ADAMS-WILSON single seater is one helicopter designed for owner construction that doesn't hide behind classified ads.
Not just a theory on paper, the Hobbycopter and its story has appeared in FLYING, AIR PROGRESS, SPORT AVIATION, FLIGHT, MECHANIQUE POPULATE, LOS ANGELES TIMES, SCIENCE NEWSLETTER, MOTORCYCLIST, JANE'S ALL THE WORLDS AIRCRAFT, MECHANICS ILLUSTRATED, POPULAR MECHANICS and many other newspapers, magazines and journals.
HOBBYCOPTER is a new midget whirlybird that is being marketed in kit form by Adams-Wilson Helicopters Inc., Lakewood, California. The one-man do-it-yourself job weighs 350 pounds and sports a 40 HP motorcycle engine that has a top speed of 60 mph and a 120 mile range.

The Hobbycopter can perform all the manoeuvres of a full-size craft. It delivers up to 30 miles per gallon and has an estimated ceiling of about 8,000 feet.
Featured in numerous shows, it never fails to capture the imagination of everyone who sees it. And why shouldn't it? After all, since 1945 the man on the street has been promised a personal helicopter. At last the future has arrived with the Hobbycopter.
QUESTIONS AND ANSWERS CONCERNING THE HOBBYCOPTER
Q. Can it be built from the plans without buying any factory kits?
A. Yes.
Q. Can any and all parts be purchased from the factory if desired.
A. Yes.
Q. What about time and money necessary to build it?
A. Depending on the amount of factory components used, costs could total under $400,00. Some have been built in 2 or 3 months of spare time.
Q. Does it have to be hangered at an airport once it's built?
A. No; it requires no more space than the family auto in your garage. An area 50 ft. square is adequate for take off and landing.
Q. Is a helicopter license needed to fly it in free-flight?
A. No? only a private fixed-winged license.
Q. What about licensing the aircraft itself?
A. It can be licensed in the Experimental Category after being approved as airworthy.
Q. Is It difficult to learn to fly?
A. No; completely inexperienced persons have taught themselves to fly it in a matter of hours.
Q. Why was tho Triumph engine chosen?
A. For its light weight, low cost and availability.
Q. Why was the Vee Belt chosen for the tail rotor drive?
A. For its light weight low cost and dependability.
Q. Does it have autorotative capabilities?
A. Yes.
Q. Can a complete ready-to-fly Hobbycopter be bought from the factory?
A. Complete factory machines can only be sold in certain foreign countries.
Q. Can an individual sell his or her own Hobbycopter when completed?
A. Yes; a Hobbycopter owned by an individual may be sold to anyone at any stage of construction as well as in flying! condition.
Its Heritage Is imagination… Its Price Is Desire… Its Name Is HOBBYCOPTER
---
CHECK LIST CHART FOR VARIOUS ONE-MAN HELICOPTERS
Features
Adams-Wilson Helicopter
Hiller X ROE-1
Gyrodyne X RON-1
Goodyear GA 400 R
Buck Private X-A6
J-R
Z-R
Gyrogliders
Gyrocopters
Autogyros
Engine Air Cooled
✔
✔
✔
✔
✔
Not A Helicopter
Magneto Ignition Engine 4 Cycle
✔
✔
✔
Not A Helicopter
Conventional Cyclic & Collective Control
✔
✔
✔
✔
✔
✔
Not A Helicopter
Controllable Head For Autorotative Cushion
✔
✔
✔
✔
✔
✔
Not A Helicopter
Conventional Tail Rotor For Torque Control
✔
✔
✔
✔
Not A Helicopter
Empty Weight Under 400lbs.
✔
✔
✔
✔
✔
Not A Helicopter
Maximum Required Hanger Space 15x7x6 (ready-to-fly)
✔
Not A Helicopter
Kits For Amateur Construction Uses Only Aircraft Grade Aluminum Tube For Air Frame
✔
Not A Helicopter
1st Helicopter In Plans Sales
✔
Not A Helicopter
1st Helicopter In Kit Sales
✔
Not A Helicopter
1st Helicopter Designed For Amateur Construction To Be Flown By Inexperienced Pilot
✔
Not A Helicopter
1st Helicopter Designed For Amateur Construction To Be Built, Approved Airworthy And Flown By Customer
✔
Not A Helicopter
---
INFORMATION CONTAINED HEREIN OBTAINED THROUGH NATIONAL PUBLICATIONS AND IS CORRECT TO THE BEST OF OUR KNOWLEDGE
---
GUARANTEE AND CONDITIONS OF SALE
---
COPYRIGHT 1960 THOMAS GENE ADAMS – ALL RIGHTS RESERVED – HOBBYCOPTER COPYRIGHTED TRADE MARK
---
Summary
Reviewer
Review Date
Reviewed Item
Adams-Wilson Choppy XH-1 Hobbycopter
Author Rating