Helicopter
Swashplate
Plans (eBook download)
Professional Helicopter Swashplate Drawings
Suitable for SINGLE SEAT or TWO SEAT helicopters!
The ever elusive helicopter swashplate… While every traditional (and some non-traditional) style helicopter uses them, they are not a common item to come by. Here we present a solid alternative to the Adams Wilson style helicopter swashplate – the only other helicopter swashplate plans currently available.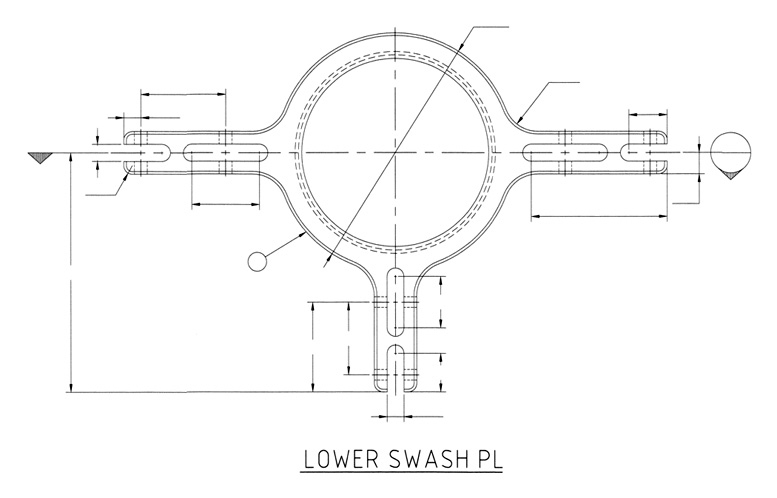 NOTE: Measurements removed for display purposes only – all measurements provided on eBook download.
This is a robust design, looking similar in size and layout to the Rotorway Exec helicopter (but of completely different design). Yes, there is some professional machining required, as with most helicopter parts, with the result being a dependable swash plate control system.
Please read these important notes about these swashplate drawings!
▣ The helicopter swashplate plans come as a downloadable eBook, NOT AS A PDF!
▣ If you wish to build a swashplate assembly from these drawings, you will have to copy by hand
▣ All helicopter swashplate drawings in black and white presented as images in eBook format
▣ The helicopter swashplate construction eBook comes with encrypted viewing and refund protection
▣ There is little dialogue contained, consisting mainly of working drawings for the helicopter swashplate
▣ Designed for helicopters with a 1.5 inch diameter main rotor shaft (38.1 mm)
▣ ALL DIMENSIONS in METRIC (millimeters – "mm") measurements for helicopter swashplate drawings
▣ Images can be viewed "FULL SCREEN" (up to 1280 pixels wide) though screen shot copying is disabled
▣ Generally speaking, the helicopter swashplate eBook WILL NOT WORK ON MAC without appropriate PC compatibility software
▣ If you are not satisfied with these conditions, please DO NOT PURCHASE the swashplate plans THEN COMPLAIN
▣ Purchases of the swashplate drawings are handled automatically, contact us should you have problems
▣ Printing privileges HAVE BEEN REMOVED so you CANNOT print out the swashplate drawing content
▣ We DO NOT offer ANY technical support for the helicopter swashplate or the construction drawings
▣ These actions have been put in place to avoid unauthorized reproduction and sharing of the swashplate plans
About These Swashplate Plans
Contains parts lists and the construction drawings of a two seat light helicopter swashplate assembly. The helicopter swashplate plans contain machining drawings and dimensions, assembly perspectives along with parts list and material requirements.
Advanced machining is required to construct the helicopter swashplate so this would not generally be considered a home project unless you have your own CNC type equipment. The design of this particular helicopter swashplate is based on a two seat helicopter, and is NOT for any other purpose!. No specific information is provided as per the operating parameters or operating restrictions.
VIDEO:

How It Works Helicopter Blades

DISCLAIMER: You/the purchaser/the recipient of these helicopter swashplate plans will assume all risk and legal responsibility for any construction and use of the swashplate. If you do not agree with these terms, it is your responsibility to not purchase these helicopter swashplate plans and drawings. The swashplate drawings are presented for educational purposes only.
Perspective Views :: Machining Dimensions :: Parts Lists :: Material Types
NOTE: Measurements removed for display purposes only – all measurements provided on eBook download.
PRICE

$14.95 – Available NOW!
STEP 1:

Click to Download eBook and SAVE to your computer.

(will LOCK to this computer ONLY!)
File size
4.85MB

– (5,088,082 bytes)
STEP 2:

Click

"Buy Now"

– you will be taken to PayPal to process secure payment
STEP 3:

After payment you

MUST CLICK

– "Return to Redback Aviation"
STEP 4:

You will be re-directed

ONCE ONLY

to the

ACCESS PIN

page.
---
Record the Access PIN in a safe place!
---
IMPORTANT: YOU MUST CLICK "Return to Redback Aviation" AT THE END OF THE PAYPAL CHECKOUT PROCESS!
If you do not receive your PIN, contact us through our CONTACT page.

---
NOTE: The book will always remain anchored to the computer it is downloaded to so choose wisely – we suggest a laptop if available for portability.
Your e-Book can only be read on the first computer it is opened on. If the file is duplicated, those copies will not work on a different computer.
IMPORTANT PIN NUMBER INFORMATION !

– PIN code security settings

By default to ensure that our PINs are not given away by accident, we will lock them to our page only (PINs won't show on another page).

The PIN lock requires the browser to publish your referrer page information. Some privacy blocking systems block this by default and make it impossible for us to distinguish, whether your PIN code is displayed within our page or not.

By default eBookGold will not display the PIN code if the referrer information does not point to our page or is not available.
IF YOU SEE THE ERROR WARNING
"CANNOT DISPLAY PIN"

CONTACT US VIA OUR CONTACT PAGE TO HAVE A PIN

MANUALLY SENT TO YOU

(USUALLY WITHIN 24-48hrs)
MAKE SURE

TO CHECK THE PIN WE SEND ISN'T MARKED AS SPAM AND GOES TO THE WRONG FOLDER INSTEAD OF YOUR INBOX – CHECK YOUR JUNK MAIL.

Currently our account is setup to show the PIN code after purchase – though modern security software can accidentally block this!
PURCHASE INSTRUCTIONS
Click on the "Download" button. This will prompt you to "Save" the Swashplate eBook file to your computer. This is the actual eBook plans file in it's "Locked" format with a preview image.

TIP-1: Windows security may state "Publisher could not be verified" when opening eBook file; please click "Run" to continue.

TIP-2: Some security software "may" ask if you trust this program, please select "Yes, I trust it" as all our eBooks are virus free.

Click "BUY NOW" button. After payment through PayPal you MUST CLICK "Return to Redback Aviation" (at the PayPal checkout) to be redirected to the thank-you page with a ONE TIME display of your access PIN which will "Unlock" the entire book. Visiting page directly will not show the secret access PIN. If you have difficulties, email us through the contact page for assistance.
MAC USERS "Is there a way to run eBookGold on a Mac system running OSX?"
At this time, eBookGold only supports Windows 98/ME/NT/2K/XP/VISTA/7/8 and 10 systems (our eBooks are compiled with eBook Gold software). HOWEVER, you can still run it on a Mac IF you have 3rd party software installed that can emulate the Windows environment.
GuestPC (http://www.lismoresystems.com) is an inexpensive emulator which can be purchased online and downloaded.
---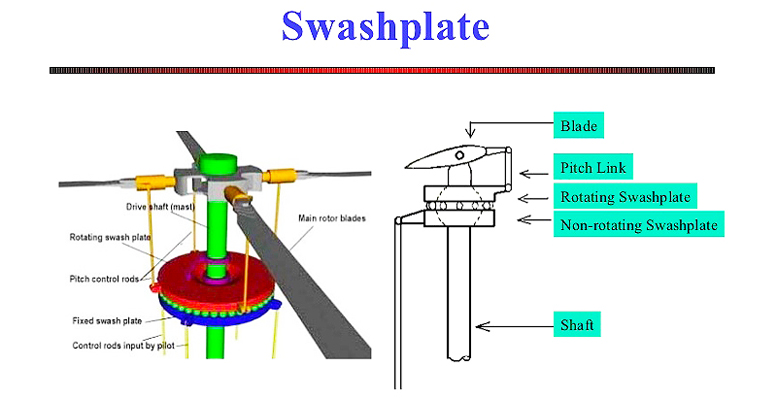 ---
VIDEO:

Helicopter controls – swashplate motion
---
WHY ALL THE SECURITY? – Previously Redback Aviation paid $25,000 advertising rights for some helicopter related materials. In good faith, we sold that information on to customers "unprotected" and saw it pop up all over the net for free. Our sales amounted to around $1,500 prior to this, netting us a total loss of approximately $23,500. Please understand why we had to take all these "security" precautions. We are privately funded (money comes out of MY POCKET) and the sponsored advertising only "just" pays for hosting and domain registration renewals. This site is run for the benefit of all helicopter experimenters.
---
Swashplate assembly:
Purpose — To change cyclic control movements from linear control movement into rotating control movement.
Swashplate support:
Open cylinder encircling the mast

Top portion is uniball for swashplate

Supports inner ring of swashplate

Slots in lower sides for collective lever bearings
Swashplate inner ring:
Tilts on uniball when activated by cyclic control rods connected on two clevis-type horns at the forward sides of the inner ring

Clamped on the uniball by upper and lower sets of contoured teflon bearings

Held from rotating, but allowed to tilt, by a pin-type horn at the rear connected to an anti-drive link
Swashplate outer ring:
Tilts with the inner ring but rotates with the mast

Mounts on the inner ring through a duplex bearing

---

DO NOT USE GMAIL OR YAHOO ACCOUNTS TO ORDER THESE PLANS! – 1. Gmail and Yahoo blocks our server, why? we do not know. 2. Gmail and Yahoo limits the size of the download, so we cannot send it manually! 3. Gmail and Yahoo blocks our email address or places it in your spam folder – so we have NO WAY of communicating with you or responding to your emails.

Summary

Reviewer

Review Date

Reviewed Item

Helicopter Plans :: Helicopter Swashplate Plans

Author Rating