HeloWerks
HX-2 WASP Turbine
Powered Helicopter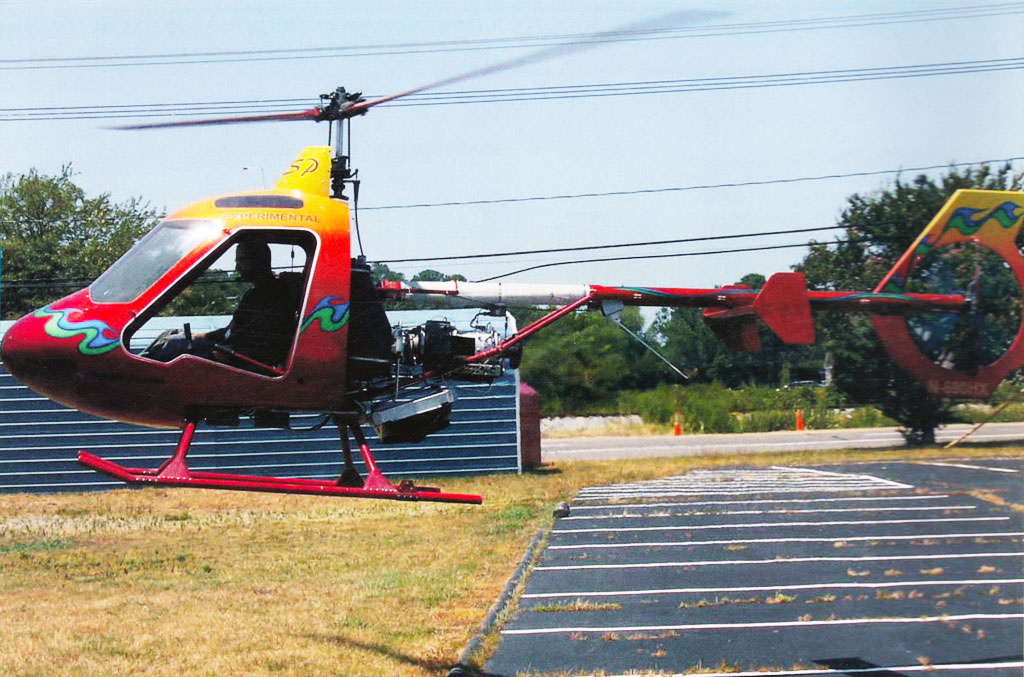 Helowerks WASP Turbine Powered All Composite Two Seat Helicopter Description
The story of the WASP HX-2 starts with the development of the HX-1 prototype. This machine received its FAA flight approval on 1 March 2006 in the experimental category, and was first revealed to the public (static and hover only) in April 2006 during Florida's Sun 'n' Fun in Lakeland Fly-in. However, in May of that year, the HX-1 crashed during a test flight with the HeloWerks owner, Tony Pena, at the controls. The cause of the Helowerks WASP turbine powered two seat helicopter accident was a pilot initiated engine shut down, with Pena erroneously toggling the fuel solenoids off.
This accident was the trigger for the further development of the HX-1 into the HX-2 version, with much more emphasis on safety, with crash resistant seats and landing gear to the fore. The WASP HX-2 uses composites extensively and is turbine powered. It was registered on 19 August 2009 as the N690HX. At this point (2012), no units have been sold and Helowerks is looking for investors.
WASP Turbine Powered Two Seat Helicopter Design Features
Turbine powered
Carbon fibre rotor blades
Shaft driven tailrotor
Energy absorbing seats
Carbon fiber fuselage
---
Tony Pena Custom Composites, Inc and Bob Pegg PAM Group
A sleek, brand new light turbine-powered helicopter is presently coming on the home-built aircraft aviation scene. The WASP turbine powered two seat helicopter is designed and built by Hampton, Virginia native Tony Pena. The heritage of the WASP Turbine Powered Two Seat Helicopter is based primarily on the dynamic components found in both the American Sportcopter and Vigilante helicopters. However, this is where the similarity stops.
He wrapped a stylish and aerodynamically-sound airframe around a small 90 hp turbine engine and allowed room inside for two people. Everything has been fabricated with the loving care of a true craftsman. The interior of the cockpit is velour with a Bolivian cherry instrument panel and just enough instrumentation to allow good cross-country flying. The standard Jet-A fuel installation of 18 gallons will allow the WASP to fly 150 miles before refueling with a top speed of 100 mph.
Building the prototype vehicle with a turbine engine has been a daunting project. The original helicopters mentioned previously were both powered by reciprocating engines. Converting to a turbine engine, however, resulted in a high torque propulsion system with very little vibration. The turbine engine used to power the WASP is the single stage free turbine AirResearch JFS-100-13A. This small turbine (base weight is 85 lbs) was used originally as the main engine starter for jet fighters such as the Vought A7, SAAB J37, and the Douglas A4. Included in the engine base weight is an 18:1 gear reduction unit.
Two of these same engines are presently being installed on the Performance Aviation Manufacturing Group's PAM 100T "flying platform" (www.flying-platform.com – "no longer active"). The two projects are being made in the same shop to decrease combined engine installation development time. Installing the turbine engine has required a cooperative effort between several groups of experts so that the proper oil cooling, mounting, starting, and control system could be obtained.
Without the expertise at SWB Turbines in Neenah, Wisconsin (swbturbines@tds.com) and Ehpro, Inc. of Trinity, Texas (ehpro@txucom.net), it would have been very difficult to successfully mate the engine and airframe. A new right angle gearbox was designed, fabricated, and added to the existing drive system; no other drive components were required since the turbine already has a built-in clutch.
This particular engine, which was developed in the early 1960s, has the potential for developing significantly more power and that is the other part of the WASP story. In conjunction with SWB Turbines and Ehpro, it is hoped that the JFS-100 can be made to deliver at least 125 hp with little increase in fuel consumption. This improvement comes from a combination of a new low pressure-loss twin exhaust pipe, specially coated internal parts, and a newly designed compressor wheel and inlet to allow higher airflow.
VIDEO : WASP turbine powered two seat helicopter
Progress comes slowly when the project is self-financed. However, a flight-ready turbine engine system that starts instantly has already been developed and installed. Main rotor dynamic balancing is now completed which leaves only the initial hover tests to be done before actual altitude flight testing is started. At the present pace, this should occur during the spring of 2005. The WASP turbine powered two seat helicopter will also be on display at the EAA Sun 'n Fun air show this year in Lakeland, Florida.
Tony will conduct the initial flight-testing himself since he is a licensed helicopter pilot. He was with Advanced Technology Inc when they first designed and built the transmission and rotor blades for the Vigilante helicopter and was the chief mechanic and pilot for American Sportcopter for several years. This has given him an extensive background and the practical experience to personally do the necessary test work on the WASP.
Present plans for the WASP Turbine Powered Two Seat Helicopter include being made available to the public as a stand-alone kit or as a factory-assist kit. The WASP will only be sold to prospective buyers with proof of helicopter flight training. In addition, consideration is being given to converting the WASP into an unmanned aerial vehicle that can be flown autonomously or by a pilot on the ground. Because of the useful load capability inherent in this design, mission applications for this helicopter range from small helicopter gunship, law enforcement/border patrol, farming to an inexpensive news reporting helicopter as well as an aircraft for having just plain fun!
---
Mon, Jun 19, 2006
HeloWerks Says Accident Will Lead To A Better Helicopter
Investigation Results In Design Improvements
After a May landing accident took its prototype rotorcraft out of commission and sent company president and test pilot Tony Pena to the hospital. Representatives of HeloWerks reported development work will continue on its WASP helicopter design and that some positives will come from the negative experience.
"Based on accident damage to our HX-1 prototype, we learned that the helicopter airframe took the landing stresses as it was designed to do," said Pena, who is recovering from his injuries. "Improvements can be made, and we will include them in our HX-2 helicopter."
Pena said the features of the updated HX-2 would include improved landing gear with a step, energy-absorbing seats, and easier cockpit access. Power plant improvements will include an integrated electrical system, single sump pump lubrication system, and an improved high-speed turbine engine air inlet.
"We believe our new HX-2 helicopter will be safer, will increase potential customer base, and attract the financial partnerships needed so we can begin kit production," said Bob Pegg, HeloWerks vice-president. "HeloWerks is going to become a viable force in the kit helicopter market."
As reported last month, the "freak landing accident" occurred when Pena inadvertently toggled the HK-1's fuel solenoids off, instantly quieting its JFS-100 turbine engine.
HeloWerks plans to sell kits for the two-place composite WASP in phases, to make it more affordable and to develop a quick-build option at the factory for interested builders.
The WASP was first flown publicly at the 2005 Lakeland Fly-In.
---
JULY 2008
HELOWORKS
HX-2 WASP Turbine Powered Two Seat Helicopter
Flight Testing Begins
(HAMPTON, VA – JUNE!) Flight- testing of the improved kit-built, turbine-powered, two seat EXPERIEMENTS HX-2 WASP helicopter has begun, HeloWerks Co., President Tony Pena said today.
"People say they want a small two-seat helicopter powered by an inexpensive turbine engine for reliability, and that perfectly describes our WASP helicopter kit," Pena said. "We first flew the HX-1 WASP turbine powered two seat helicopter at the Experimental aircraft Association's Sun 'N Fun Fly-in in April 2005, and it was quite a hit!"
While hovering, the WASP helicopter is very responsive even in gusty winds, and the engine responded immediately with no power lag during quick-reaction flight manoeuvres. Pena said the turbine engine produced more than enough power to hover with 1200 pounds of helicopter, crew, full fuel, and 200 pounds of steel test weights. Advanced carbon composite construction has reduced the empty weight.
The new HX-2 WASP turbine powered two seat helicopter features design improvements based on "lessons learned" from the HX-1 model. Among these improvements are: easier cockpit access, an integrated electrical system, high speed turbine engine inlet, high impact landing gear, energy absorbing seats, and a single sump engine lubrication system. "All these will increase customer satisfaction with the HX-2" Pena said.
Pena said he plans to sell kits in phases to make them more affordable and hopes to develop a quick-build option for kit-builders at the factory. Due to the project's magnitude, Pena is seeking financing to proceed with high volume kit manufacturing.
---
Vertical Drop Testing and Analysis of the WASP Helicopter Skid Gear
Yvonne T. Fuchs and Karen E. Jackson, NASA Langley Research Center Hampton, VA 23681-2199
Abstract
Human occupant modeling and injury risk assessment have been identified as areas of research for improved prediction of rotorcraft crashworthiness within the NASA Aeronautics Program's Subsonic Rotary Wing Project. As part of this effort, an experimental program was conducted to assess the impact performance of a skid gear for use on the WASP kit-built helicopter, which is marketed by HeloWerks, Inc. of Hampton, Virginia. Test data from a drop test at an impact velocity of 8.4 feet-per-second were used to assess a finite element model of the skid gear test article. This assessment included human occupant analytic models developed for execution in LS-DYNA.
The test article consisted of an aluminum skid gear mounted beneath a steel plate. A seating platform was attached to the upper surface of the steel plate, and two 95th percentile Hybrid III male Aerospace Anthropomorphic Test Devices (ATDs) were seated on the platform and secured using a four-point restraint system.
The goal of the test-analysis correlation is to further the understanding of LS-DYNA ATD occupant models and responses in the vertical (or spinal) direction. By correlating human occupant experimental test data for a purely vertical impact with the LSDYNA occupant responses, improved confidence in the use of these tools and better understanding of the limitations of the automotive-based occupant models for aerospace application can begin to be developed.
WASP Turbine Powered Two Seat Helicopter Crashworthiness Testing Introduction
Since its inception in 2006, the Rotorcraft Crashworthiness task under the NASA Aeronautics Program's Subsonic Rotary Wing (SRW) Project has focused attention on two main areas of research: development of an externally deployable energy absorbing concept and improved prediction of rotorcraft crashworthiness.
[1]. The energy absorber being developed is a composite honeycomb structure that can be externally deployed to provide energy attenuation, much like an external airbag system.
[2]. The second main research area relates to crash modeling and simulation.
Several research topics have been identified to achieve improved prediction of rotorcraft crashworthiness, including: fundamental materials characterization, human occupant modeling and injury prediction, multi-terrain impact simulation, development of fully integrated simulation models, and validation studies that focus on probabilistic analysis and uncertainty quantification. In order to pursue the research to improve analytical prediction of rotorcraft crashworthiness, NASA requires relevant experimental data.
In 2007, HeloWerks, Inc. of Hampton, VA approached NASA to conduct a test evaluation program on a skid gear design for their HX-2 WASP, a 1,000-lb. gross weight kit-built two-seat helicopter fabricated using monocoque composite sandwich construction. The helicopter is 19-ft. long, 9-ft. high, and 7-ft. wide at the skids. A photo of the helicopter is shown in Figure 1. During a flight demonstration of the prototype aircraft, the pilot inadvertently shut off the engine during hovering flight resulting in a crash.
As a result of the impact, the pilot experienced severe back injuries. The flight demonstration aircraft was outfitted with a composite skid gear that was designed for energy absorption. However, during the actual crash, the skid gear snapped and failed, absorbing very little crash energy. This accident led HeloWerks engineers to redesign the helicopter's skid gear and to approach NASA to conduct a test evaluation program to meet the Federal Aviation Regulation (FAR) crash energy absorption requirements for FAA certification [3].
Presented at the American Helicopter Society 64th Annual Forum, Montreal, Canada, April 29 – May 1, 2008. This paper is a work of the US Government and is, therefore, in the public domain.
Read the full free report in this PDF download.
Vertical Drop Testing and Analysis of the WASP Helicopter PDF
---
Helowerks HX-2 WASP Helicopter General
Manufacturer
Helowerks
Type
HX-2 WASP
Introduced
1/1/2020
In production?
No
Units produced
Prototype only
Price US $
81,000.00
---
Helowerks HX-2 WASP Helicopter Performance (Est.)
Persons
2
Cruise Range
(with 10% reserve) @SL 127miles (204km)
Normal Cruise Speed
@SL 80mph (70 kts)
Max. Speed
@SL 113mph (98kts)
Max. rate of Climb
0 ft/min
Hover IGE (HIGE)
(5 ft skid ht) 8,000 ft (2,438m)
Hover OGE (HOGE) ceiling
4,000 ft (1,219 m)
Service Ceiling
10,000 ft (3,048 m)
Gross Weight
1,100 lbs (499 kg)
Empty Weigt
650 lbs (294 kg)
Useful Load
450 lbs (204 kg)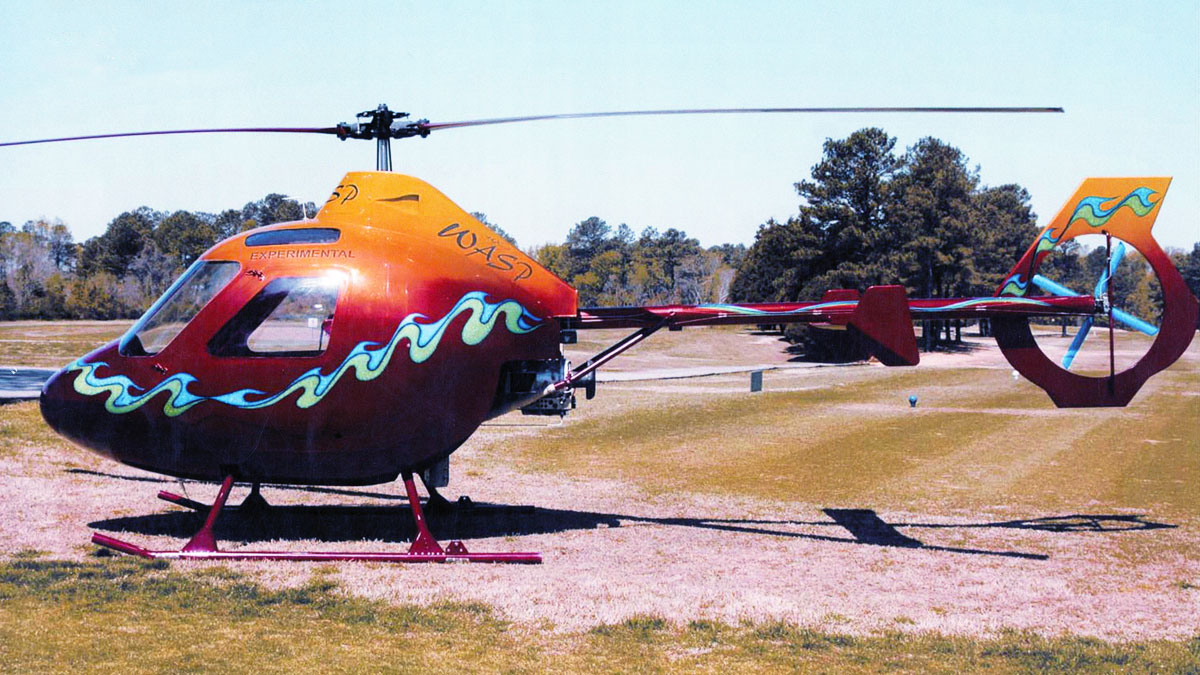 Helowerks HX-2 WASP Helicopter Dynamic system
Fuel Capacity
18 gal (82 liters)
Number of Engines
1
Engine Type
Single Shaft Turbine
Engine Code
Modified AirResearch JFS-100-13A
Horse Power
110 SHP
Rotorhead
Teetering
Number of rotorblades
2
Rotor Diameter
23′ (7.01m)
Number of tail rotorblades
4
Tailrotor Diameter
2.6′ (0.79m)
---
Helowerks HX-2 WASP Helicopter Dynamic Dimensions
Overall Length
(nose-to-tail) 19′ (5.79m)
Length
19 ft
Height
8.3′ (2.51m)
Cabin Width
4.1′ (1.24m)
Skid Width
7′ (2.13m)
---
Please note that Helowerks Aviation is no longer in existance and the WASP turbine powered two seat helicopter is no longer produced. We have no other information available on Helowerks Aviation or their helicopters other than here on our website. All property is copyright protected.
---