Vertical
Aviation
Technologies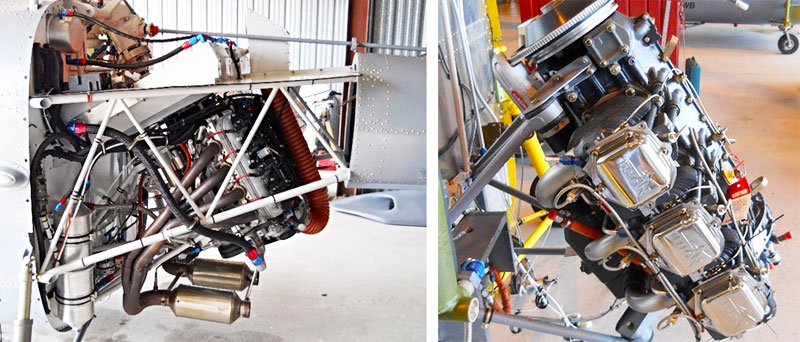 The dictionary describes a hummingbird as a tiny, brightly colored bird with narrow wings that is capable of hovering in flight.
It's a perfect name for a helicopter — it's surprising someone hadn't thought of it before… someone before Brad Clark, president of Vertical Aviation Technologies, Inc., that is. The Hummingbird is what he calls his new four-seat, kit-built helicopter.
It's only about a 30-minute hop from Sanford, Florida, where Vertical Aviation Technologies is located, to Lakeland, so it was no surprise that the Hummingbird made its public debut at Sun 'n Fun this year. Painted silver and blue, the 30.5-foot-long, 8.5-foot-high helicopter easily dominated the scene in the rotorcraft display area.
Hummingbird Four Seat Kit Helicopter: History and Philosophy
If something about this helicopter looks familiar, you have a pretty good memory, for the Hummingbird is essentially a cleaned-up kit version of the 1949 Sikorsky S-52. With the help of his father (who owns Orlando Helicopter—his latest project was modifying a batch of Sikorsky S-55s to look like Soviet Mil-24 Hind gunships for the U.S. Army), Brad Clark spent years acquiring the world's largest inventory of new and used S-52 parts. Wanting to do something with his investment, Clark began developing the Hummingbird in 1985.
Built in Sanford, Florida, by Vertical Aviation Technologies, the four-place Hummingbird is basically a modified, updated version of the 1950s-era Sikorsky S-52.
In January, 1988, the first Hummingbird lifted off. A second Hummingbird has since been completed, but has not yet flown as it is being used as the guide for writing building instructions and taking assembly photos for the kit plans.
Clark's objective in developing the Hummingbird is to "create a new dimension in affordable vertical flight, with particular attention to safety and reliability."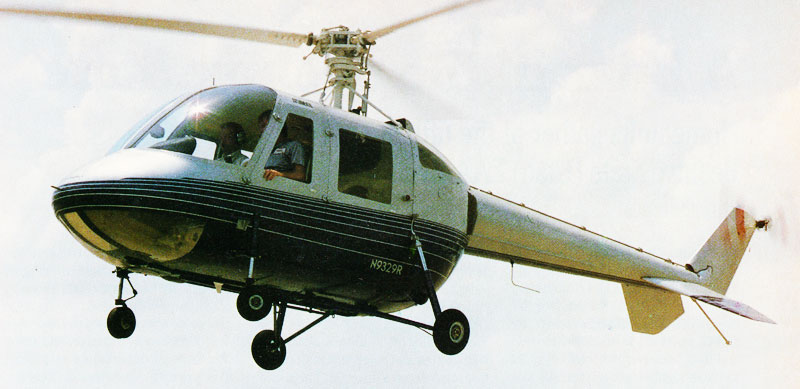 The reason he prefers to produce the Hummingbird as a kit rather than a fully assembled helicopter is to avoid the staggering expense of certification and having to pass it on to his customers, pricing himself right out of the market in the process.
In order to grow steadily from a solid foundation, Clark plans to limit the initial production run to just a few kits. Only when he is satisfied that his concept of kit production is compatible wit h his customers' requirements (in other words—people are able to finish the kit) will production rates be increased.
Hummingbird Four Seat Kit Helicopter: Nuts and Bolts
The Hummingbird is powered by a 245-hp Aircooled Motors 6V6-245-B16F engine, otherwise known as the Franklin 0-425-1. Although spare parts for these engines are abundant, Clark's supply of complete engines is not. He plans to sell off the Franklins with the initial production run of kits and has already evaluated replacement engines.
After considering a V-8 auto conversion, he settled on the Lycoming 0-540, the engine for which the Sikorsky S-52 was originally engineered. In the meantime, however, Clark is testing an Allison turbine in the second Hummingbird.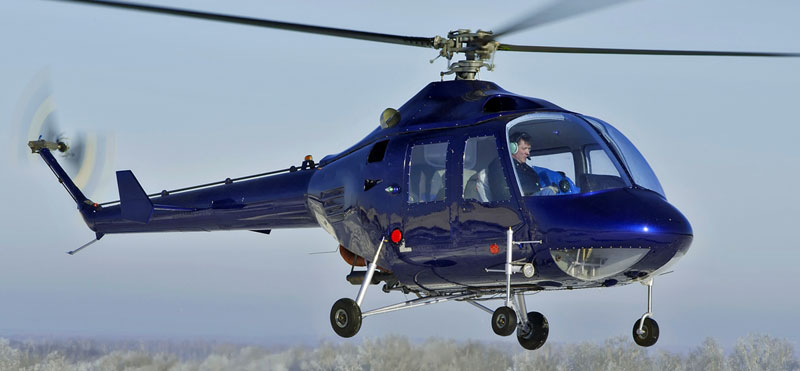 The 420-hp engine will have to be derated to 245 hp, but the excess power will still be available if needed, and besides, the price — $12,000 — was right. Another modification Clark has in the mill is a five-blade rotor system being designed for the Hummingbird by a former Sikorsky engineer.
Clark will sell the Hummingbird minus the engine, which knocks $14,510 off the kit price and allows the builder to choose his own powerplant.
His advice: "Your engine should weigh no more than 450 pounds and develop at least 245 hp. It has to be able to operate at a 60° angle, and if it will have a direct drive connection to the main gearbox, it has to be able to operate at 3275 rpm. Remember, there are various reduction drive units available on the market."
The transmission system consists of a coupling between the engine and main gearbox, a main driveshaft that extends from the top of the main gearbox to the main rotor head, and a takeoff drive from the main gearbox that drives the tailrotor driveshaft, intermediate gearbox and tailrotor head. The Hummingbird has a three – blade main rotor (33 feet in diameter) and a two-blade tailrotor (5.75 feet in diameter).
Because of its inventory of original Sikorsky parts (complete with all engineering drawings), Clark is able to produce a very complete kit that still qualifies under the FAA's 51% rule. Many brand – new and zero – timed Sikorsky components are used.

The cabin and tailcone are two of the few assemblies manufactured new by Vertical Aviation Technologies. Both of these are made of aluminum and require rivet assembly by the builder.
But the hardpoints where the trans-mission, engine, tailcone and main rotor attach come preassembled. The Hummingbird's nose is fiberglass and its windshield—look closely, helicopter buffs—is from a Bell Jet Ranger.
Rather than the skids familiar on most homebuilt helicopters, the Hummingbird has a quadricycle-type gear (two nose wheels, two mains) with shock – absorbing struts and hydraulic brakes. The Hummingbird kit is actually sold in 14 separate component-kits. Kit 1 is the lower cabin section; Kit 2 — the upper cabin section—come partially preassembled.
The Hummingbird can carry a 900-pound payload at a cruise speed of 90 mph. The kit is currently selling for $59,000.
After fitting the two cabin sections together, the landing gear (Kit 3) and the windshield and nose section (Kit 4) are added. Kit 5 is the partially assembled tailcone, and Kit 6 consists of the tail gearboxes, hub and blades.
The mainrotor hub and gearbox, flight controls, the engine (optional), fuel system, instruments and electrical system, seats, cowlings, and the mainrotor blades comprise the remaining eight component kits. Not included in the kit are paint, upholstery, instruments, avionics, a battery, and maintenance and flight training from Vertical Aviation Technologies.
Hummingbird Four Seat Kit Helicopter: Let's Get Specific
With the Franklin 0-425 engine installed, the Hummingbird weighs 1800 pounds empty. Maximum gross weight is 2700 pounds, giving it a useful load of 900 pounds. Fuel capacity is 57 gallons of 100-octane fuel, which the Franklin burns at a rate of 16 gph.
Maximum speed (VNE) is 110 mph and cruise is 90 mph. Range is 250 miles. Rate of climb with a 500-pound payload is 1250 fpm; fully loaded, it is 950 fpm. Hovering ceiling in ground effect for the same weights is 5700 feet and 1300 feet, respectively.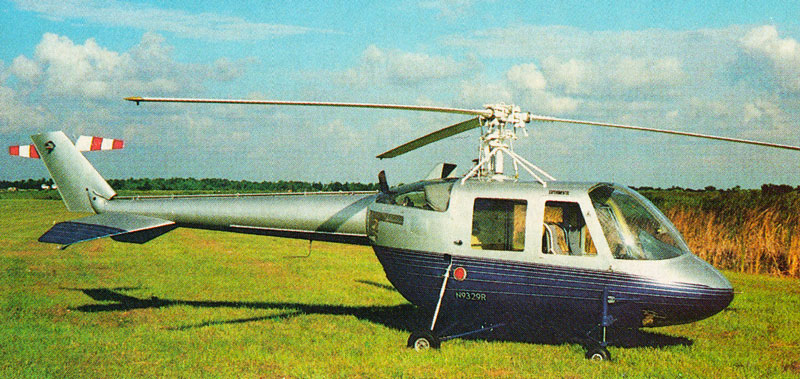 Grand total for the complete Hummingbird kit: $76,010, plus $840 for crating and shipping. "That may seem like a lot of money, and it is," admits Brad Clark, "but consider what you're getting for your money: a four-place helicopter with a 900 – pound payload that cruises at 90 mph and has a 250-mile range." I have to admit — he has a point.
And to make that point even more strongly, Clark recently announced that the price of a Hummingbird ordered from the first production run was being knocked down to $59,000. To get this price, customers must order the entire kit and put down a $2500 deposit (with 50% of the kit cost due once an order is ready to be processed).
Vertical Aviation Technologies' Hummingbird helicopter is now flying with a Chevy 350 V-8 engine.

AUTO POWER FOR THE HUMMINGBIRD HELICOPTER: The Hummingbird, the four-seat Sikorsky S-52 helicopter offered in kit form by Vertical Aviation Technologies, has flown successfully powered by a liquid-cooled V-8 engine.

The iron-block Chevy 350 replaces the original powerplant — a 245-hp Franklin. Turning at 3275 rpm, the V-8 has shown a 20% increase in available power over the Franklin. It also weighs 45 pounds less than the aircooled Franklin.
If a kit is purchased in stages, the $76,000 price applies. From the looks of the prototype he displayed at Sun 'n Fun, Clark may be making us an offer we can't refuse. At least it was for one overseas customer—he just paid $98,000 for the prototype!
---
FOR MORE INFORMATION on the Hummingbird, contact Vertical Aviation Technologies, Inc. at Orlando Sanford International Airport 1609 Hangar Rd, Sanford, FL 32773, USA.
---
Summary
Reviewer
Review Date
Reviewed Item
Author Rating