Rotorway
Kit Helicopter
Range
---
DISCOVER EXCITEMENT!
A BRAND NEW WORLD AWAITS YOU…
From the moment you place the order for your RotorWay "EXEC" till the time you find yourself aloft on your first cross-country. Just ask any Exec builder/pilot and the next couple hours of animated discussion will completely convince you. The conversation will probably go something like this…
"When I first got the urge to build my own helicopter, my wife got this funny look on her face, and the first time my friends saw the airframe in our garage, their comments weren't too positive. I didn't let it bother me however, I just kept working".
In three months of part-time effort I had the controls installed and the tailboom ready to mount. Another month finished the pre-formed cabin enclosure. To make a long story short, I was ready to attend the RotorWay Phase I hover training school in less than a year from the time I began construction.
By then, instead of skeptics, I had all these people who kept asking me for a ride! I guess the fact that the boxes of parts turned into a helicopter so quickly was what made my friends a little envious. The satisfaction of completing my ship didn't begin to compare to the thrill of learning to fly it.
Getting my solo endorsement at RotorWay and hovering my ship for the first time was my greatest feeling of accomplishment! The first power-off autorotation in a RotorWay ship with my instructor really got my attention, but it didn't get my adrenaline pumping like the first time I tried it myself.
I've been flying for a year now and I'm really beginning to get the feel of the machine. Flying over and landing at a friends' farm and some longer cross-country flights to weekend fly-ins are my next goals Would I do it over again?
Are you kidding… you've got three guesses, and the first two don't count Dale Krog, pictured above flying his Exec, out to Castle Rock near Moab, Utah, is typical of the RotorWay Exec success stories. You'll hear more about his adventures; meanwhile, why not discover some real excitement of your own!
---
VIDEO:

Scorpion II – 152 complete restoration

A beautiful example of the first two seat helicopter kit range from Rotorway. A have a fond admiration for the Scorpion 2 kit helicopter and it's strange but appealing duck-bill nose.
---
VIDEO:

Rotorway Exec N111ZP

The newer version of the Rotorway two seat kit helicopter. This time with a much improved cabin and tail adding to improved airspeed and a sportier look.
---
FULL LOTUS HELICOPTER FLOATS FOR ROTORWAY EXECUTIVE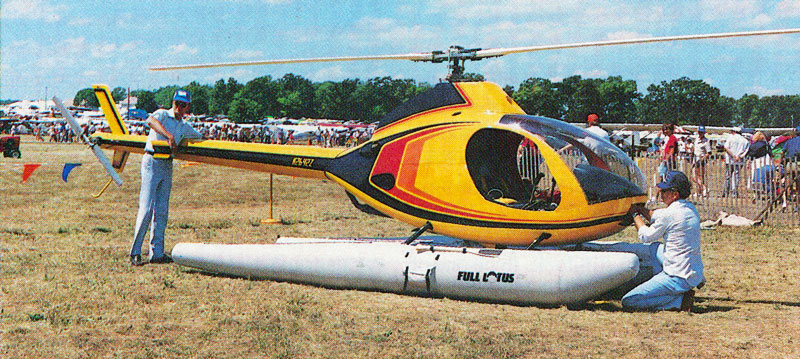 Full Lotus Manufacturing Inc., designers of inflatable floats for light fixed wing aircraft, have developed a unique new float system for the Rotorway Executive, a popular kitbuilt helicopter. Full Lotus designed the floats in response to the numerous requests from Rotorway Exec owners who wanted to equip their helicopters with floats.
The Rotorway Exec required a float with minimum aerodynamic drag and a low profile. To accomplish this, Full Lotus used a lengthy taper at the rear of the float and kept the diameter to a minimum. Full Lotus devised a very creative solution to achieve a low ship profile — they "buried" the standard Rotorway skids right in the float.
The skids are accessed through a zipper that runs the length of the float, allowing the float to be opened up like a giant hot dog bun. The resultant low profile of the float combined with over 200% flotation (1350 pounds buoyancy per float) makes the Rotorway Exec very stable on the water.
An important factor in aircraft safety is redundancy. In line with the configuration of traditional floats, Full Lotus designed the Rotorway Exec float with five separate compartments for extra security.
Full Lotus reports that extensive flight testing including autorotations has documented the floats to be very safe and predictable. They are also efficient, with cruise performance being only minimally affected.
Net total weight of the floats, including mounting hardware, is only 24 lbs. The floats are shipped complete with all mounting hardware, ballast pouch and paddles for U.S., $2795 factory direct (1998 prices).
Oshkosh 1994 – Rotorway Releases The New RW 162F
Rotorcraft—and especially helicopters—were out in force this year. Editor Dave Martin flew with RotorWay International's chief pilot, Stretch Wolter, who demonstrated the company's new model, the RW 162F.
Resembling an Exec 90, the new model incorporates significant improvements including a power monitoring/engine control system named FADEC that correlates (governs) the fuel-injected, altitude-compensated engine while keeping track of important data such as operation of both electronic ignition systems and the electrical supply.
Yellow and red lights warn of impending problems, and the system reverts to manual control if electrical power is lost.
Other new features include a completely new cockpit interior that provides more room for the pilot and passenger, larger doors and a sporty horizontal/vertical tail that improves yaw stability, especially at high altitude and in turbulence, according to General Manager Dale Krog.
---
France Approved the RotorWay Exec 162F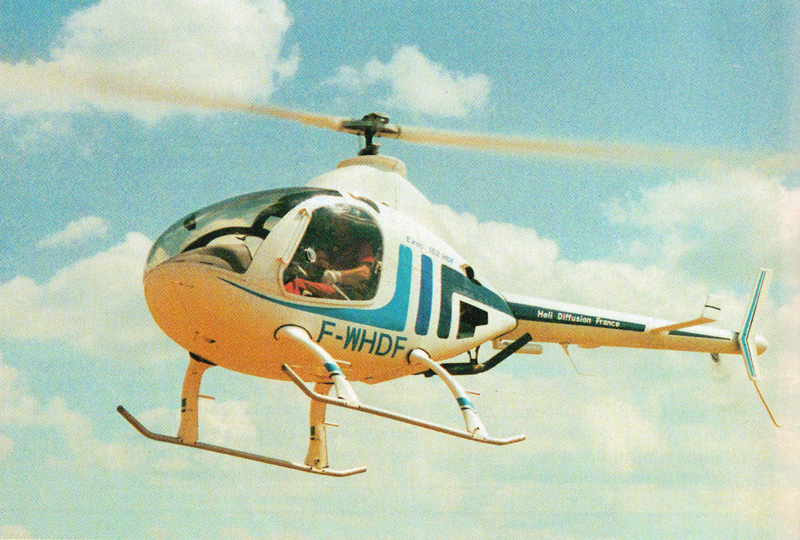 FRANCE HAS officially approved the Exec 162F to fly. This milestone marks the first kit helicopter to be so approved in the country and is the culmination of a two-year process. It opens a marketplace that has shown tremendous interest in the kit helicopter manufactured by RotorWay International.
RotorWay representative Heli Diffusion France was largely responsible for this success. Its owner, Yves, Pearcy, said "I am certain that sales for this proven kit will soon follow. Many customers have been waiting for this development before going ahead with the purchase."
Having been granted the CNSK-2, the permit to fly allows the owner to fly in France like any other helicopter with the exception of flying for compensation. However, instruction is allowed. The actual eligibility number is CNSK – 2E – 0001.
---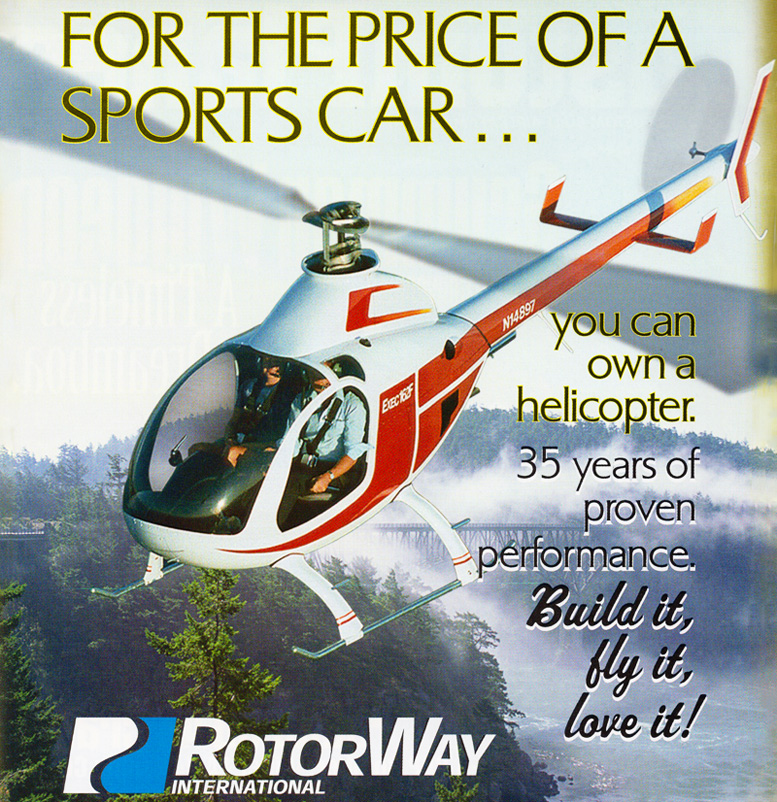 Summary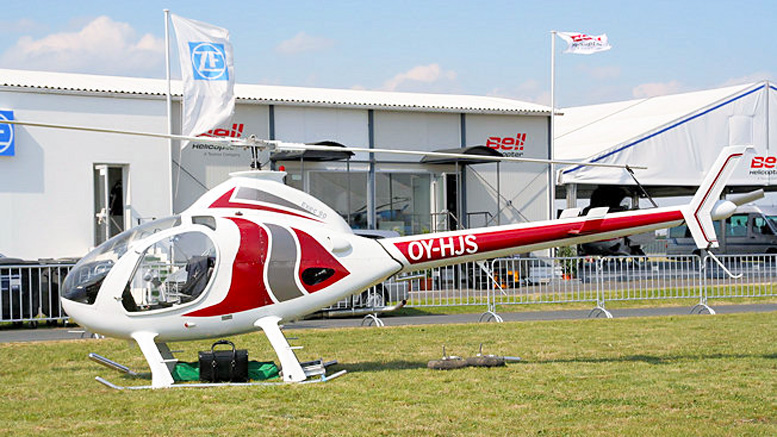 Article Name
Description
Rotorway helicopters are well known across the globe. They have pioneered the kit built helicopter industry making vertical flight affordable to the general public.
Author
Publisher Name
Publisher Logo