Mini 500
Kit Helicopter
Newsletter
Greetings Rotorcraft Enthusiast!
Thank you for your interest in our Mini-500 single place helicopter. The Mini 500 helicopter is the product of my engineering design, flight testing, manufacturing and sales experience in the rotorcraft industry since 1979. My first project was the award winning Commander Gyroplane.
With over 1,100 sold and accumulating thousands of hours of flight lime, the Commander maintained a perfect record of structural integrity. I am continuing this tradition with the Mini 500 helicopter, a true helicopter with the latest in control system design and composite technology.
As a commercially licensed chopper pilot, I, and many of my friends, have experienced the high cost of helicopter operation. I knew that a vast market could be created with the development of an economical and user friendly vertical flight vehicle. Therefore, I decided to sell the gyroplane operation and devote full time to my dream of "every man's helicopter."
Since 1990, Revolution Helicopter Corp. has been totally involved with the development of a breakthrough design in helicopter technology — the MINI-500. After years of development, the Mini-500 has achieved that major step forward: low maintenance, economical to operate, easier to control and excellent performance at any reasonable altitude.
No other rotorcraft offers the looks, performance and low operating costs you get in the Mini 500 helicopter. By relying on the latest in computer aided design and manufacturing techniques, we can produce parts as sophisticated as those used in commercial helicopters.
The excellence of design and high quality of the Mini-500's components are the underlying foundation of its reliability and performance. Its high efficiency, combined with simple maintenance and low operating cost, make it the choice of private and commercial helicopter operators worldwide.
As the world's most inexpensive helicopter to operate, it is a perfect "time builder" for the new pilot, and also attracts more people to become new pilots because of its low operating cost.
Our sales department has developed a purchase plan which requires a 10% deposit to hold the current price and establish your position in the production schedule. The balance is due when your aircraft is ready to be shipped.
Also, for those who are interested, and qualified, we have established many dealerships, and we are looking for more. After taking a closer look at the Mini 500 helicopter, I'm sure you'll agree that this aircraft is the answer to your dreams of reliable and affordable vertical flight. We'll be proud to have you as another valued Revolution Helicopter customer.
Sincerely,
Revolution Helicopter Corp.
— –
Dennis Fetters
President
---

A Helicopter for the '90s and Beyond!
The Mini-500 is a revolutionary helicopter design. The design and excellent performance of the Mini-500 make it an ideal choice for a variety of private, business and utility applications.
Patented Control System.
A newly patented yoke control system, patent #5,163,815, eliminates the high maintenance swashplate assembly and many related parts found in other helicopters, and provides true three dimensional flight capabilities at a fraction of the cost of regular helicopters. Any helicopter pilot can fly this aircraft because all the control inputs are still conventional!
High Quality Components
Every component of the Mini-500 is the product of intense research and development. From the lightweight, incredibly strong composite fuselage shell, to the aluminum/composite, perfectly balanced rotor blades, to our CAD designed chromolly steel frame, the Mini 500 helicopter out distances the competition technologically and aesthetically.
High TBO
All components, except the proven and dependable Rotax 582 engine, are designed with a 2000 hour TBO.
Low Cost
Just compare our purchase price with any other helicopter on the market, then factor in the maintenance, as low as 5 gallons-per-hour fuel consumption rate (using auto fuel), and the option of doing your own annual inspections.
Easy to Assemble
You'll be amazed at the quick ONE WEEK assembly of this 51% homebuilt kit! The simplicity of design is easily noticed, even for the novice builder, when assembling the Mini-500's prefabricated and finished components.
All sub-assemblies are completed in our factory, and inspected continually by our Quality Control personnel. You, or your mechanic, simply need to bolt the components together, arrange for an FAA sign-off, and the aircraft is ready for flight!

Check-Out These Unique Features Of The Mini 500 Helicopter Kit:
Unique Patented Control System

Adapts to many vertical flight tasks

Easily assembled in one week

Low operating cost

Only 10% deposit to hold price and reserve production slot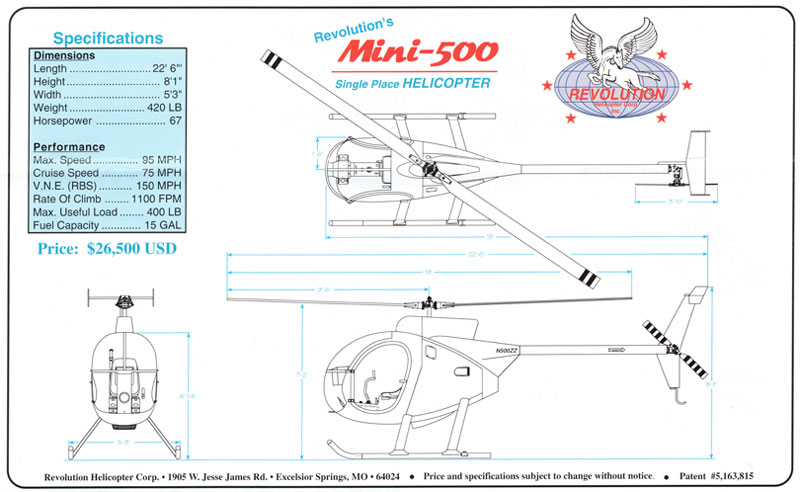 Summary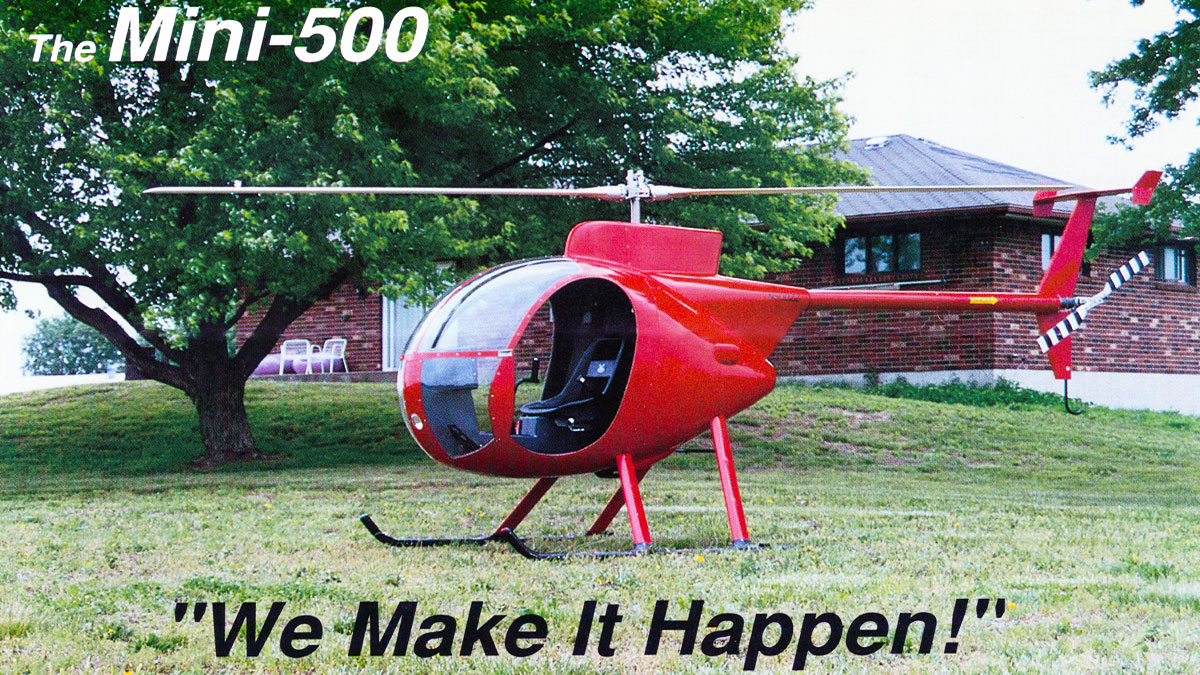 Article Name
Mini 500 Helicopter - From The Presidents Desk
Description
Back when the Mini 500 helicopter kit was released, there was a dazzle of promotional brochures and advertising material including this newsletter from RHC.
Author
Publisher Name
Publisher Logo