Foreword
I thank you for having read this information on LAF-01. This is a good way to support this new helicopter (Circa 2004). Helicopters have always fascinated the world of flying. However, in the small tail rotor helicopters, the complexity of piloting still remains a big problem.
There are lots of people who have bought or build an helicopter without never being able to master it completely. LAF-01 is a solution to this problem. Finally, it is a small helicopter that is easy to fly.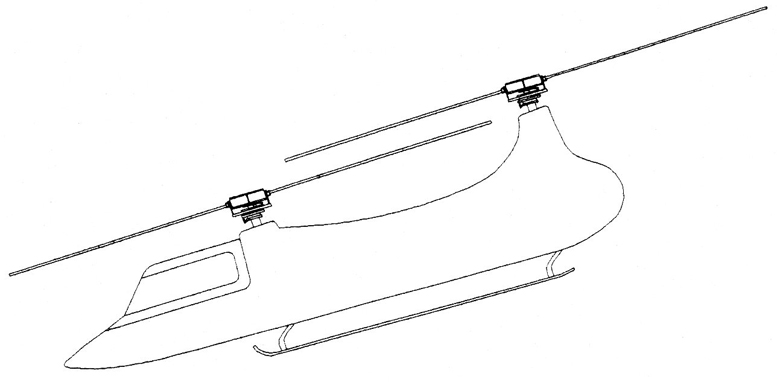 Let's simply compare LAF-01 to tail rotor helicopters. Piloting a tail rotor helicopter requires as much skill as an equilibrist to stand on a large ball on the water, whereas, piloting a tandem helicopter only requires a bit of balance.
This is comparable to a person who stands on a big wood log on water. This explains fairly well the real difference between those two. The second problem to face is the cost of acquisition and maintenance of standard helicopters.
LAF-01 design brings you a solution to this problem especially because most mechanical parts come from auto parts. This gives you the opportunity to acquire this aircraft at a very acceptable cost.
The cost for the proposed kit is forty-seven thousand US dollars (47,000 $) plus ten thousand dollars (10,000 $) for the engine and other parts. After the running cost is similar to the one of a car.

This new tandem device has been accepted by Transport Canada on special certificate of airworthiness and flies under the letters C-FRDE. Up to June 30, 1997, the device has only had a few hours of ground flying; we are presently doing again all the checkings and adjustments.
Tests will start again in a few months. I drew this aircraft for the first time in January 1981, and since then, researches have not stopped.
From the beginning of my project up to now, many composite materials, mechanic and aerodynamic engineers, and many helicopter specialists have joined me as consultants.
I have been flying since 1977 and I've got many hours of flying on planes and gyros. I have rebuilt three gyrocopters: two MC-CULLOCH SUPER J2 and one vertical take-off AIR AND SPACE 18A.
After my living experiences with gyrocopters, I had piloted a Citabria, which was located at my private airport in Coleraine (Qc) for many years.
From the beginning of my flying tests, I found all the existing aircrafts not suiting my personal needs. I was looking for more security and stability.
So, since my first years of flying, I have been working on a way to simplify helicopters in order to make my dream come true for as many people as possible.
I hope that you will find this new device very interesting and that you will have fun discussing it with your friends.
---
Conception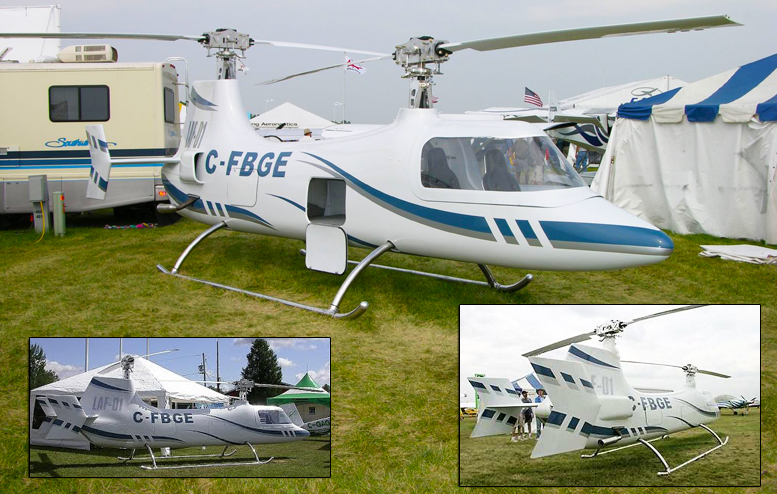 The tandem rotor LAF-01 is the result of 16 years of research and development. These researches are supported by many aerodynamic, mecha­nic and dynamic analyses.
LAF-01 was conceived in order to simplify and facilitate the piloting of small helicopters. The stability of such tandem helicopters is the best in the world.
Two rotors running each other in opposite direction automatically annihilate all torque strengths and gyroscopical precessions. This mostly explains the stability of this device.
All technical books on helicopters confirm the easiness and stability of tandem helicopters. The fact that they are suspended to two rotors strongly increases the operational envelope of the gravity center.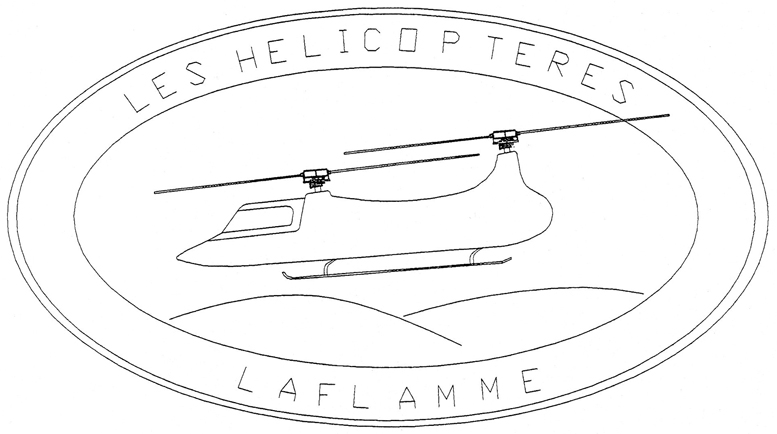 Another good reason for the tandem model is that all the motor strengths are used to sustain and lift the weight of the device. So, the HP rate versus the mass is superior to helicopters having a tail rotor. This is why our device gives us the advantage to have a large utility load.
Moreover, the fact that a large quantity of mechanical parts come from small trucks and cars allows a very low price of acquisition and maintenance especially, if we compare to helicopters that are now available on the market. The most remarkable element of LAF-01 is the simplicity of the mechanics.
---
The engine
LAF-01 was conceived in order to be able to use a 200 to 350 HP automobile engine. For the prototype, LAF-01 is equipped with a V6 Ford 3.8L engine modified to 230 HP.
We have added a standard clutch, the same used for cars and trucks. There are many planes that are flying with this kind of engine and the performances are very height.
Our cooling system is a very important inno­vation because we are running it without using a fan normally required on most helicopters.
The location of the radiator allows the under-pressure air that is produced by the front rotor to go easily through the radiator, and this, represents a very efficient cooling even in stationary flying.
---
Driveshaft
LAF-01 uses a car type standard driveshaft. It is rather cheap and very efficient.
If we take into consideration the natural frequencies, these joints have a B-10 life factor which means about five thousand (5000) hours of running.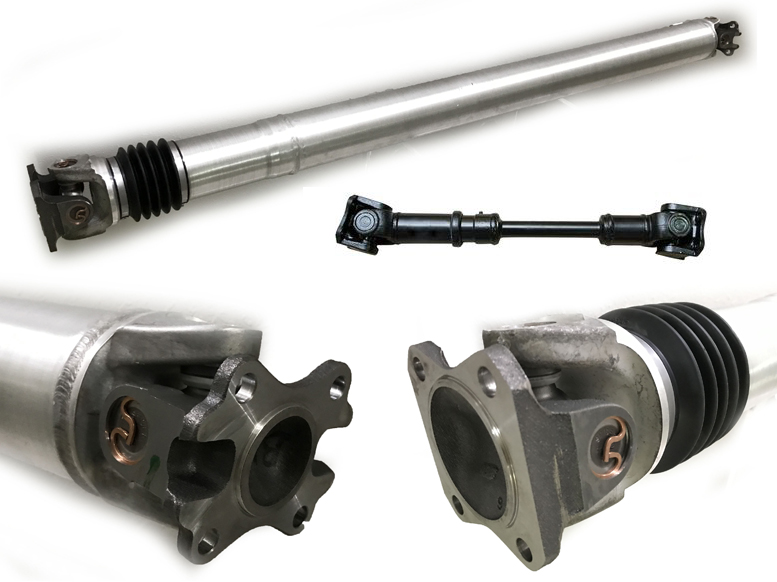 ---
Transfer Case
LAF-01 uses the same arrangement of cog belts that we find on many reduction boxes normally used on airplanes.
However, we add a cam clutch to allow the autorotation and keep the synchronization of the two rotors at the same time.
This transmission process has been tested on many planes. LAF-01 simply makes a different adjustment.
---
Main Transmissions
In all helicopters, the main transmissions are the parts that are as important as the engine itself.
LAF-01 uses automobile differential modified to make a simple angle gear box.
Besides the basic modifications, we have added some chip detector and gauges for oil tempera­ture.
We use the process of getting the parts x-rayed as it is done for commercial helicopters. This is not expensive and it is very safe.
The basic is simple: To get the best possible aircraft at the least possible cost.
---
Rotor Blades
The blades are made of composite materials and, mostly, of carbon fiber and epoxy resin.
They are built with very specialized tools under very height pressure and also oven baked.
The blades are the most important parts of the helicopter. They are made in order to fulfill the requirements and standards for the rigid rotors.
These blades are the result of a lot of static, dynamic and aerodynamic analysis. These blades by themselves represent more than seven years of research and development.
---
Rotors
The rotors are of rigid type with each one having three blades. They are very strong, easy to maintain, and especially made for LAF-01.
The parts which support our rotors are simply car axle modified to fit the rotors.
The swash-plates are of the same type than those used on commercial helicopters, that is to say, three blades a rotor.
---
Fuselage
The fuselage is made of composite materials molded under pressure. This is a monocoque fuselage, that means there is no structure inside.
All the components are directly anchored to the fuselage. The fuselage is composed with two large shells with inside edges to allow a very simple assembling: only sticking and bolting.
In some hours the fuselage is done. Engine caps, once removed, allow a very easy access for maintenance and checking.
The fuel tanks are directly made from the fuselage. They are located in the center of the device and have a total capacity of 45 US gallons.
---
Instrumentation
All the basic instruments are standard to aviation. However, as for the type of engine, instruments are automobile type.
---
The controls
The cockpit is a tandem. All commands are double-ones. The piloting of LAF-01 is very simple. The maneuvering of the aircraft while flying is similar to the one of an airplane.
The device is con­ trolled by a double standard joystick for the pilot and the co-pilot, and the rudder that's going in flight like an airplane rudder. The controls are 100% made from push-pull roads.
Every time the pilot wants to execute a command, he doesn't have to continuously correct the rudder like we should do with a tail rotor helicopter.
The two rotors are running in opposite direction and they are synchronized like an egg whisk. This has, as an effect, that all torque strengths are instantly and automatically cancelled.
Cross winds practically don't have any effect on this kind of helicopter. It makes the landing, the take-off and all ground maneuvers easier to do.
All tandem pilots confirm the easiness of piloting that kind of aircraft.
---
Piloting
Joystick moving forwards; This maneuver pulls down the nose of the aircraft. It allows the aircraft to come into a translation move. It also allows the control of the advancing speed.
---
Joystick moving backwards

This maneuver pulls up the nose of the air­ craft. It lowers the speed or produces a back move.
---
Joystick moving to the right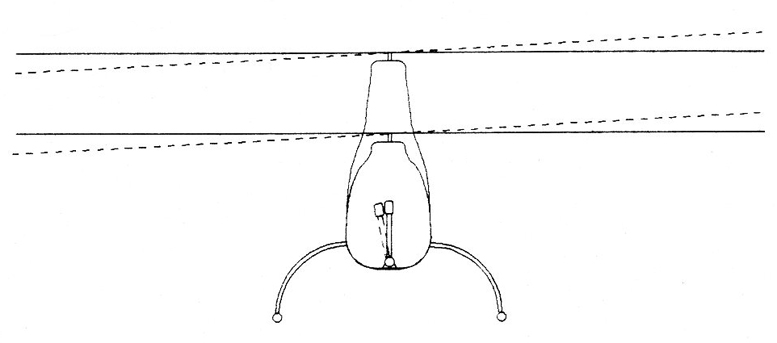 Normally, this maneuver tilts the two rotors to the right. It allows the aircraft to move to the right side.
---
Joystick moving to the left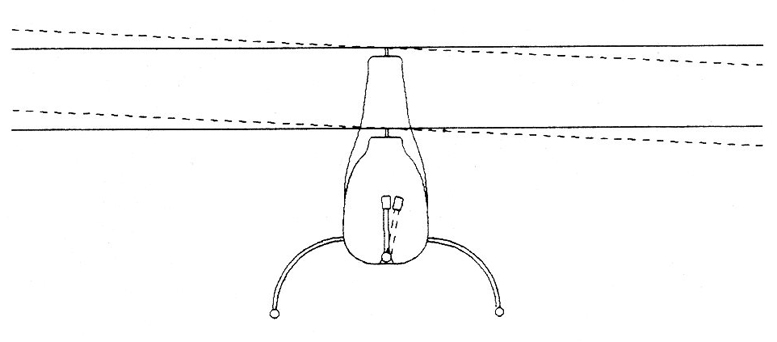 Normally, this maneuver tilts the two rotors to the left. It allows the aircraft to move to the left side.
---
Moving of the right rudder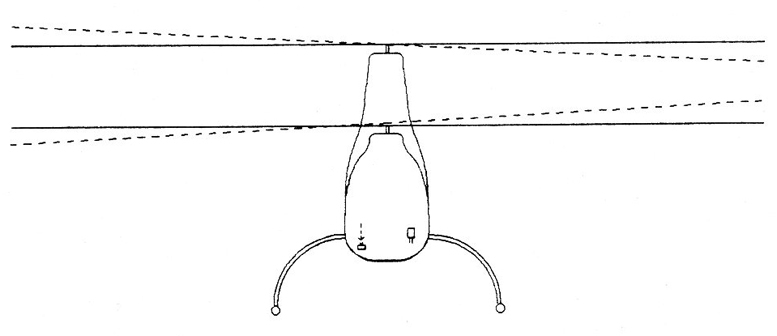 This maneuver tilts the front rotor to the right and the rear one to the left. It allows the aircraft to pivot on itself without making any clockwise move.
---
Moving of the left rudder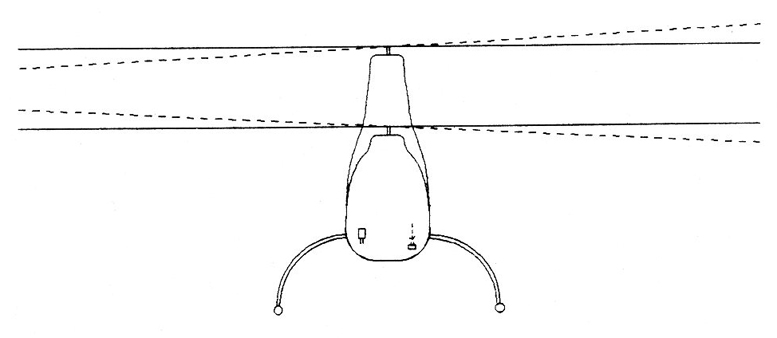 This maneuver tilts the front rotor to the left and the rear one to the right. It allows the aircraft to pivot on itself without making any counter clockwise move.
Have a nice flight!
---
Speed/Horse power rating
Engine : V6 Ford 3.8L at 230 HP
Weight
Speed
22001b.
117 MPH
24001b.
106 MPH
26001b.
95 MPH
---
Engine : V8 Cadillac Northstar 4.6L at 350 HP
Weight
Speed
24001b.
143 MPH
26001b.
140 MPH
3000 lb.
134 MPH
3500 lb.
98 MPH
---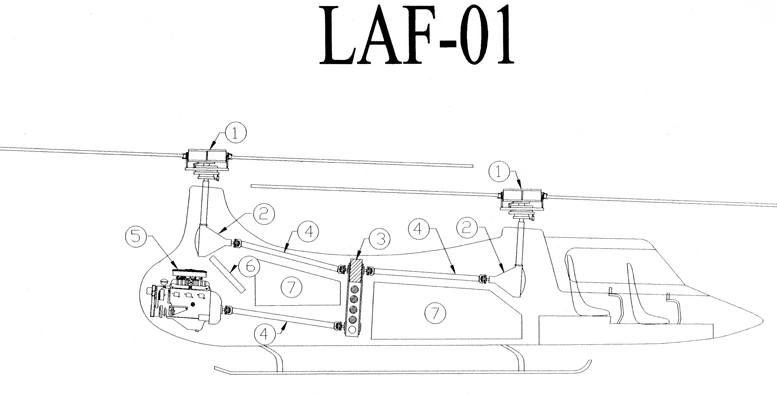 1. ROTOR HEADS

2. MAIN TRANSMISSIONS 3 TRANSFER CASE

4. DRIVE SHAFTS

5. ENGINE

6. RADIATOR

7. BAGGAGE COMPARTMENT
---
Description
FUSELAGE: Composite materials: Fiberglass and urethane foam; Monocoque: 24'x 2.5'x 6′
ENGINE: 230~350 h.p. (See Horse power rating)
ROTORS: Rigid type, 3 blades each; 260″ in diameter
SEATS: Tandem: Pilot and co-pilot
CRUISING SPEED: 140 mph
EMPTY WEIGHT: 1775 lbs.
GROSS WEIGHT AT THE TAKE-OFF: see Horse power ratings – 2200 to 3500 lbs.
PROPOSED KIT PRICE: 47,000 $ US
---
The kit
List of parts included in a kit: Fuselage, engine covers, rotor heads, blades, transfer case, seat frames, canopy contour.
List of parts not included : Engine and accessories, instrumentation, drives shafts, main transmissions (differential) , controls, hardware.
Estimation price of parts not included : 10,000 $ U.S. Workman hours : 800 hrs.
---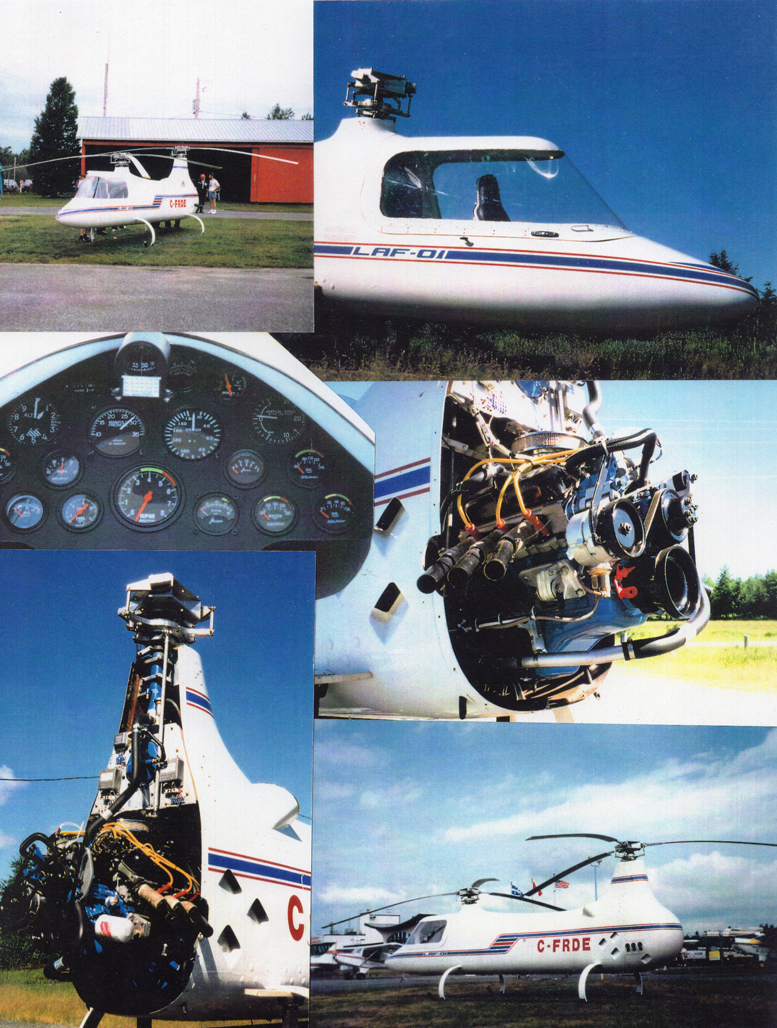 UPDATE: Sunday, November 28th, 2004
Laflamme Suspends Helicopter Development
Canadian kit developer feels cash crunch, suspends program
By ANN Senior Correspondent Kevin "Hognose" O'Brien
It takes a while for bad news to make its way south from Quebec, now that the snows have come, but it gets here soon enough. Development of the promising Laflamme LAF-01 tandem-rotor kit helicopter has been suspended, according to a November 16 posting on the company web site.
"For almost a year now, the company has been searching for funds in order to complete the prototypes and to begin the marketing. The months passed, and we were unable to find the required funds. Even though our presence at the EAA Airventure 2004 was very profitable, it will not have succeeded in proving to the investors the incredible potential of our product."
Aero-News was among the media that covered Rejean Laflamme's sleek helicopter's Oshkosh debut. M. Laflamme told us there that he was hoping for a first untethered flight in "fall, possibly September." But September came and went without a free flight of the helicopter. Now, any kind of immediate flight is looking unlikely.
"This is not the end of the LAF-01 project," the site promises. Before he began the helicopter project, Laflamme was in demand as a fabricator of composite, and machinist of metal, parts for a number of industries. He will return to that work, and will use money earned there to continue to develop his tandem-rotor helicopter, but at a slower pace.
While it is a disappointment to all rotorheads that LAF-01 progress has been placed on indefinite hold, the sad circumstance masks some facts which reflect well on the Laflamme family and their project. At Oshkosh, Laflamme honorably refused to take payments or deposits for his still-developmental helicopter. They would not even quote a price. Thus, Laflamme suspends development without risking a thin dime of customer money.
While this is bad news for Laflamme and any investors he managed to obtain, his insistence on taking the high road on ethics saves both his supporters, customers and fans on the one hand, and the sport in general on the other, considerable difficulty.
Summary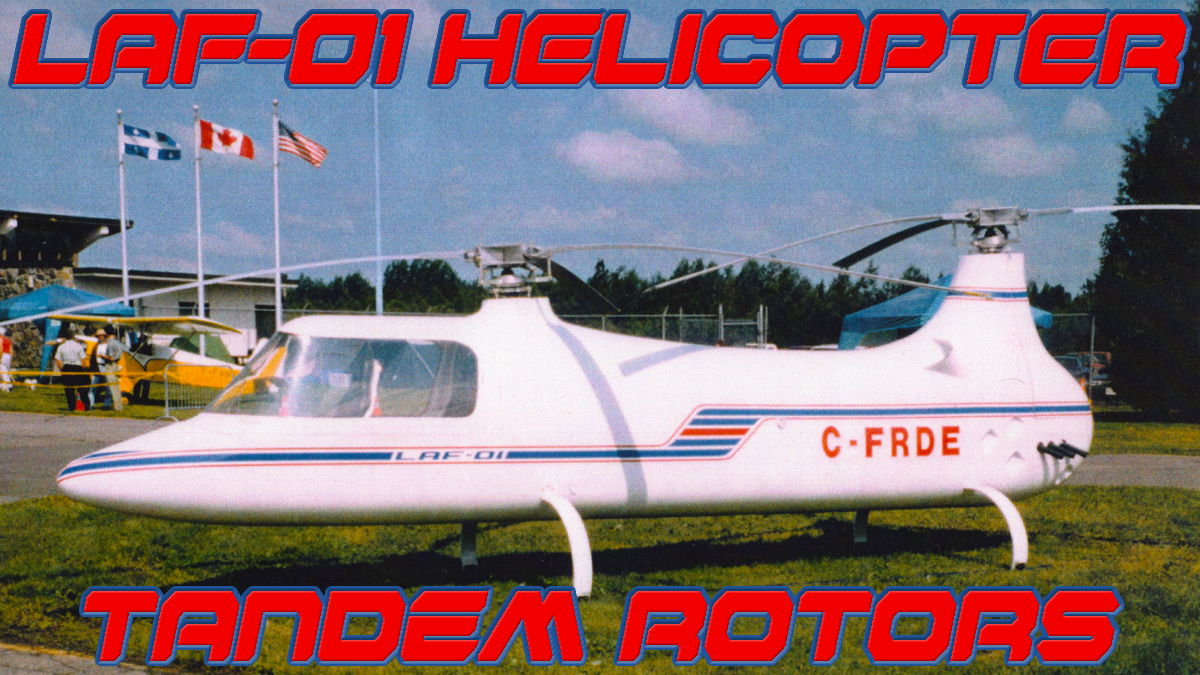 Article Name
Les Helicopteres Laflamme LAF-01
Description
An interesting tandem helicopter that could have made its mark in the kit helicopter world, but struggled and re-tooled for commercial drone usage.
Author