Single Seat
Kit Built Helicopter
Prototype
Schramm's Sleek Single-Seater Javelin Helicopter …a Cutie Copter
Buford J. Schramm of South San Gabriel, Calif., expects to market this single-seater "advance-design" Javelin helicopter after certification in 1968 at the low price of $8,000 to $10,000.
Schramm, the 27-year-old designer, claims the price is possible because his "Javelin" uses less than half the parts found in other helicopters. His "Tractable Control Rotor", for which patents are pending, has but a half dozen parts plus a few bearings.
Rotor blades are laminated; Schramm does not divulge the materials. Airframe is of chromemoly tubing, tail boom is aluminum tube. The prototype has aluminum skins on the cockpit; production versions will have fiberglass covering.
The present aluminum body can be stripped from the airframe in less than 4 minutes, the entire helicopter disassembled in less than 90 minutes. Another feature of Javelin is its take-it-home capabilities for garaging.
To date, some $90,000 to $100,000 has been expended on its development. Schramm expects to have 21 ships in the hands of dealers by the end of the first year following certification, hopes to produce a-ship-per-day during his second year.
"Javelin" Helicopter Specifications & Performance:
Javelin Helicopter Main Rotor
Main rotor diameter 21.4-ft;

Main rotor blade cord 7.25-in;

Main rotor airfoil NACA 0015;

Main rotor area 14-sq ft.
Javelin Helicopter Tail Rotor
Tail rotor diameter 3.7-ft; blade rpm 2500;

airfoil NACA 0015.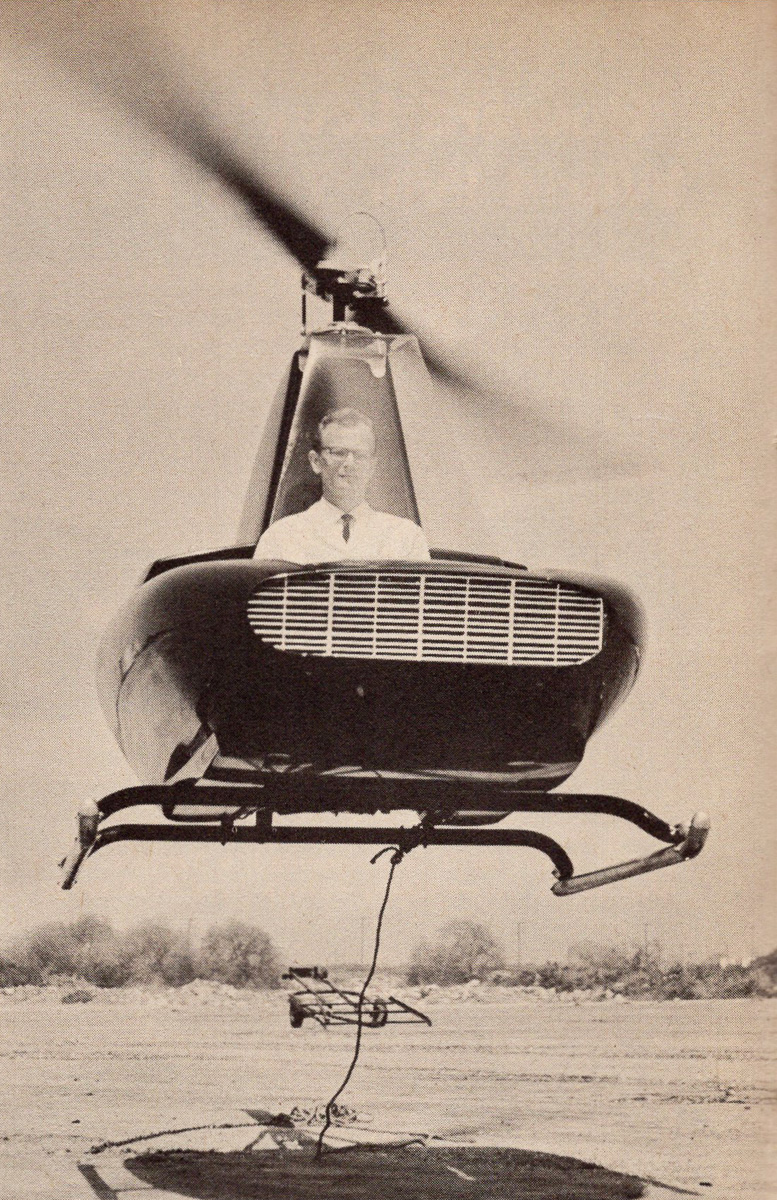 Javelin Helicopter General Specifications
Empty weight 500-lbs;

gross 880-lbs;

fuel capacity 12-gals.

Disc loading 2.3-lb/sq ft;

power loading 8.8-lbs/hp;

engine 100-hp Continental 0-200 (prototype is fitted with a 100-hp Outboard Marine "Mercury").
Javelin Helicopter Performance
Max speed 85-mph;

endurance 2.25-hrs;

hover ceiling 5,000-ft in ground effect, out of ground effect 3,500-ft;

rate of climb 1200-ft/min;

auto-rotation rate of descent 1250-ft/min;

service ceiling 11,500-ft.
Summary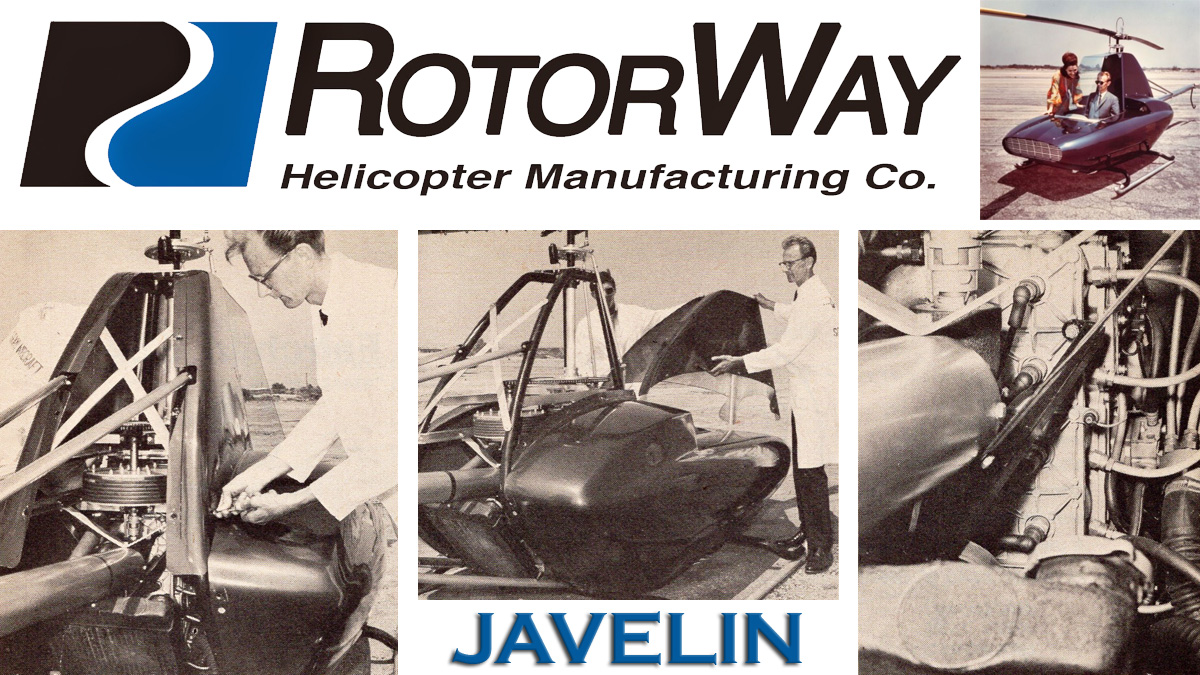 Article Name
B.J. Schramm's Sleek Single Seat Javelin Helicopter
Description
Back when homebuilt helicopters were in their prime and inventors were experimenting with all that was available. B.J. Schramm's Javelin helicopter was one of those amazing little machines that evolved into a massive homebuilt helicopter industry.