Glen Ryersen
Miss Nina
Angel Helicopter
VIDEO: My Miss Nina the CH 7 Angel Helicopter Video
Glen's life experiences as an experimental/kit helicopter pilot.
"Life With an Angel" was different in many ways this past year. I am almost ashamed to admit that I only flew my Miss Nina Angel helicopter a tad over four hours this year, but, I'm happy to report most of those four hours were in a corn and bean field owned by Homer Bell, his lovely wife Sharon and family. More on that later.
The two major reasons for only 240 minutes in the air with my trusty CH-7 Angel in 365 days were to me, simple and logical ones. First, a man that I liked, revered and relied on to guide me through Nina's periodic inspections was flying one of those reliable turbine-powered standard category helicopters and had an engine failure.
As luck would have it, his power plant on his factory-built helicopter lost power when his bird was in the gray area of the H/V curve. Sad to say, the landing was a hard one and he was impaled by the cyclic. I not only lost my tutor, I lost one of the helicopter buddies I hoped to be more like one day. So naturally this one event took lots of wind out of my sails.
The second reason I didn't fly much was because of the World Wide Web site I host on small helicopters called Sport Helicopter "n" Pilot Global Information Exchange (located at http://www.3cats.com/helicopter/index.htm). The problem was that I ended up receiving so many negative e-mails on one kit helicopter manufacturer that it affected my personal desire for our sport.
(EDITOR: The early days of kit helicopters was clouded in much self opinionation, misunderstandings, fear and the failure of acceptance – as the experimental helicopter industry has become more prolific, people have finally begun opening their minds to the possibilities.)
On the other side of the coin, two GREAT events took place in my past year in helicoptering. Flying at Homer's last July, as I mentioned, was one of them.
The other memorable event this past year was that my wife cashed in more of my United Airlines Mileage Plus credits and I hopped on a 757, flew south for 10 hours and ended up in Argentina, spending almost three weeks with Augusto Cicare, his lovely wife, family (pictured) and friends.
Some of you may know that Augusto Cicare is the self-taught designer and machinist that greatly simplified the swash plate system used on the CH-7 Angel helicopter and obviously was an influence on the system that is used on Revolution Helicopter. Inc. products. I am sure I will not be able to adequately describe the experiences of being with such a talented gentleman as he, but I will try.
I will start off by pointing out that in these two modest buildings picture above in a small rural town of Sadaillo (about 120 miles southeast of Buenos Aires) Augusto Cicare has fabricated the majority of the 11 helicopters he has built in the past 35+ years.
Interestingly, Senor Cicare has a few of his early prototype helicopters stored in the corner of his shop to this day. What a great thrill for me to have a first hand look at his first helicopters and see the evolution of his craft and our hobby.
Along with the 11 helicopters, Senor Cicare is in the final stages of development of a craft that most likely will revolutionize the way one initially learns to fly a helicopter.
I don't mention the details because if you have followed the evolution of the CH-6 (CH-6 stands for Cicare's Helicopter # 6) into both the CH-7 Angel helicopter and the Mini 500, one realizes Senor Cicare is justified in having what I call "Gringo Fever" and naturally does not want the details of this craft out until all the paper work is done.
Nonetheless, after both seeing it in operation and having the honor to fly the last prototype, all I can say is that his creation is a GREAT example of Senor Cicare's talents, innovative foresight and design genius.
I had first met Senior Cicare during my first visit to see the manufacturer of the CH-7 Angel in the fall of 1992. He was in Italy helping the Barbero boys manufacture and put the finishing touches on both their last prototype and their first few production birds.
A few years later, after having finished and flown my CH-7 Angel helicopter and being completely impressed with his control system, I felt compelled to write and thank him. This lead to the start of our friendship, first via snail mail letters then by fax letters.
Well, this lead to that, I ended up marrying a girl from South America, whom naturally spoke his language, and before I knew it, my wife and Augusto's wife were beginning to become good friends.
Some of you may already know that my real job as the owner of a generic Tasty Freeze-Dairy Queen type of business in the Pocono Mountains of Pennsylvania keeps me quite busy in the summers.
This being the case, I have not had the time to finish this article. If the PRA will allow me, I will submit this much for the helicopter issue and finish it up later on this fall or winter. The End For Now…
VIDEO: Miss Nina the CH 7 Angle Helicopter Video
Summary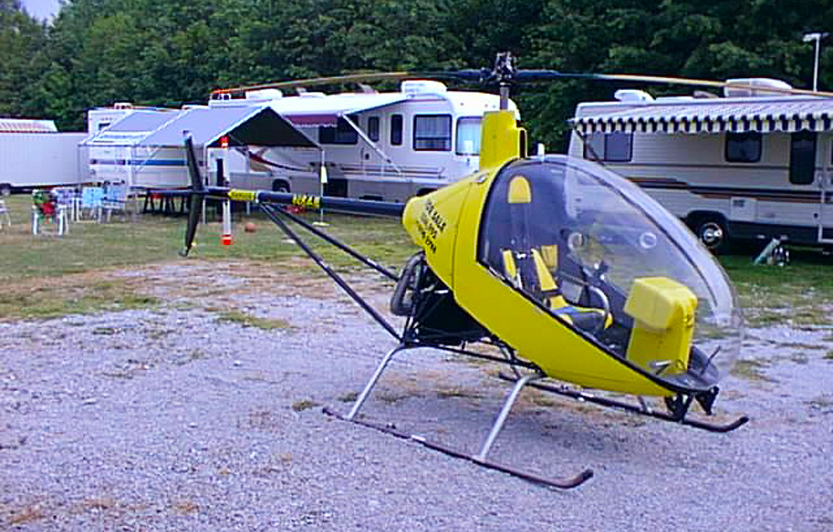 Article Name
Glen Ryersen & Life With His Miss Nina Angel Helicopter
Description
The writings of Glen Ryersen & his life with his kit built - Miss Nina Angel Helicopter.
Author