Ultrasport
#1 Helicopter
Customer
USA looks at some promising aircraft designs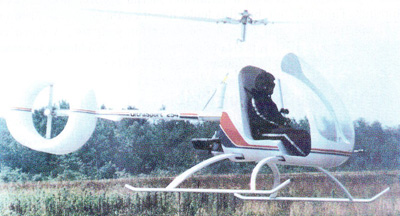 Due to the fact that I actually have to sit in my office every now and then and do real business (YUCK), I haven't had the chance to get out and fly everything I've wanted to – (see Ultrasport"), 'though I'm some 820 planes along in my studies so far.
Those that we have flown, we have evaluated in as concise and as critical a fashion as we can responsibly manage. However, there are a number of new and not-so-new designs that we haven't flown yet that do seem to deserve your consideration.
We've looked them over as carefully as we can and present, for your consideration, a number of designs that we look forward to flying and inspecting in the not-too-distant future… and as soon as I can get away from this @#$%A&* office. Work, work, work!
American Sport Copter/Ultrasport 254 Kit Helicopter
The Ultrasport 254 is an all-new helicopter design that is being offered as a kit, with deliveries to begin in the first quarter of 1994.
Being billed as the most pilot-friendly helicopter in the world, American Sport Copter is proud of its accomplishment of being the first to meet the criteria as a Part 103 ultralight. One glance is enough to hook you. This is as futuristic-looking an aircraft as I have seen, with its shrouded tail rotor and extremely thin frontal area.
Control inputs are accomplished as they are with any normal (read: non-ultralight) helicopter via a collective cyclic and foot pedals. A 21-foot diameter main rotor of honeycomb-composite construction provides lift to the machine and is even foldable for easier storage.
46 horsepower makes the 254 fly, provided by either a Rotax 503 or a Hirth 2703 powerplant. Five gallons of fuel will keep you aloft for one-and-a-half hours of VTOL fun and excitement. Top speed is listed as 55 knots (restricted by FAR 103). The rate of climb is an equally impressive 750 feet per minute.
The company also claims that due to high-inertia energy stored in the main rotor, this little mixmaster has excellent autorotation qualities. Having done an autorotation or two myself, I like knowing that last bit of information.
The kit price is expected to be between $25,000 and $35,000 US dollars (1994 prices), but with a very short build-time: 100 hours. Knowledge of composite construction techniques will be helpful, but if you are shy of these skills, there are plenty of workshops and books to get you over the hump.
Optional equipment includes a digital instrument package as well as a removable aerial sprayer and camera mounts. Time will tell, but this looks like it could be one all-around fun machine that can do a bit of work for you, too.
---
Tom Hoffman from Nokomis, ILL., will never fly a fixed wing again! He's hooked on helicopters now that he's built his Ultrasport.
Hoffman has flown a variety of fixed wing aircraft since about 1982, from bi-planes to ultralights. But helicopters had always caught his fancy, and the dream of flying from his own backyard was ever present. He would have gotten into rotorcraft 15 years ago, but he let a buddy of his talk him out of it. The available kits just didn't seem to be really flying much.
Three years ago, Hoffman saw, he emergence of single-seat helicopters. The Ultrasport, from American SportsCopter, was among them and this caught his eye. In fact, Hoffman bought Ultrasport's very first kit.
"I talked to Harry Parkinson from Ultrasport and he said that since I was so interested and had experience in engines and machinery that I would be a good candidate to take the first one," Hoffman said. "His words were, jokingly 'We're going to use you as a guinea pig.'" But, guinea pig or not, as per Ultrasport's policy, Hoffman had to solo before he could actually buy a kit, policy Hoffman very much agrees with.
"I took lessons in both Bell 47 and R-22 helicopters," said Hoffman. "I'll never for-get the first hour of training. I thought, 'My gosh, I had been a fool. There's no way I can do this.' So I think it's a good idea to get some training before you buy."
Hoffman picked up his kit helicopter at Oshkosh '97 and had his ship flying just two months later. If this stirs up some envy among home builders, keep in mind that Hoffman is a self-employed machinist giving him a "mild" advantage!
"This was definitely an advantage," said Hoffman. "Probably the biggest advantage was that I had access to about any tool you can imagine. And in setting dimensions on some of the drag lengths and different things I used a micrometer, where most people would just use a tape measure. And a big plus was having an overhead hoist in the shop.
So when I wanted to do the weight and balance or mount the engine, I could just pick it up. Not that you need a hoist, but this just made it easier. And I'm one of those guys who can't leave anything sit. Some guys can take a project, work on it a month and walk away from it for a month. I can't do that. I'm going to work or it till I get it done."
"It's the ultimate way to fly," said Hoffman. "I always tell people to go and get an hour or so of helicopter time. You just won't believe it. Everybody ought to experience that one time in their life—even non-pilots. It is such a unique feeling".
Hoffman said the factory claim 50-60 hours to build the UltraSport 254, a figure that didn't quite measure up. "I probably had 40 hours in painting, alone," said Hoffman. "I started to keep track, but it wasn't worth it. It's a very simple helicopter to build. But I'm very careful and try to do everything right the first time".
"There are some things that could go together wrong or upside down and then you can't disassemble them. All the main components, rotor transmission, swash plate assembly and most of the rotor head are pre-assembled."
Hoffman was pleased with the building instructions and the "how to" video guide. He admits he probably wore it out watching it over and over so many times. But as any home builder will tell, you can't always go according to plans.
There's always something that you'd like to change or modify during construction to suit your own needs or to make it more "economically" satisfying. Hoffman was no exception, take the optional stick control modification for example. Though in saying this – any flight critical components should not be modified outside the original construction details without first consulting the manufacturer.
"I've done a little conversion on mine," explained Hoffman. "It originally was an overhead control, and I rigged up a system of ball joints and a linear bearing to make a stick mount out of it. For me, that would be the only negative thing about the helicopter is the overhead cyclic. It works and it's a neat little design, but for me, it just doesn't fly the same as with the floor stick. It gives you a different sensation".
"I wouldn't fly mine any other way. I believe the floor stick is now an option. A standard floor stick may be too heavy for the 254, so it may not be an option on this model. But with my system, I've picked up very little weight." Hoffman discovered other builder's tips that he passed on to the manufacturer.
"When you put the support I bearings for the tail rotor shaft in I the housing, Ultrasport suggests taking some tape and using the rotor shaft to push the bearing housing into place." he explained. "Well that's hard to do. You can imagine you're pushing these three fingers in this aluminum tube and they want to catch".
"So the way I did it, and I believe they've put this in their manual as an optional way to do it, is I took a piece of PVC pipe, which is the perfect size, and I just take that and put the bolts in. If you need to turn it some you just put a little notch in that PVC and you can turn that bearing support in there".
"Just things like that I ran into and found a simpler way to do it." Hoffman uses the 2706, 65 HP Hirth motor. The standard kit is sold with a 55 hp Hirth. But Hoffman opted for more power.
"I talked to several different people about helicopters and discovered the helicopter requires a lot of power," said Hoffman. "Anytime you can get a few more horses you're better off. Since the 65 hp doesn't weigh any more—it weighs 82 pounds with starter and muffler – I went with that". Probably the only negative thing was that it was nearly a $600 option.
From the "git-go" Hoffman had problems with the muffler, creating quite a puzzle. The fix for his dilemma came about by shear happenstance, "This engine was designed to run up to 6000 rpm and throttle back to 4500 rpm., but in the helicopter you're running 6000-6500 all the time," said Hoffman.
"It's just too much pressure on that exhaust. I bet I fixed the exhaust 10 times in 8-10 hours. One day I was out flying and it got real smooth, extraordinarily smooth. The engine just seemed like it had more power. I thought now this is odd".
The next day I was going to fly again and I always do a very thorough pre-flight. In fact, Every time I walk by I'm looking at it. I've got magnifying glasses and bore-scopes and inspection equipment like you wouldn't believe. I noticed what I first thought was a mouse in the muffler hanging out the exhaust. It was a piece of metal.
What happened was half of the internal baffle had broken out in the exhaust pipe. You get a muffler from the Hirth company and it's real heavy. What Ultrasport does is send one that they have made and it's real light.
So I had the other muffler and cut the other one off and stuck it on there and started it up. I was getting ready to take off and it seemed really rough. The motor wasn't running right and I thought this was really odd.
Ultrasport 331-based Proof of Concept UAV
Well, I cut the other muffler open and enlarged the hole in the middle of the baffle. I welded the muffler back together and tried that, then I just started opening up that hole a little at a time. This was a big job cutting this thing open every time. Finally one time it made a little difference.
So I took it off again. I thought this time, I'm going to try to estimate the area of the baffle that broke out. So I ground that hole out to probably two inches. The broken baffle had also allowed the air to go around the outside of the screen, which acts as a bit of a restrictor and muffler.
So I took and drilled a 5/8's hole right through that screen to kind of open that up too. I put it back together and it ran like a sewing machine. It never ran better. The other thing I did was use a 19K2 needle, which is a rare needle. A lot of places never even heard of it. I got it from the Bing company.
That gives you a real rich mid-range. That's just what you need for helicopters. When you throttle down the 2-cycle gets very lean at constant RPM. So I went with that and those combinations have really worked well for me. I don't think I'd still be flying if I hadn't made those modifications."
Hoffman now has 35-40 hours with that muffler—trouble free. Another update that Hoffman says works real well is a crossover between the two carburetor manifolds. This really helped bring the temperatures back up a bit at mid-range power at the constant 6000 rpm. This is now standard on all Hirth twin carb engines.
Hoffman's Ultrasport started out as the 254 model, but with his modifications has moved closer to the 331. "The only difference between the 254 and 331 is the 254 you have to really watch the weight," said Hoffman. "The 331 has a 10-gallon tank. Otherwise they're almost identical."
Hoffman related some of the specs on his Ultrasport:
Rotor Diameter: 21 feet.
Rotor rpm: 100% at 500 rpm.
Cruise speed: "They say is 75 – 80, but I like to cruise at 65. It loves 65. I've had it up to 75, but as with any helicopter you have a little more stick pressure and vibration. So I'm usually not going anywhere anyway, so I cruise about 65.
Climb rate: "I don't have an instrument that tells me that. They claim around a 1000. So it's pretty close to that. It's like a rocket. It just jumps off the ground. As soon as you get transitional lift it just leaps in the air. It's really stable. It really flies like a Bell 47. It's almost identical."
Weight: Gross 620 or 630.
Fuel Burn: 4-5 gallons an hour, depending on the density altitude. – Hoffman is a stickler for accuracy. When it came to balancing the rotor, nothing but near-perfect would do.
"I ended up buying a dynamic balancer of my own. It's very simple to balance. I've got mine to .04 ips, which is pretty good. I got it there with very little trouble. They have pockets …little set screws to put a weight in. I use clothes hangar wire as weight.
To tell you how close it is, after I teeter balanced, I needed like 2 grams in one blade. They have conventional lead-lag adjustments and that works really well to get your chord wise adjustment. They don't recommend balancing the tail rotor, but I went ahead and balanced mine. Running it as it was, measured .08, which is fine, really. But I went ahead and balanced it down to .04 or .05."
Hoffman, as of this writing, has 70+ hours on this "number one" Ultrasport. And his dream of flying from his own backyard is now a reality. The kit, according to Hoffman, is a little pricey. But he believes you get what you pay for when it comes to quality.
"Sometimes there's a reason things are more expensive," he said. But it flies beautifully, I can't say that enough. It's just a wonderful, wonderful flying little helicopter. It really is."
---
VISIT: Advanced Technologies Website for more details.
---
PLEASE NOTE: American Sportscopters are no longer in existence and the Ultrasport 254 helicopter 331 and Ultrasport 496 helicopter are longer in production.
---
Summary
Reviewer
Review Date
Reviewed Item
Ultrasport 254 Kit Helicopter
Author Rating